The case of
Jennifer Moore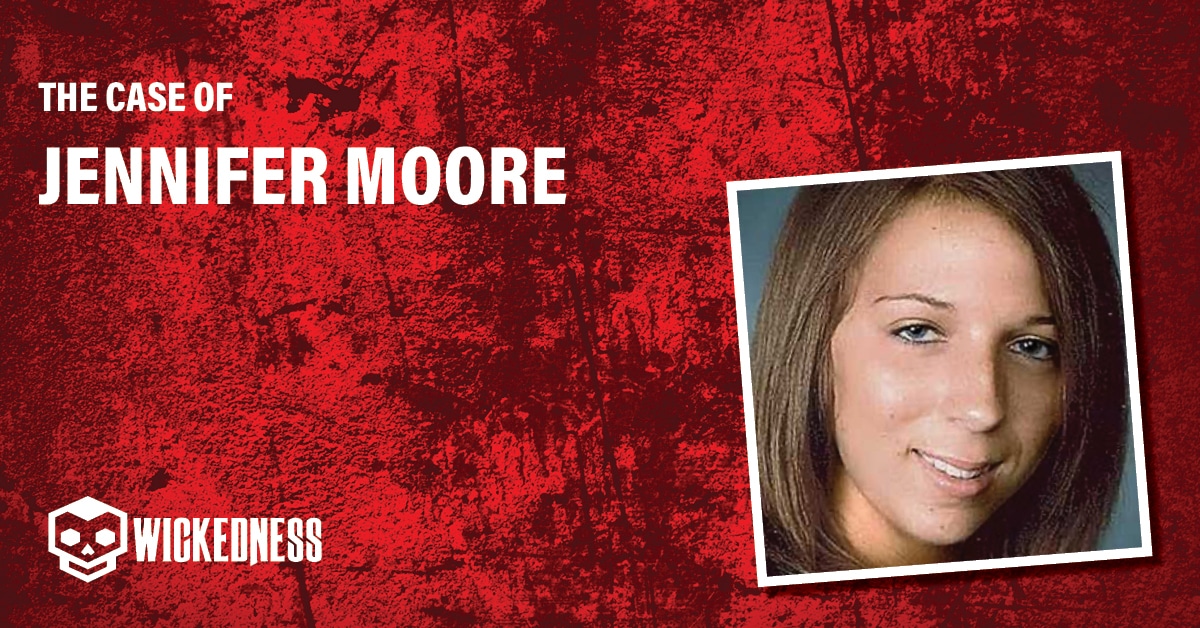 Victim Date of Birth
Info Box
Incident Location
Park Avenue Hotel in Weehawken, New Jersey
Date of Conviction
Info Box
Body Discovered Date
Info Box
Jennifer Moore wanted to experience the New York nightlife with her friend, but she was kidnapped and savagely attacked right before her young life ended. New policies were introduced after this case shed light on underage drinking and fake IDs in the dangerous New York club scene. 
Jennifer Moore's Background
18-year-old Jennifer Moore had just graduated from Saddle River Day School in Bergen County two short months before being killed. Moore planned on attending the University of Hartford to study nursing. With an older brother and sister, she was the baby of the family. Her parents were very proud of her. Jennifer Moore was bright, adventurous, and fun-loving. She was an athletic girl who loved playing soccer; she had been captain of her high school team.
Jennifer Moore's Murder
On the night of her disappearance, Jennifer Moore and her friend, Tara Keenan, went to New York for a night of clubbing and drinking, even though Moore was underage. Both girls grew up in the small town of Harrington Park in northern New Jersey. 
Tara parked her vehicle on West 27th Street outside the Guest House nightclub in the Chelsea neighborhood; it was ticketed and eventually towed to an impound lot on 12th Avenue and West 38th Street. Jennifer and Tara walked ten blocks and tried to get the car from the impound lot, but the attendants refused to return it due to how intoxicated Keenan appeared. Tara then reportedly passed out, and the staff called an ambulance. Another woman was attempting to get her car back. She was also drunk and causing trouble, so the lot attendants called the police. After the ambulance and cops arrived, Jennifer managed to slip away unnoticed during the commotion. Witnesses reported seeing Jennifer walking through town along the West Side Highway.
Moore allegedly made a frantic phone call to her boyfriend, Kofi Boakye, just after 4:00 AM. She told him that a guy was following her, had offered her drugs, and wouldn't leave her alone. Kofi told her to get a cab ride home. When he tried to call her back, she didn't answer. When Tara woke up in an ambulance on her way to St. Vincent's Hospital, she also tried unsuccessfully to contact Jennifer on her cell phone. 
Jennifer Moore's parents had no idea where she was, and they reported her missing to the police. The last to hear from Moore was Kofi, and due to what she said during that call, everyone was incredibly worried. 
Investigation and Arrests 
However, someone was still using Jennifer Moore's phone, and the police tracked it; this led officers to the Park Avenue Hotel on West 145th Street and 35-year-old Draymond Coleman. 
Coleman had a long record of arrests. His criminal history includes assault, for which he received community service, and selling drugs to an undercover cop. He served nearly five years in prison, then spent the next three years in custody for multiple parole violations. 
The New Jersey police obtained an arrest warrant and searched Draymond's room. They also received video recordings from the Park Avenue Hotel's security cameras. 
The surveillance tape proved that Jennifer was at the hotel. It's unclear exactly how it happened, but at some point, Coleman got Moore into a taxi and brought her to the hotel. In the footage, Draymond is seen going into his room with Moore slumped over his arm. She appeared to be either drugged or drunk. The video shows that Jennifer tried to leave more than once, but Coleman kept bringing her back inside. The police also watched as another person, a 20-year-old New Jersey escort, Krystal Riordan, entered the room. They were both apprehended shortly after.    
After questioning Draymond, New Jersey police found Moore's naked body in a trash can in West New York. She had been raped, beaten, and strangled to death, then stuffed into a suitcase. Coleman had attempted to eliminate his DNA evidence from the body. Since Jennifer fought to defend herself, he clipped her fingernails to remove anything underneath, then wiped her body with alcohol swabs. Draymond admitted that he strangled Moore but said Krystal Riordan had also raped her. He was offered a deal if he testified against Krystal, and he agreed. Draymond Coleman was sentenced to 50 years in prison. 
Riordan worked as a prostitute for Coleman, her pimp and boyfriend. According to Krystal, she was at the hotel waiting for Draymond and was irritated when he brought Jennifer back with him. She believed he had been out all night drinking and doing cocaine. Apparently, Coleman was obsessed with threesomes, and Krystal decided to do it so he would get over it. She claimed she went into the bathroom, leaving Moore alone with Draymond. When Riordan heard her screaming, she opened the bathroom door to see Coleman violently beating Jennifer. His attack was so brutal that her face had already started to bruise and swell. Some reports indicated that Coleman's hands were so swollen after the violent attack that he could not pick things up. He also broke one of Jennifer's cheekbones. 
Krystal went back into the bathroom, knowing that Moore would be raped and beaten continuously. When Riordan came out again, Draymond was strangling Jennifer because she wouldn't stay quiet. When Moore stopped moving, Krystal checked her pulse and found she was dead. Riordan didn't even try to get her some help; instead, she went to a vending machine and got something to eat and drink. After that, she helped Coleman get rid of the body. Riordan pled guilty to kidnapping and obstructing prosecution. She was given a 30-year sentence. 
Moore's murder drew media comparisons to Imette St. Guillen, a graduate student at the John Jay College of Criminal Justice, who had been kidnapped, raped, and murdered five months earlier. The police tracked down Draymond Coleman via cell phone. Investigators for the St. Guillen murder used the same process. The authorities were able to trace the alleged killer, Darryl Littlejohn, who made phone calls near Fountain Avenue, where Imette St. Guillen was later found. Moore and St. Guillen brought public attention to the dangers of New York nightlife and the problem of teenagers using counterfeit identity cards to enter nightclubs. The New York Nightlife Association partnered with the NYPD after the deaths of Imette St. Guillen and Jennifer Moore and updated their Safety Manual Handbook.
Frequently Asked Questions
Who was Jennifer Moore? 
18-year-old Moore was a college student from Harrington Park, New Jersey, who was abducted, raped, beaten, and then strangled in Weehawken, New Jersey, on July 25, 2006. 
Who Killed Jennifer Moore?
Draymond Coleman murdered Jennifer Moore while his girlfriend, Krystal Riordan, allegedly sat by as he raped and beat her before he strangled her. Coleman and Riordan packed Moore's body into a suitcase and tossed it into a dumpster.