The case of
Jeleayah Davis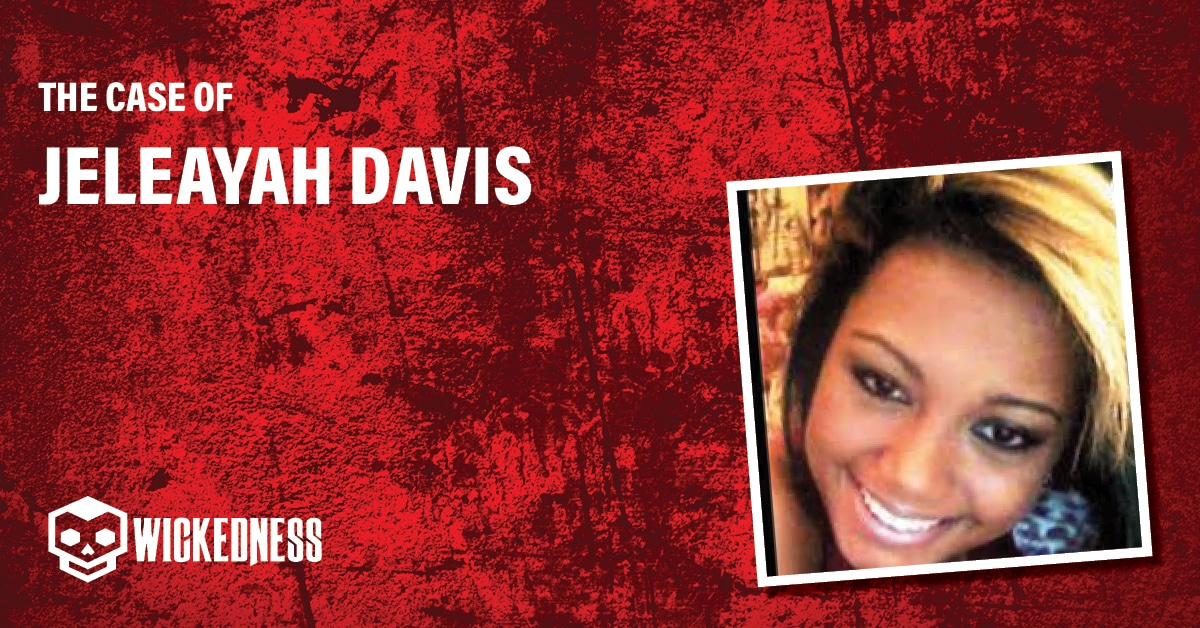 Victim Date of Birth
Info Box
Incident Location
Marietta, Ohio, USA
Date of Conviction
Info Box
Body Discovered Date
Info Box
Jeleayah Davis, horrible accident or unpunished murder?
Who is Jaleayah Davis?
Jaleayah Rose Davis (Jeleayah Davis) was born in Colorado Springs on November 2, 1991. When Jaleayah was one and half years old, her mother Kim gave her a gift – a sister called Taubi. The young sister became a close and devoted friend to Jaleayah. Their family was very friendly and always kept a close relationship with each other. They never had enemies and the girls easily found friends. After graduating from high school in 2009, Jaleayah and Taubi became sellers in a local clothing store. Those were good times.
What's in the case?
It was Friday, November 18th, 2011. Everyone was in a hurry to return home after a workweek. Jaleayah decided to meet a friend, Kristin Bechtold and left home between 3 and 4 PM. She came to her friend's house to make up and dress up. After that, they went to another friend's house. They picked up a few more friends and then five young people went to a nearby bar in Parkersburg called the "Nip-n-Cue". Jaleayah knew only Kristin, she did not know the other three guys. After that, they drove to a shop, bought some alcohol, and hung up at Kristine's house. Jaleayah did not turn off the phone and it was always possible to reach her. She texted with her mother and sister all the time before the terrible accident.
At half-past three AM, Taubi received a call from Jaleayah asking her to come and pick her up. The nearby gas station was supposed to be the meeting point. Taubi heard that her sister was asking someone to hand over her car keys. A few minutes later Jaleayah called back. But her voice was completely different, she was irritated, shouting out her friend's names. Jaleayah was angry at her company. She changed the place where her sister should pick her up. The new location became a rest stop down highway I-77 in West Virginia. Taubi asked her about the suspense situation. Jaleayah replied that she would make a cell phone and tell her later. But the connection with Jaleayah was lost forever.
Taubi quickly packed up and went with her boyfriend to the location. By the time they arrived, the highway was blocked by cops. Taubi and her boyfriend got out of the car and approached the policeman. He said that the body of an African American woman in a white coat was found on the highway. She realized that it was her sister. Taubi phoned her mother and family so that they would come soon. KIm Davis identified daughters body they found.
The crime scene was horrendous. Around mile marker 181, there were broken glass, Jaleayah Davi's blood and body parts. She has been decapitated. Her right breast was missing, her leg was broken and she was naked from the waist up. The investigator on scene told that stained in blood things were far away from the body. Her white coat was draped over the guardrail. The T-shirt and bra lay on the ground in a strange order. The truck driver who first saw the crime scene, discovered the body and phoned emergency operators, said he didn't touch the clothes and dead body.
Police find at the crash scene her Sedan was still running, headlights were on, and all four doors closed. The windscreen wasn't broken, but the passenger's side window was smashed to pieces. Also, there were bloodstains in the trunk.
What did justice say?
After 16-month investigation, the police officially concluded that Jaleayah Rose Davis dead in a drunk driving accident. The horrific accident was due to her drunk driving and not wearing her seat belt. The car collided with the guardrail, and the force of the impact threw her through the passenger window. She hit the guardrail and then was struck by a tractor-trailer on the interstate. Death came instantly.
All the friends around Jaleayah Davis that night have been interrogated. Kristin Bechtold did not get in touch for some time. On the third day after the tragedy, she agreed to testify, but only through her attorney. Kristin Bechtold and her friends insisted that it was a drunk driving accident. Statements were collected from witnesses from the bar. Testimonies of people who saw the company in the store where they bought alcohol. Police trying to understand the influence of alcohol on Jeleayah Davis. It turned out that the statements are very confusing and contradictory, especially the statements of the young people who were with Jaleayah last night.
For example, Ember Stafford made the statement that there were completely other young people who were with Jaleayah that night. However, the polygraph showed that this is a false statement. Ember Stafford has been sentenced to the maximum penalty – six months in jail and a $500 fine. Those are all who were held accountable in this case. Moreover, in 2012 an autopsy was scheduled. The autopsy confirmed Wood County Sheriff conclusions with alcohol played a contributing role in the terrible accident.
Resonance of Jaleayah Davis's death
Rumors began to spread around the Marietta area. Many said that the authorities covered up those young people.
In 2018, Emily Nestor created a podcast titled "Mile Marker 181". She worked closely with Davis's family and tried to shed light on Jaleayah Davis's death. Emily Nestor was trying to figure out what the police might be hiding. She also initiated the creation of an investigative documentary film to publicize the case, which became popular in the true crime community.
Jaleayah's mother still maintains a Jaleayah Facebook account in memory of her daughter. Also, you can find photos of the scene, various videos, and documents on Jaleayah's Facebook page. Until now, public interest has not subsided. Jaleayah Davis's death remains a mystery that has not been solved yet.
There is an online petition that already has been signed by more than 15,000 people. It urges the authorities to reconsider the case and not leave the case of Jaleayah's death unpunished. Today it is one of the most signed online petitions.
In 2013, a group of hackers known for Guy Fawkes masks released a video on YouTube in which they talked about their interest in this Jaleayah Davis case. They talked with Davis's family about their daughter's death. In the mother's story, they found a lot of suspicious details, which led them to a new investigation. They insist that the car did not hit head-on with the railing, but rubbed against it, which means that with such a collision, the impact strength could not throw the girl's body out. Wood County Sheriff of Marietta district said that they welcome any outside agency to review the case.
More than 10 years later, this case is still full of mysteries. What other new facts will come insight into Jaleayah Davis's death? Will see.
FAQ:
How old is Jeleayah Davis?
20
What really happened to Jeleayah Davis?
Car accident