The case of
Janine Vaughan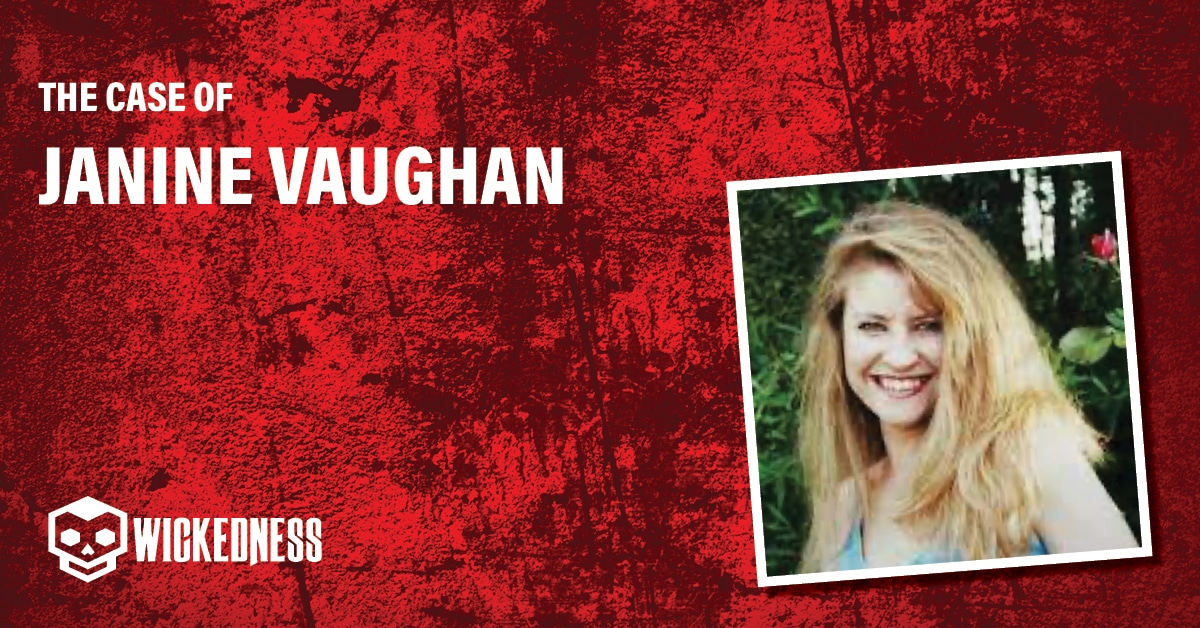 Victim Date of Birth
1970-01-07
Incident Location
Bathurst, Australia
Body Discovered Date
Body not found
31 year-old Janine Vaughan got into the car of an unknown person and was never heard from or seen again. She is still missing, and her body has not been found. A messy investigation by authorities and a lack of information have left this cold case unsolved for 20 years.
December 7, 2001 
31 year-old Janine Vaughan grew up in Hunter Valley, New South Whales. She moved to Bathurst for her boyfriend at the time. Even though they would eventually break up, she would stay because of her job and the close network of friends she had made. Janine loved having fun, and one of her favorite things to do was go out to the local bar scene with her friends. She was pretty and vibrant with trademark curly blonde hair.
Janine went out bar hopping with some friends after work the night of December 6th. Janine Vaughan and her friends, Jordan Morris and Wonita Murphy, left a local pub called The Metro Tavern at 3:47 AM and headed down Keppel Street to The Ox, another bar a few blocks away, for one last drink. Jordan and Wonita argued over something as they made their way to the bar. Janine was about 43 yards ahead of them. As they watched, a red car pulled up next to Janine. She and an unknown person spoke for 20 seconds before she got inside, and the vehicle drove away. Her friends didn't recognize the car, nor could they see who was behind the wheel. They didn't know who she was with or where she went. Jordan and Wonita decided to go to The Ox and wait for her there. Janine never made it. 
Janine Vaughan worked as a manager in a men's clothing shop called Ed Harry Menswear Store located in Bathurst. She was supposed to work a shift later in the day. However, a customer called another store location in Lithgow to notify them that the Bathurst store was still closed. The Lithgow store manager thought it was odd for Janine not to show up without telling anyone, so she called the head office and told her supervisor, Zarina De Souza. Zarina tried to get ahold of Janine all morning, and when she didn't hear back from her, she filed a missing person report. 
The Investigation Begins
When police learned that Janine had never gone home, they retraced her steps from that night. They were able to find surveillance footage and watched as Janine Vaughan and her friends walked down the street from the club. A car was seen doing a u-turn and then pulling up beside Janine. The passenger side door opens, and she gets inside. The Investigators believed the vehicle was a red four-door sedan. Now they needed to figure out the people responsible.
Janine's parents and friends thought she had to know who was behind the wheel as they didn't believe she was the type of person that would get into a car with a stranger. However, Janine had worked at the men's clothing store for years, and she had many acquaintances and a wide range of friends.
Continuing their investigation, officials went to The Metro Tavern. They found Janine's purse in the bathroom, and they also found her phone and keys inside. It was unclear if Janine had left it there by accident or if it had been hidden from her. It was shoved in a corner, and multiple packets of chips had been put in front of it. 
The police made an announcement and asked for any information regarding Janine's disappearance. A woman named Lynette Boreland told the police that the same night she had been walking home from a friend's house when she noticed a red car seemed to be following her. She couldn't remember the make or model but said a man got out and tried to convince her to get into the vehicle. Lynette described the man as 6 feet tall, with dark hair, light skin, remarkably hairy arms, square jawline, and she noticed he had pimples on his nose. 
The police asked Lynette what time and where this happened. She told them it was around 3:30 AM, just 15 minutes before and half a mile from where Janine was seen getting into the vehicle. Investigators knew both incidents were connected, but they still had nothing to go on despite Lynette's information and the surveillance footage. 
Multiple Suspects 
There were 47 people of interest in this case, but two men, in particular, were interviewed by the police. One was Andrew Jones and the other Denis Briggs. Both owned small red cars. 
Denis Briggs
Multiple people told the police that Denis Briggs had admitted he raped and murdered Janine Vaughan after she rejected his sexual advance. However, he denied being involved when the police questioned him. When investigators spoke to his ex-girlfriend, she told them he had a mental illness, bipolar disorder, and had stopped taking his medication. 
Andrew Jones
Andrew Jones worked in the same area as Janine, but he also denied having anything to do with her disappearance. Jones assisted the police in their investigation and was questioned three times but refused to continue without a lawyer. 
Both Briggs and Jones remained persons of interest, but there was nothing that implicated they were involved. 
Allegations of police corruption
Allegations of police corruption were made about those involved in the investigation, saying the police were covering up information, mishandling evidence, and inaccurately recording witness statements. A bloody knife was found a few days after Janine's disappearance. It's impossible to know if it was connected to her case or not, as the police handling the investigation lost it. 
Brad Hosemans
Brad Hosemans, a local homicide detective and former Deputy Mayor, was another person of interest. He was previously in charge of the police investigation even though he was facing charges for the alleged sexual assault of a woman seven weeks before Janine went missing. He denied the accusation and was later acquitted. Despite the claims against him, which were pending during Janine's investigation, he was still allowed to work the case. 
There were also concerns about how well Brad knew Janine. Multiple people alluded to some sort of connection between them. It was believed that some of the statements that referred to their relationship were not fully recorded or investigated. 
The police commissioner of the NSW Police Force also received an anonymous letter about Brad. The letter stated that everyone knew Hosemans was guilty and demanded to know why nothing had been done about it. The letter indicated that multiple witnesses had seen some sort of altercation between Brad and Janine that night, but they were afraid to speak out against him.
Police Integrity Commission started Operation Rani,
Due to the allegations of police corruption, the Police Integrity Commission started Operation Rani, investigating the NSW Police Force where Brad worked. The Police Integrity Commission investigation focused on Brad's role in the case and any connection between him and Janine Vaughan.  
The Police Integrity Commission investigation revealed that numerous people who knew Janine had told the police that she had mentioned Brad to them. Janine's manager, Zarina De Souza, told officers that Janine said she met an ex-police officer on the Local Counsel about a month before she went missing. She planned on going on a date with him. A few weeks later, Janine told Zarina that it didn't work out and that he was now pestering her. Janine didn't tell Zarina the ex-police officer's name, but Brad was on the Local Counsel then; this suggested it was him. 
A woman who worked at another local clothing store, Rachel Green, told the police that Brad asked her about Janine. Others had seen him walk past the menswear store where Janine worked and stare at her. Some of Janine's friends said she told them Brad kept calling and asking her out. Janine continued to turn him down but didn't know how else to handle the situation. They said she seemed concerned about what to do next. 
Brad Hosemans denied he was interested in dating Janine, even though he admitted she was attractive. He also said he never called her. 
Suspicions about Brad continued when it was discovered that Brad had been in Bathurst when Janine went missing. When the police first asked Brad where he was that night, in his initial statement, he said he was visiting his mother, who lived in Newcastle. His phone records revealed he was in Bathurst. 
However, the Police Integrity Commission found no evidence that Brad was involved in Janine's disappearance or that he had ever even spoken to her. The Police Integrity Commission cleared him as a suspect. 
A search for Janine was carried out a few months after she went missing around the Mount Panorama area. Later, a special task force called Strikeforce Mountbatten got involved. Both searches would ultimately be unsuccessful. Police assumed that Janine was dead and murdered by persons unknown. 
Still Missing
In 2013, the Unsolved Homicide Team created Strike Force Tokyo II and reopened the investigation into Janine Vaughan's case. They offered a $1 million dollar reward for any information that would lead to an arrest and conviction of whoever was responsible. 
Janine Vaughan is still missing, her body has not been found, and the trail has gone cold. 
The local authorities believe that someone out there has essential information about this case, but they haven't come forward yet.
Anyone with information that may assist with the investigation can contact Crime Stoppers or your local police station: 
https://nsw.crimestoppers.com.au/ 
Frequently asked questions
What Happened to Janine Vaughan?
In December 2001, Janine Vaughan went missing after she got into the car of an unknown person. Her disappearance was never solved, and her family is still searching for answers.
Who is Brad Hosemans?
Brad Hosemans was a local homicide detective who was previously in charge of investigating Janine Vaughan's disappearance. He was also a suspect in the case but was later cleared by a Police Integrity Commission investigation.