The case of
Jacque Sue Waller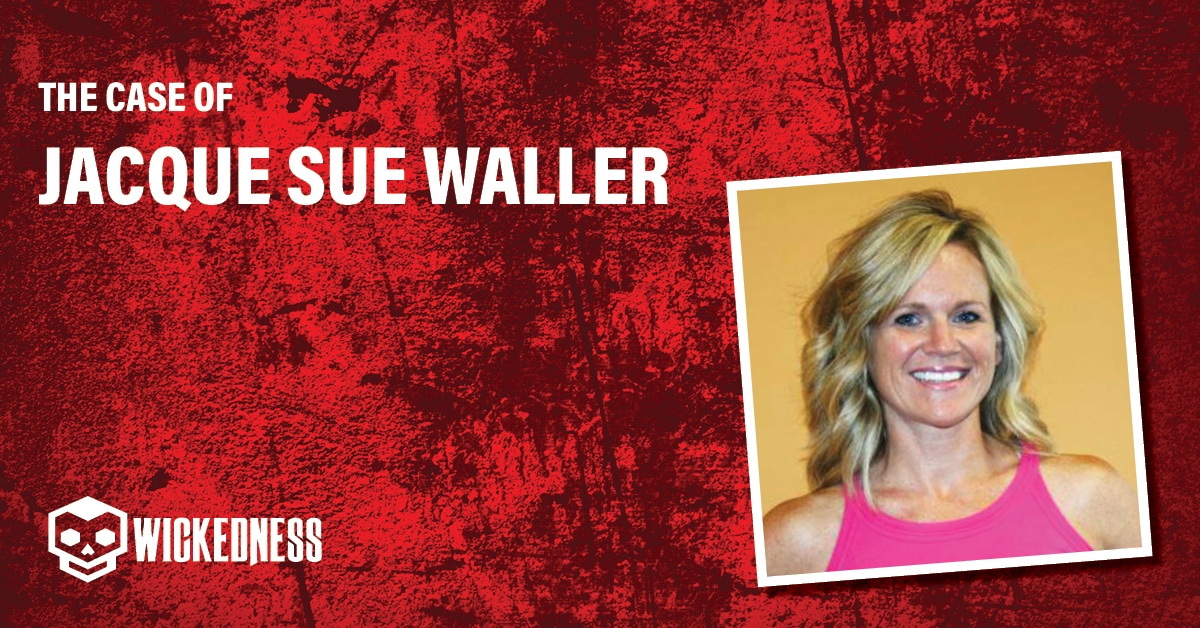 Victim Date of Birth
1971-12-26
Incident Location
Cape Girardeau County, Missouri, USA
Body Location
Devil's Island, Alexander County Illinois, USA
Date of Conviction
2013-06-06
Body Discovered Date
2013-05-29
Jacque Waller, wanted to end the marriage, but he decided to end her life. The chilling story of 39-year-old Jacque Waller, mother of triplets who was Brutally murdered by the estranged husband she almost managed to divorce.
American horror instead of the American dream – the beginning of Jacque's story.
Jacque Waller was 39, working as a manager for an insurance company. She had close, supportive friends and she had her entire family around her – her loving parents, her brother Rob and sister Cheryl, and of course her 5-year-old triplets – Avery, Maddox, and Maddison. Jacque Waller, and Clay Waller have always wanted kids, they tried for years, and eventually, the couple gave birth to triplets. It could have been the life Jacque always wanted to lead if only her estranged husband Clay wasn't there to interrupt it. Clay was an abusive husband – both mentally and physically. Jacque understood that the only way for her and the kids to be happy is to get away from Clay. He couldn't take it, and even threatened that the divorce would be Jacque's "Death Sentence", But Jacque was still brave enough to file for a divorce. The process was almost complete and it seemed as if her life would soon be back on track. If only.
"She thought she could control him, Needless to say, she couldn't". -Stan Rawson
The date is June 1st, 2011 and the couple makes their way to meet with the attorney, and hopefully, go through with the divorce. Sadly, that was Jacque's last day. Following that day are 2 years of rigorous police investigation trying to find any clue to establish exactly what happened to Jacque Waller, 2 years that ended with the bitter news of the discovery of her body, buried on Devils Island, Illinois.
The Crime.
The 1st of June was carefully planned out for Jacque. She thought she was going to meet with the divorce attorney, then pass by Clay's house and finally return home. But plans have changed. Clay describes the whole thing as an accident, saying he accidentally bumped into her nose, causing her to start threatening him that he will never see his kids – thus resulting in a spur of uncontrolled anger leading him to punch her and then strangle her to death. The evidence tells a different story, A story of a meticulously planned murder. Jacque's sister Cheryl had a feeling. A "sick, sick feeling" in her words. She called Clay, "You've done something to her" – she said. He immediately denied it, but Cheryl knew better. She went straight to the Jackson police department and said, without hesitation – "I know that Clay Waller has killed my sister".
James Clay Waller II – A Murder Charge Waiting To Happen.
Clay Waller was always "Bad News". But something about him appealed to Jacque. Clay tried to maintain several jobs throughout the years but failed every time. "He had kind of a deceptive demeanor about him", says Capt. James Jordan from Cape Girardeau Sheriff's Office where Clay also worked. Clay is a classic example of "Two-faced" – on the one hand, he claims to love his children, but on the other hand, he never helped Jacque raise them. He even threatened to kill them, as Jacque described in her diary. To this day, Clay has not shown the slightest bit of remorse or apologized for his gruesome actions. He remains unchanged, possibly forever.
Investigation Details
Cheryl Brenneke goes into Jackson Police Department and makes her bold claim. Fortunately, Cheryl's claims were met by a resourceful police officer who was willing to listen, and more importantly – ready to act. The police immediately sent a Sergeant to Clay's house, while simultaneously assembling a special investigation team consisting of some of the brightest, most competent detectives. They're called The Major Case Squad. At first, they didn't have much. Clay kept denying and Jacque Sue Waller was still a missing person. The police go on to investigate all around Clay trying to find any piece of evidence – In his house, his car, and his boat. Finally, they find the damning evidence – Clay's pickup truck is stained with blood. The evidence is sent to the lab for analysis – could this be the "smoking gun" that will send Clay to life in prison? The results are in – the blood found in Clay's car is no other than…. Fish blood.  But in the world of forensics, it's sometimes more about the things that are missing than the things that are found, and in this case, something crucial is missing; the carpet in clay's hallway. It is only when an FBI officer crawls under a tight space that the bloodstained carpet is found. This time it is not fish blood, it is tested to be Jacque's blood. The police continue to gather evidence but it is significantly harder to get a conviction based solely on circumstantial evidence. Nevertheless, the pieces of evidence are piling up and the police are confident they have enough to win the case. The trial is about to happen.
The Trial – Clay Waller digs a second hole, this time for himself.
As criminal charges are closing in on Clay, he is suddenly offered a plea deal. The family agreed to have clay charged with second-degree murder, which means a lesser, 20-year sentence, in exchange for Clay to lead investigators directly to the location of the body. The most important thing for the family was to bring Jacque home. But Clay falls a victim to his own words. He tells the investigators that he had dug a grave in Devil's Island, Illinois, and returned to Missouri with the intent to kill Jacque. Why is that important? Because that will allow the prosecutors to pin clay for another federal charge of interstate domestic violence and add an additional 35-year prison sentence, to the 20-year sentence he already received.
The Verdict – A Dangerous Killer Is Taken Off The Streets.
On June 6, 2013, James Clay Waller was sentenced to 35 years in federal prison on an interstate domestic violence charge, this is following a 20-year prison sentence that he received within the plea agreement that was signed with the prosecutors.
Frequently asked questions
Where are the triplets now?
Jacque's triplets are in the custody of her sister, Cheryl Rawson Brenneke, and her husband Bob Brenneke.
Who is Clay Waller?
Clay Waller is Jacque Sue Rawson Waller's husband, who murdered her, currently serving his sentence in Fulton county prison.
Where was Jacque Waller's body found?
Jacque Waller's body was found on May 29, 2013, In Devil's Island, Illinois.