The case of
Heather Rose Rich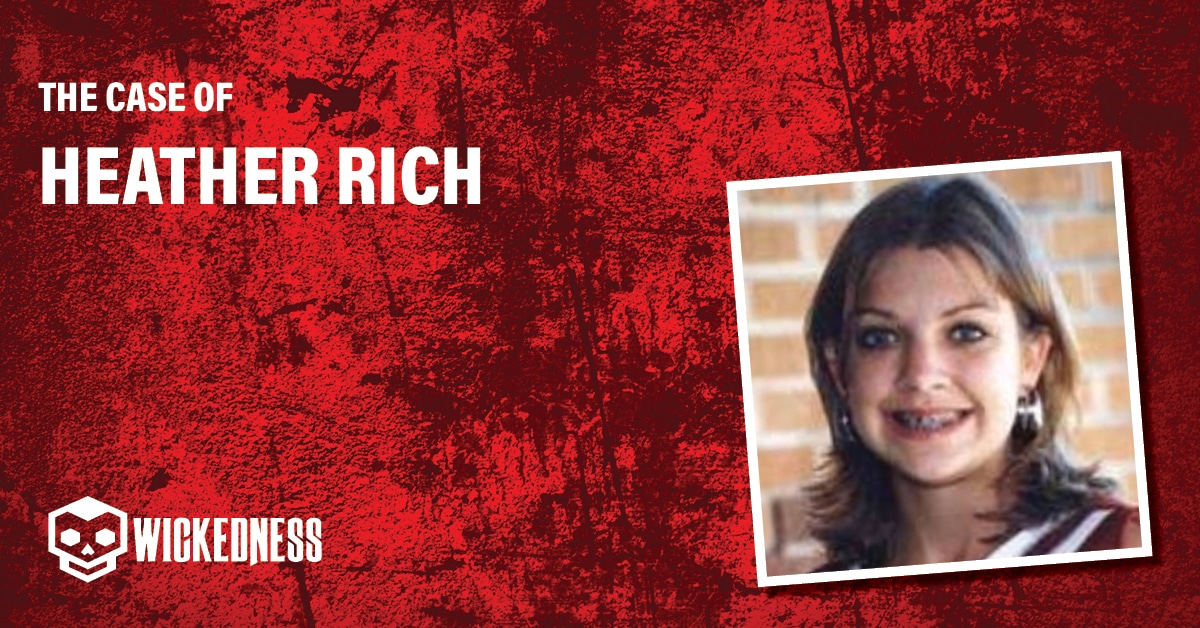 Victim Date of Birth
1980-01-19
Incident Location
Waurika, Oklahoma
Body Location
Montague County, Texas
Date of Conviction
1998-08-27
Body Discovered Date
1996-10-10
Where is Heather? 
Beautiful Heather Rose Rich lived in the small town of Waurika, Oklahoma. She was a 16-year-old high school student when her young life ended. She was a talented musician, loved horses, her cheerleading squad, and talking on the phone with her friends. Heather was a friendly person and easily made connections with people. 
On October 2, 1996, Heather Rich and her mother argued over an expensive telephone bill. When Gail Fulton went to tell her daughter goodnight, it would be the last time she would see her. The following day, Heather's room was empty. Her parents went to the Jefferson County Sheriff's Department in Waurika to file a missing person's report. The police wouldn't join the search until days later, but their efforts would ultimately prove unsuccessful. When her mother told the police about their argument, officers told her not to worry. Heather had probably run off because she was angry and would come back soon. 
Heather's parents immediately began searching for her. Gail talked to Heather's friends, including Joshua Bagwell, a 17-year-old Waurika High School senior. When Gail went to speak to Josh, she was met by his grandmother, who told her that Josh was unavailable. Gail also called 17-year-old Randy Wood, captain of the football team at Waurika High School. Heather and Randy had briefly dated but remained friends. When Gail asked Randy about Heather, Randy said he didn't know anything, but she didn't believe him. Gail thought Randy sounded suspicious and was hiding something. She described him as having no emotions in his voice and like he had practiced telling his story. 
On October 10, the police on the other side of the river in Texas found a body floating in the murky water of Belknap Creek. 
A Mother's Suspicions
Montague County Investigator, Craig Crawford, discovered that someone had attempted to cover up the blood left on the Belknap Creek bridge. This evidence indicated foul play and made it clear to investigators that this was a murder. 
A Texas Ranger named Lane Akin said that the body had been shot nine times. Due to the damage inflicted on the body, no immediate identification was made. But the Montague County Sheriff, Chris Hamilton, knew that a high school sophomore was missing from Oklahoma. Later that evening, Heather's father identified her from the ring she was wearing, one she had been given for her 16th birthday. 
The police started looking for suspects and a motive. Their investigation began in Heather's hometown, where she was last seen. When they interviewed Heather's mother, Gail told the police her suspicions about Randy Wood and Joshua Bagwell. 
Investigators interviewed students at Waurika High School, including Heather's best friend and fellow cheerleader. She heard that Heather had gone to their party on the night she went missing. She also pointed police in the direction of Randy and Josh. 
Josh Bagwell and Randy Wood were well known around the small town. Both boys would pass their nights driving the back roads, drinking, and doing drugs. Heather's family was unaware at the time, but she had been sneaking out to meet up with Bagwell and Wood. Heather told her parents that she had been drinking and experimenting with drugs. Five days before she disappeared, Heather and another cheerleader were found drinking during a football game and were suspended from school.
When the police questioned Randy Wood and Joshua Bagwell, they told the police that they had spent the night of October 2 playing games and drinking in the trailer behind Bagwell's house. According to them, neither saw Heather that night. Investigators believed they both lied.
The autopsy revealed that Heather had been shot nine times with a powerful gun; the ammunition used was Winchester Double Lock Buckshot. Only one store in Waurika sold that particular ammunition, Beaver Hardware. Investigators reviewed the store's receipts and found that just before the murder, Joshua Bagwell had purchased 20 rounds. The police also learned that Curtis Allen Gambill had been with Bagwell at the time. Gambill was a 19-year-old high school dropout who had been arrested before and spent time in juvenile facilities. 
The police visited Gambill's home and spoke to his grandmother. Rita Robins revealed that she and Curtis used to fish in Texas at the Belknap Creek Bridge, the location of Heather Rich's murder. Authorities gave Gambill a polygraph test that he failed. Police interviewed Gambill for hours before he admitted that he owned the gun. The firearm was a Buss Berg M-9 shotgun, capable of firing nine rounds, matching how many times Heather was shot. With this evidence, Curtis Gambill confessed and implicated himself, Randy Wood, and Josh Bagwell in the murder of Heather Rich.
Police arrested Randy Lee Wood and Joshua Luke Bagwell for kidnap and murder. Bagwell refused to talk to the police. Wood was cooperative. Investigators were convinced that Wood wasn't a bad or violent person, even though Gambill said he was. Wood gave the police his side of the story.  
The Pieces Come Together
On the evening of October 2, Bagwell and Gambill went over to Wood's place, ready for a night of drinking. They were supposed to pick up Heather. They knocked on her window, but she wasn't there. Heather was already at the trailer behind Bagwell's house. When the boys arrived, all four teenagers went inside and started drinking. Wood said that Bagwell and Heather were kissing and wanted to be alone, so Wood and Gambill left. 
Wood and Gambill drove around, still drinking. By the time they got back, Heather was highly intoxicated and close to passing out. According to Wood, the boys encouraged each other to take advantage of Heather, now unconscious. Wood says that Gambill had sex with her and left her passed out in the back of the trailer. The boys continued to drink. A while later, Heather woke up hysterical and screaming. According to Wood, Gambill was furious, saying Heather would tell everyone he raped her, so he wanted to kill her.
Wood said Gambill pulled out the M-9 shotgun and told Wood and Bagwell to put Heather in the back of Bagwell's truck. Bagwell drove towards Gambill's house, but Gambill took the wheel at the Red River and headed into Texas, stopping in the middle of the bridge at Belknap Creek. He grabbed the shotgun and ordered Wood and Bagwell to get Heather out of the vehicle. The boys pulled Heather from the back seat and put her on the ground. Wood said he got back in the truck and heard gunshots. When he got back out, he saw that Gambill had shot Heather. Wood said they tossed her body into Belknap Creek and went home.
After Curtis Gambill and Randy Lee Wood confessed, the police turned their attention to Joshua Bagwell.  
Three Trials 
The boys raped and kidnapped Heather Rich in Oklahoma, but since the murder occurred in Texas, that's where the trial took place. All the boys were tried as adults. The District Attorney planned to seek a death sentence for Curtis Allen Gambill and capital murder charges and term of life imprisonment sentences for Wood and Bagwell. The weakest case was against Josh Bagwell. Unlike Wood and Gambill, Bagwell didn't confess. The Prosecution needed Wood and Gambill's confessions. They believed Randy Wood's version of events and that he wasn't involved in the actual murder. The Prosecution thought that Curtis Gambill was the killer. 
In exchange for Wood's testimony, the Prosecution offered him a term of life imprisonment sentence with the possibility of parole in 30 years. Wood accepted. To make the case against Joshua Bagwell stronger, the Prosecution also offered Gambill a deal exchanging the death penalty for a life sentence. Gambill agreed. On October 15, Curtis Allen Gambill pled guilty to the murder of Heather Rich. He was convicted of capital murder and conspiracy to commit murder.
Joshua Bagwell's trial began in February 1998. The Defense attacked Heather Rich's character, focusing on her illicit activities. They also said Bagwell had been forced into the killing. Both Wood and Gambill were supposed to testify at Bagwell's trial for the Prosecution. Gambill took the stand first and said that Wood had shot Heather and Bagwell didn't know that Heather would be killed. Gambill violated his plea deal and was convicted of capital murder, conspiracy to commit murder, and given a second term of life imprisonment sentence. 
On February 10, Randy Wood testified that Curtis Gambill shot Heather Rose Rich and Josh Bagwell had been a full participant in the murder and cover-up. On the night before Wood was supposed to testify at Bagwell's trial, he refused the plea bargain he had made with the Prosecution that would save him from the death penalty. Wood still intended on taking the stand but didn't want people to think he was testifying because he had received a deal. On February 14, Joshua Luke Bagwell was found guilty of capital murder and conspiracy to commit murder. He was sentenced to life plus 99 years in prison. 
In August 1998, Randy Wood's trial began. The Prosecution tried to get a plea bargain for a sentence less than life, but the Judge refused. There is no difference between those who commit murder and those involved with the crime under Texas law. On August 27, Randy Lee Wood was convicted of c