The case of
Heather Rachelle Elvis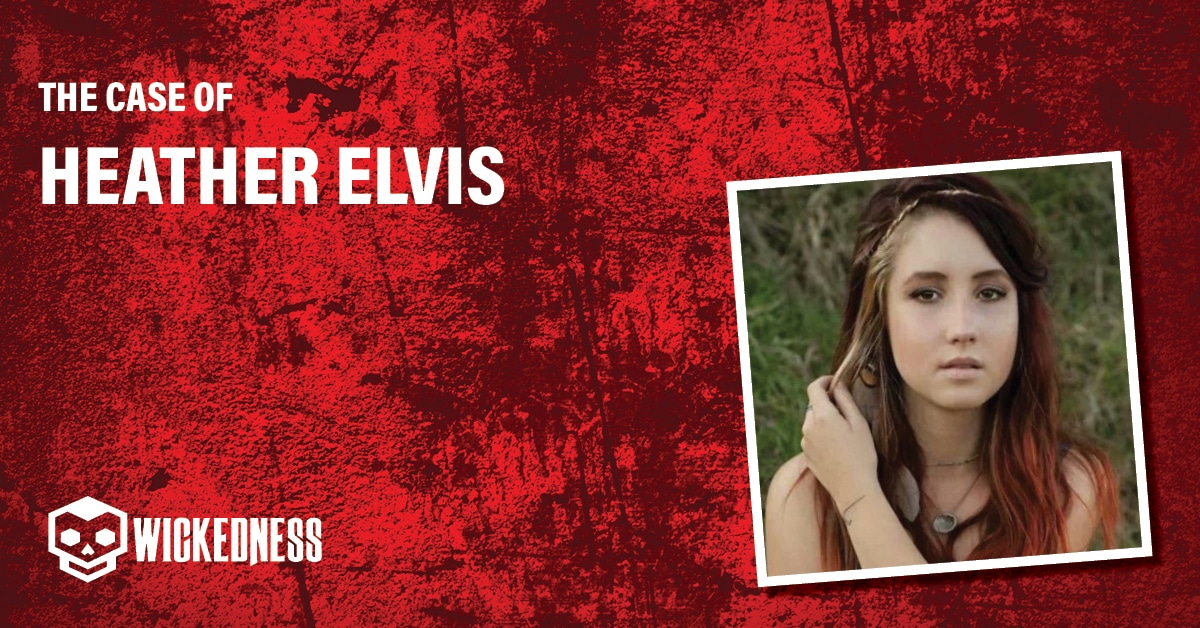 Victim
Heather Rachelle Elvis
Victim Date of Birth
1993-06-30
Incident Location
Carolina Forest, South Carolina, USA
Date of Conviction
October 2018
Who was Heather Elvis?
Heather Elvis was a 20-year-old woman living in Georgetown County, South Carolina around the time of this incident. She was born on June 30, 1993, to her parents Debbie Elvis and Terry Elvis. She was living a happy life working as a waitress at the Twisted Kilt in Myrtle Beach when she met a man who was 17 years older, Sidney Moorer.
Heather and Sidney were swiftly entangled in a romantic affair, but the man was already married. Naturally, his wife, Tammy Moorer, did not take kindly to this new love triangle. The harassment that followed was a harbinger of something darker.
Sidney Moorer and his vengeful wife, Tammy
Sidney Moorer was a 37-year-old repairman living in South Carolina, occasionally dining at Heather's restaurant. He lived with his wife, Tammy.
Harassment for poor decision making
Heather knew she was doing a bad thing by pursuing a married man. She posted several social media updates referencing bad things she did and how she was going to keep doing them. She was antagonizing co-workers at the Twisted Kilt who had been harassing her for her actions.
Some of her co-workers went as far as pretending to be Tammy Moorer over the phone. Little did she know, the reaction from the real Tammy would be worse.
Tammy was full of rage upon discovering her husband's actions. Obviously, her first reaction was to make Sidney break up with his new mistress, then in a bizarre twist, forced him to get a tattoo of her name while handcuffed to a bedpost.
Her anger towards Heather Elvis had not been quelled despite her whacky form of retribution. What followed was a stream of harassment consisting of calls to Elvis at the Twisted Kilt, and messaging her scandalous photos of her and Sidney in bed together.
Gone missing after a forbidden affair
On December 17, 2013, Heather went on a date with a man Steve Schiraldi, and a phone call to her friend confirms he dropped her off at home. The next morning, she was missing. A couple of days later, her abandoned car was found near a local boat landing, Peachtree Landing, by Horry County police.
Shortly after locating the vehicle, the police investigation traced the story to her older lover, Sidney Moorer.
He was brought in for questioning and the story slowly started to unravel. When presented with phone records and a grainy security video suggested that Sidney and Heather had spoken on the night of her disappearance, he denied it at first but later claimed he told her to leave him alone.
The testimony of Heather's roommate went against his claim. She informed investigators that Elvis had called her and excitedly explained how Sidney would leave his wife to be with her. Sidney's shaky testimony was suspicious.
Evidence of more cellphone records and surveillance video shows Elvis arriving at Peachtree Landing and getting into Sidney and Tammy Moorer's vehicle in the hours following the call to her roommate.
This was the last sighting of Heather Elvis.
No Body Leaves an Open-Ended Story
The body of evidence against Sidney Moorer and Tammy Moorer grew rapidly, with police eventually charging both of them with kidnapping in connection with Heather's disappearance and also for her murder.
All evidence pointed to them being guilty of both, but the lack of physical evidence was a major problem with the case. Neither Heather's body nor a murder weapon was found, leaving only circumstantial evidence. Police were left with no choice but to drop the murder charges and allow their release from incarceration when they posted bail.
Each of them still faced a kidnapping charge with a significant amount of evidence, including evidence from video surveillance, against them.
Drawn out kidnapping trial and little closure
Sidney was the first to have a kidnapping trial for the disappearance of Heather Elvis. Luckily for him, he had a skilled defense attorney, and hours of deliberation ended in a hung jury causing it to end in a mistrial.
In August 2017, he received an obstruction of justice charge from when he lied about speaking with her around the time of her disappearance and received 10 years in prison.
In October 2018, Tammy Moorer was tried and convicted for kidnapping and conspiracy to kidnap. She was sentenced to 30 years in prison for these two convictions.
In September 2019, Sidney Moorer received the same kidnapping conviction as his wife during his retrial.
Despite this, nothing came of the murder charges due to the body of Heather Elvis never being found. She is still missing.
Frequently asked questions
What happened to Heather Elvis?
The 20-year-old Heather Elvis engaged in an affair with an older man, Sidney Moorer. When the man's wife found out about the affair, the couple kidnapped her and probably took her life as well.
Who took Heather Elvis?
Cell phone records and surveillance footage placed her and the Moorers at Peachtree Boat Landing in Myrtle Beach, South Carolina when she disappeared. The video shows Elvis getting into their vehicle. Both of the Moorers were arrested and went on trial for kidnapping. Despite having skilled defense lawyers that were able to briefly reduce one of the trials down to an obstruction of justice trial, they were both found guilty and sentenced to 30 years in prison.
Was Heather Elvis found?
Despite the arrests and convictions of Sidney and Tammy Moorer for kidnapping, neither Heather Elvis nor her body has been found. The couple maintains their innocence and that no wrongdoing occurred.