The case of
Alexander "Alex" Woodworth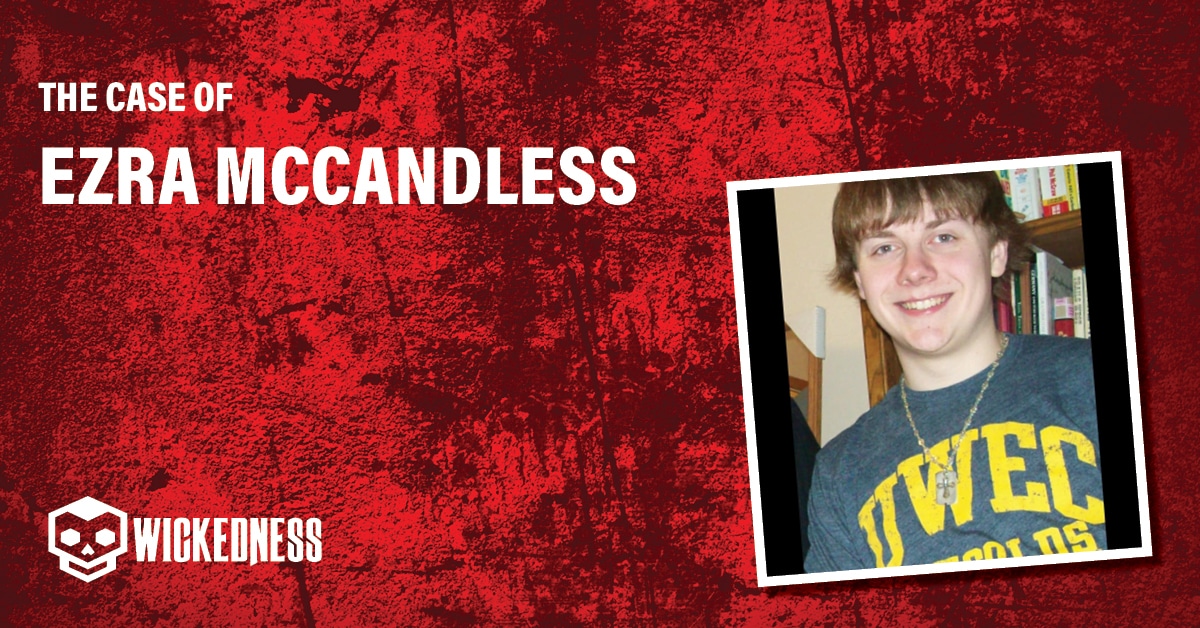 Victim
Alexander "Alex" Woodworth
Victim Date of Birth
Info Box
Incident Location
Spring Brook, Wisconsin
Date of Conviction
Info Box
Body Discovered Date
Info Box
Who was Ezra McCandless?

Ezra McCandless was born Monica Kay on October 6, 1997. Her mother, Roselenna Gunelson, was only 14-years-old. Her biological father was not in her life, but her mother married a man named Joshane Karlen. He adopted Ezra when she was four years old. Even though they divorced when she was 12 years old, McCandless and Karlen were still close.
Ezra started to question her gender identity and experimented with different names and pronouns in high school before legally changing her name to Ezra McCandless. After dropping out of college, she relocated to Eau Claire, Wisconsin, where she met Jason Mengel, a 33-year-old medic for the National Guard. The two were in a serious relationship, and they moved in together in August 2017. Around this time, McCandless met 24-year-old Alex Woodworth, a coffee shop barista and substitute teacher, and began an affair with him.
Six months later, McCandless claimed that one of Jason Mengel's friends, John Hansen, sexually assaulted her. Detectives investigated her allegation, but the case was eventually dropped.
While Mengel was away for National Guard duty, McCandless moved back in with her mother. When he returned, they started meeting up with each other at hotels. Mengel read McCandless' texts during one of these visits and learned about her relationships with Woodworth and Hansen. She then told him about Hansen's assault. Mengel confronted them both. All three had a public argument at a coffee house over the alleged assault and their relationships with Ezra. 
McCandless blamed Woodworth for Mengel ending their relationship. She sent a message to Woodworth telling him she never wanted to speak to him again. McCandless continued to reach out to Jason Mengel, saying how sorry she was for betraying him. 
Murder
On March 22, 2018, McCandless went to Racy D'Lenes Coffee Lounge in Eau Claire and ran into her ex-boyfriend Jason Mengel. He noticed that McCandless seemed agitated. When she left and headed to Woodworth's house, Mengel felt something was wrong, so he followed her on his bike. When he got to Woodworth's place, he saw her car parked outside. Mengel waited for 45 minutes before he went inside and found McCandless and Woodworth talking. He went back out so they could finish their conversation. By then, the police had arrived. Someone walking by had seen Mengel pacing outside the house and thought it was strange, so they reported it. Mengel told them he was there because he was worried about McCandless. The officers saw nothing of concern, so they left. Jason Mengel also left shortly after.
Later that night, Ezra McCandless turned up on a dairy farmer's doorstep in Spring Brook, not far from Eau Claire. She was muddy, covered in blood, bruised, and barefoot. She asked for help and said she had just been assaulted. Ezra was taken to a local hospital, and while there, the hospital staff asked what had happened. She said that she could not remember. 
Detectives could not find Woodworth that night, but they searched the dairy the next day. Officers found bloody footprints that led them to Woodworth's body which was dangling out of the back of McCandless' car on a muddy, desolate dirt road near the farm. It was a brutal crime scene. He had sustained devastating wounds and was stabbed 16 times in the head, neck, groin, and torso. The Eau Claire Police and The Dunn County Sheriff's Department began their homicide investigation. 
They returned to the hospital to question McCandless. She initially told the police and paramedics she couldn't recall what happened. After officers told her that they found her car with Alex's body inside, she said he had attacked her that night and cut the word "BOY" into her arm with a knife. She said she grabbed the knife and cut her hand while trying to get it away from Woodworth. The authorities noticed that McCandless did not have wounds deep enough on her hands to match her story. 
While McCandless was being questioned, the Dunn County forensic team began processing the crime scene. McCandless said that Woodworth had attacked her in her car. However, they found most of the blood outside the vehicle. They also noticed that Alex had no defensive wounds; this led investigators to believe the attack took him by surprise. 
Ezra McCandless Arrest and Trial
Ezra McCandless, who was only 22 with no history of violence, was arrested and charged with first-degree intentional murder. The Prosecution had plenty against McCandless, including the inconsistencies between her versions of events and the evidence. She had originally said that the incident happened at Owen Park. The Prosecution believed this was to direct police away from the actual scene. They also alleged McCandless took Woodworth out to the remote area with the intention of murdering him.
Ezra recounted her story during the trial, saying Woodworth attacked her after her car got stuck on the deserted country road. He straddled her and started cutting her clothes off with the knife. She initially said she cut her hand trying to get the knife away from Woodworth, but McCandless changed her story and claimed she kneed him in the groin and stabbed him when he dropped the knife. When asked if she was trying to kill him, McCandless said no. She stabbed him in self-defense. The Prosecution countered by saying if someone is attacked, they hurt the person enough to get away and then run to get help, not stab them over a dozen times. 
McCandless was asked what happened next, but she claimed she didn't remember. The Prosecution thought that was too convenient. Dr. Tillotson, who had treated McCandless at the ER, testified that the cuts appeared to be self-inflicted when he assessed her injuries. It was the Prosecutions belief that McCandless spent her time at the crime scene, cut herself and her clothes, and staged it to fit her story while Woodworth was bleeding out. A scarf was found wrapped around his neck, suspected to be an attempt to stop the bleeding. There was nothing to indicate that McCandless tried to help him. They believed his body was hanging out of the vehicle because she had attempted to drag his body out of the car so she could drive away, but she was physically unable to do so. She also took Woodworth's phone and smashed it. Allegedly this was to assure he could not call for help. The Defense argued that Ezra did not have a phone, so she took Alex's to call for help, and she claimed she accidentally broke it when she fell. 
To further strengthen the Prosecutions case, the knife used to kill Woodworth belonged to McCandless' father. At the trial, Joshane Karlen stated he had given her the knife. 
The Prosecution believed McCandless had killed Woodworth to prevent him from getting in the way of her relationship with Mengel. The Defense Team argued that it was Woodworth who was angry at McCandless because she did not want to be with him. Despite all the evidence against them, the Defense team insisted that Ezra acted in self-defense. Her Defense Attorney stated that she was fighting for her life because Woodworth had forced himself on her. Regarding her different accounts of what happened that night, Ezra's Defense Lawyer insisted she wasn't misleading investigators during her initial interviews, but she suffered trauma that had impacted her memory. 
Ezra McCandless Conviction and Sentencing
The Jury began its deliberations, and after only three hours, they announced they had reached a guilty verdict. On November 1, 2019, Ezra McCandless was convicted of the first-degree intentional homicide of 24-year-old Alexander Woodworth. She was sentenced to life in prison, with eligibility for parole after 50 years. Woodworth's aunt, Crystal Hall, said that her family remembers McCandless as a fun, nature-loving child, and they don't know this person who did not show any sadness, shame, or remorse for her actions. 
Frequently Asked Questions
What did Ezra McCandless do? 
Ezra J. McCandless was convicted of the first-degree intentional homicide of her ex-boyfriend Alex Woodworth, who she stabbed 16 times in March 2018. She was given a life sentence with eligibility for parole after 50 years.
Where is Ezra McCandless now?
Currently, Ezra McCandless is serving her sentence at the medium to maximum-security Taycheedah Correctional Institution in Fond du Lac, Wisconsin. She spends her time behind bars sketching and selling her art online.