The case of
Emmett Corrigan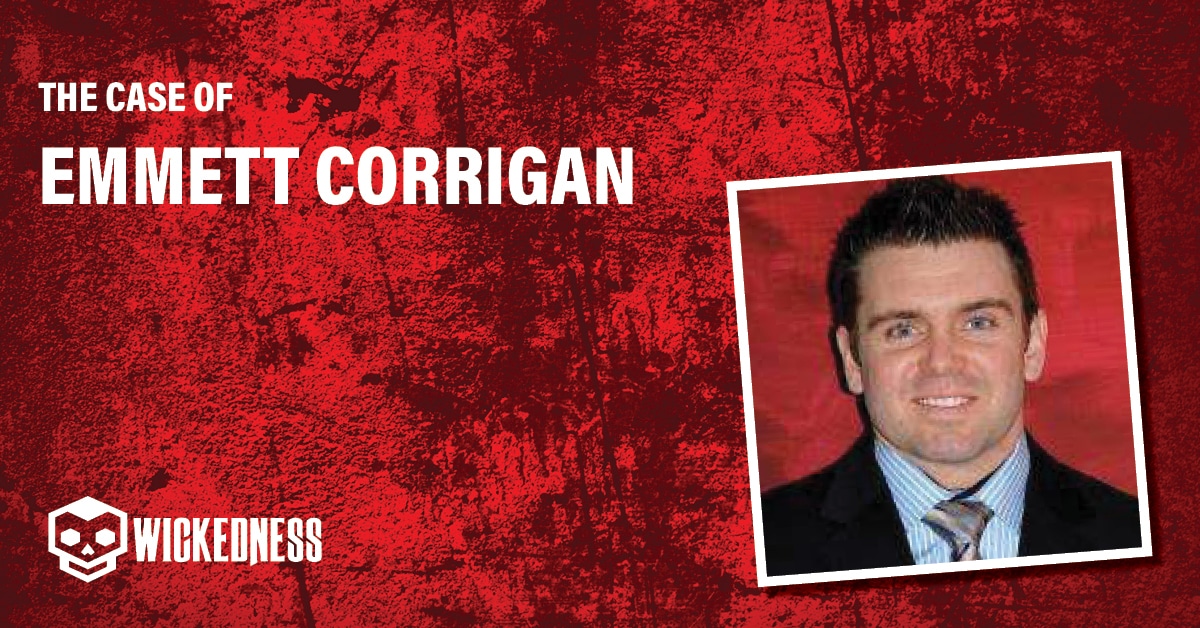 Victim Date of Birth
Info Box
Incident Location
Meridian, Idaho
Date of Conviction
Info Box
Body Discovered Date
Info Box
Emmett Corrigan – A Story Of Fatal Love Triangle
Emmett Corrigan led a perfect life, he married his college sweetheart, had five beautiful children, and his career as an attorney was thriving. But, not everything is as it seems…
Emmett Corrigan – A Family Man and Successful Attorney With A Secret
Emmett Corrigan was born on August 30, 1980, to parents Radeane Blackwell and Mike Corrigan. In 2003, while going to Utah State University, he met Ashlee Harmon. They married the next year and eventually had 5 kids.
First few years of their marriage, Emmett was a devoted father and caring husband. In 2007, Corrigans moved to Spokane, Washington. From there, Emmett attended Gonzaga Law School, and the hour commute started to take a toll on him.
By 2010, after passing a bar exam, Emmett started a tiny criminal defense practice to supplement the family's income because his wife expected their fifth child. Eventually, he realized it was too much work for him alone, so he decided to hire an assistant. Kandi Hall, a 40-year-old criminal law paralegal was hired to work as Emmett's assistant. Only a few weeks later, she became much more than that…
Sordid Love Triangle Came To A Bitter End
Emmett and Kandi became not only coworkers but also lovers. Apart from him being married with a fifth child on the way, she was also married, and she had two teenage daughters. Soon enough their spouses felt something was wrong. Emmett became distant and he was rarely spending any time with his family. Ashlee suspected something was wrong but tried to attribute his odd behavior to simply being stressed too much. Nevertheless, the two continued their affair up until one tragic night in March 2011.
On March 11, 2011, Emmett Corrigan had dinner with his family at their home. His wife Ashlee, started a conversation about his odd behavior, saying that their children wondered if he lived at home anymore. Her remark threw him into a fit of rage and he left the house. This wasn't the first time that he would act this way, and Ashlee was eager to find out the reason behind his behavior. Soon, she will get the answer to all of her questions…
At around 10:20 p.m. the police received a call about several shots that occurred in the parking lot of a local pharmacy. When they arrived, they found a dead body, and it was Emmett Corrigan's. He was shot twice, once in his forehead and once in the chest. Another man was found injured, and it was Robert "Rob" Hall, Kandi Hall's husband. She was the only witness that saw what happened during the shooting.
The Night of Emmet Corrigan's Death
On March 11, 2011, Kandi met Emmett at the pharmacy and they drove around in his truck. They went to the gas station and had sex in the truck. That night wouldn't be so unusual if it wasn't for Kandi's daughter, who noticed her mother's car parked in a parking lot in front of the pharmacy. She called her father, Rob Hall, and he called Kandi and asked her where she is. According to Kandi, Emmett took her phone and started arguing with Rob.
Rob drove to the pharmacy's parking lot, looked inside for Kandi, and saw she wasn't there. He went to her car and waited for her to come back. Sometime after 10 p.m., Kandi and Emmett arrived at the parking lot, and Rob and Emmett started an argument. Kandi went towards her car and heard three gunshots. As she turned around, she saw Emmett dead and Rob wounded in the head.
Robert Hall – Betrayed Husband Seeks Revenge
Little is known about Robert Dean Hall's life, except that he was married to Kandi Hall, with whom he has two daughters. He worked in IT at the local sheriff's department at the time. After his wife started working as an assistant to Emmett Corrigan, Rob noticed that something was weird.
On the night of March 11, 2011, he received a call from one of his daughters about Kandi's car being parked at the pharmacy's parking lot. Kandi was nowhere around. He called Kandi and went to the pharmacy to see if she was there. She was nowhere to be found, but soon, Kandi arrived with her boss, Emmett Corrigan. The two men started a fight, which ended in Emmett Corrigan being shot to death, and Rob being wounded in the head. Rob was rushed to the hospital and was later arrested on first-degree murder charges.
Investigation Details
Investigation showed that there was a considerable amount of gunpowder on Rob Hall's hands, while Emmett's hand barely had any gunshot residue. Rob's wound caused him to suffer from amnesia, but he claimed that Emmett shoved him, leading the gun to fall out during the fight. All the evidence showed that Rob shot Emmett and tried to kill himself.
Trial
In 2012, Robert Hall was taken to a trial for Emmett Corrigan's murder. He claimed that he remembered very little from that night and that he didn't remember the shooting. He also claimed that if he killed emmet Corrigan, it was in self-defense. He expressed his regrets about killing Emmett Corrigan and leaving his wife and five children without a husband and father.
Kandi and Rob Hall decide to continue their marriage. During the trial, Kandi defended her husband and tried to put the blame on Emmett Corrigan for the fight that occurred between him and her husband. She described Emmett as being aggressive that night and provoking her husband. Along with the defense team, she tried to imply that Corrigan took the gun and shot at Rob and that Rob shot him back only in defense.
However, prosecutors claimed that all three shots were fired by Rob, which was backed by the investigation.
Verdict
In October 2012 at Ada County Court, Rob was found guilty of second-degree murder. He was sentenced to 30 years behind the bars, with the possibility of parole after he serves a minimum of 17 and a half years. He was incarcerated at Idaho State Correctional Institution in Kuna, Ada County, and will be eligible for parole in 2028.
Frequently asked questions
What Is Rob Hall's Sentence?
Rob Hall was sentenced to 30 years behind bars, where he has to serve a minimum of 17 and a half years before gaining parole eligibility.
When Is The Parole Date For Rob Hall?
As per prison records, Rob remains incarcerated at Idaho State Correctional Institution in Kuna, Ada County, and will be eligible for parole in 2028.
Where Is Ashlee Corrigan Today?
After the death of her husband, Ashlee Birk became an advocate for victims of trauma and she founded a non-profit organization called A Reason to Stand. She met her second husband Scott Boyson seven years after her first husband's death. They have two children together. Ashlee's children from the first marriage are grown now and seem to be doing well.
What Happened To Kandi Hall?
Apart from being a part of Emmett Corrigan's murder case, Kandi had trouble with the law on her own. In May 2011, she was arrested for stealing from her former employer. She pleaded guilty in 2012 and was sentenced to 14 years, with the possibility of parole after 2 years. In 2014, she was released from prison and she stayed away from the spotlight since then.