The case of
Nicole Vander Heyden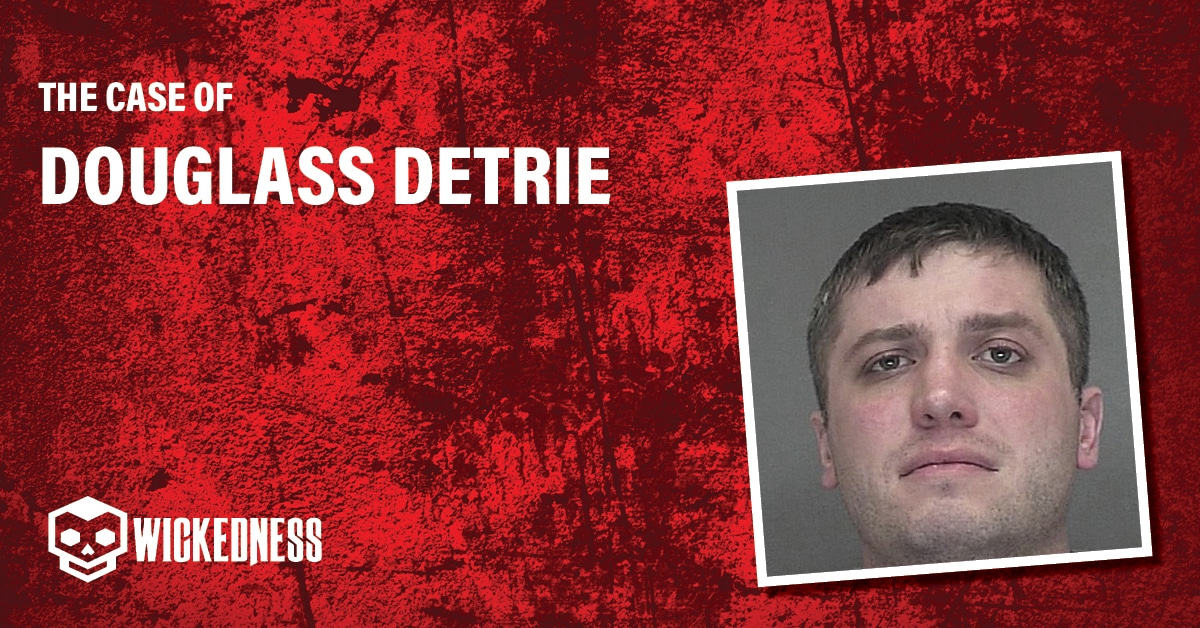 Victim
Nicole Vander Heyden
Victim Date of Birth
Info Box
Incident Location
Near victim's home in Ledgeview, Wisconsin
Date of Conviction
Info Box
Body Discovered Date
Info Box
Douglass Detrie, A Night Out with Friends
31-year-old Nicole VanderHeyden and her boyfriend, 35-year-old Doug Detrie, lived together in Ledgeview, Wisconsin. Nicole was a teacher with two children from a previous relationship and now had a six-month-old son with Doug. However, life wasn't perfect. VanderHeyden and Detrie were starting to struggle with their relationship. Doug wasn't sure he was cut out for the family lifestyle, and Nicole believed he wanted to see other people. Despite their constant fighting, they stayed together.
Nicole was a social butterfly, so when she was invited to go out with friends to watch a band play, she jumped at the chance. They hired a babysitter on May 20, 2016, and met some friends at a Green Bay bar called the Watering Hole. The couple continued to argue and went their separate ways around midnight; Nicole left with friends and headed to the Sardine Can. Doug stayed at the Watering Hole. Nicole sent him angry messages throughout the night, accusing him of cheating on her. At first, he calmly replied to her texts, knowing she was angry and upset, but eventually, he stopped responding. Later that night, Nicole called Doug, but he refused to answer. When she attempted to leave the bar, Nicole's friends offered her a ride home and tried to stop her, but she resisted, so they let her go. One of her friends called Detrie and told him that Nicole had left. He called her, and they fought, but her phone died. Doug and a friend drove around the area looking for her. Eventually, Doug went home. Detrie arrived home around 3:00 am, according to the babysitter, and he was still looking for Nicole when she left.
Doug called the police the next day after 4:00 pm to report that Nicole hadn't come home since last night. The Green Bay authorities and Nicole's family were surprised that it had taken him that long to call, but he assumed she had stayed with friends after going out the night before. When Doug went to the police station to give a statement, they noticed that he'd taken a shower. Investigators believed that Doug might have been trying to hide something. After multiple witnesses said they had seen the couple fighting all night, Doug Detrie became a suspect.
Nicole Never Made it Home
A few days later, two boys were removing rocks from a field when the body of a female was found. She had been murdered elsewhere then her body was dumped there. She was beaten so severely that the police had to identify the victim through dental records. It was Nicole. Her body had been dumped three miles away from the couple's home. She was naked except for a pink wristband from the bar and a sock. Her clothes were found thrown off a nearby highway. It was a brutally violent murder. A Green Bay medical examiner confirmed that Nicole had blunt force trauma and her skull was fractured. Her jaw was broken and dislocated, and she had significant injuries to her neck consistent with strangulation. The medical examiner's report also noted injuries to her upper back, with a waffle pattern from the bottom of a shoe. Nicole suffered 241 injuries. Her hands were bruised, and her fingernails were broken. Nicole had tried to fight off her attacker. Evidence showed that she had sex before she was killed, but it was unknown whether it had been consensual or not.
When Doug found out Nicole was dead, he was devastated. When the Green Bay police considered their dysfunctional relationship and how long it took him to report Nicole missing, Doug was arrested and held on a $1 million bond while the police investigated her murder. However, he was shortly released. The DNA evidence from the crime scene did not point to Doug. His DNA was not found on Nicole's body or at the crime scenes, and his Fitbit data showed that he was asleep at the time of the murder. When they realized Doug was not the correct person, he was released, and the investigation continued.
Four months later, there was a big break in the case. Some DNA swabs collected at the scene matched someone in the national database – 40-year-old George S. Burch. The medical examiner found Burch's DNA on Nicole's body. Another critical piece of evidence was his cell phone data. His cell phone's search history showed that he'd looked for news on the investigation. The cell phone's location services proved he'd been to the same bar that night. It also showed he was near Nichole's home and the murder scene where her body had been dumped.
Who Killed Nicole?
At the murder trial, Burch's Defense Team told the court that George admitted to being with Nicole on the night she disappeared but insisted he didn't kill her. He said Doug Detrie was the actual murderer. Burch had only recently moved to the area and met Nicole for the first time that night. Burch claimed he offered her a ride home at around 3:00 am, and when they got to the house, they had sex in his truck. When Doug came out and caught them, he was infuriated, and he knocked Burch out. When he woke up, Doug had already killed Nicole. He threatened Burch with a gun and forced him to move her body to remove the evidence.
The Prosecution thought that a lot didn't add up in George Burch's story. In response, they said Detrie had no motive or opportunity. They also said it is highly improbable that Doug could overpower Burch, who was 6-foot-7 and 250-pounds, without sustaining any injuries—adding that his Fitbit records said that Detrie was sleeping when the murder occurred. Burch claimed that Doug took Nicole's car to dump her body, yet the monitoring device in her vehicle showed that it hadn't been driven.
Burch's Defense Attorney stood by his version of events. They said Doug owned guns and had exacted revenge when he found Nicole having sex with someone else. His Defense Lawyers argued that Doug knew the area, but Burch did not.
The Prosecution countered that because Doug Detrie knew the area well, he would've known the dumping site was near the sheriff's office when he could have chosen somewhere far more remote nearby. When Doug was questioned after he reported Nicole missing, officers noted that he had no defensive wounds, despite the fact Nicole had tried to fight off her attacker. 
The Prosecution told the court they thought George Burch had lured Nicole into his truck, promising her a ride home. When they got there, he forced himself on her, beat her to death, then dumped her body. 
In March 2018, George Burch was found guilty of first-degree intentional homicide and sentenced to life in prison without the possibility of parole. 
Some information about the two men wasn't presented at the trial, and the jury didn't hear about it. Burch had faced another murder charge when he was 20; he was acquitted in relation to a gang shooting. He also spent time in prison for a burglary conviction. At the time of Nicole's murder, he was also wanted for a hit and run and heroin possession. Doug was involved in a domestic abuse incident with Nicole's sister, Heather Meyer. While driving together to a bar, Doug allegedly touched her leg sexually, began driving recklessly when she told him to stop, and wouldn't let Heather out of the vehicle. Meyer lived with Nicole and Doug to help care for their children. She described Detrie as controlling and physically abusive and said that his aggressive behavior was getting worse. He was charged with reckless endangerment, false imprisonment, domestic abuse, and disorderly conduct. 
Frequently asked questions
Did Doug Detrie Murder His Girlfriend?
Doug Detrie was the original suspect in Nicole VanderHeyden's murder. He was cleared after the evidence showed he was innocent. The investigation later led to the arrest of George Burch, who was convicted by a Brown County jury and was given a life sentence without the possibility of parole.
What happened to Nicole VanderHeyden?
Nicole VanderHeyden, 31, was a mother of three who was found beaten and strangled to death on May 21, 2016. The police initially suspected her boyfriend, Doug Detrie, but a man named George Burch was convicted and sentenced to life behind bars for this horrendous crime. 
Where was Nicole VanderHeyden found?
Nicole VanderHeyden's body was found in a field three miles from the home she shared with her boyfriend, Doug Detrie, in Ledgeview, Wisconsin.