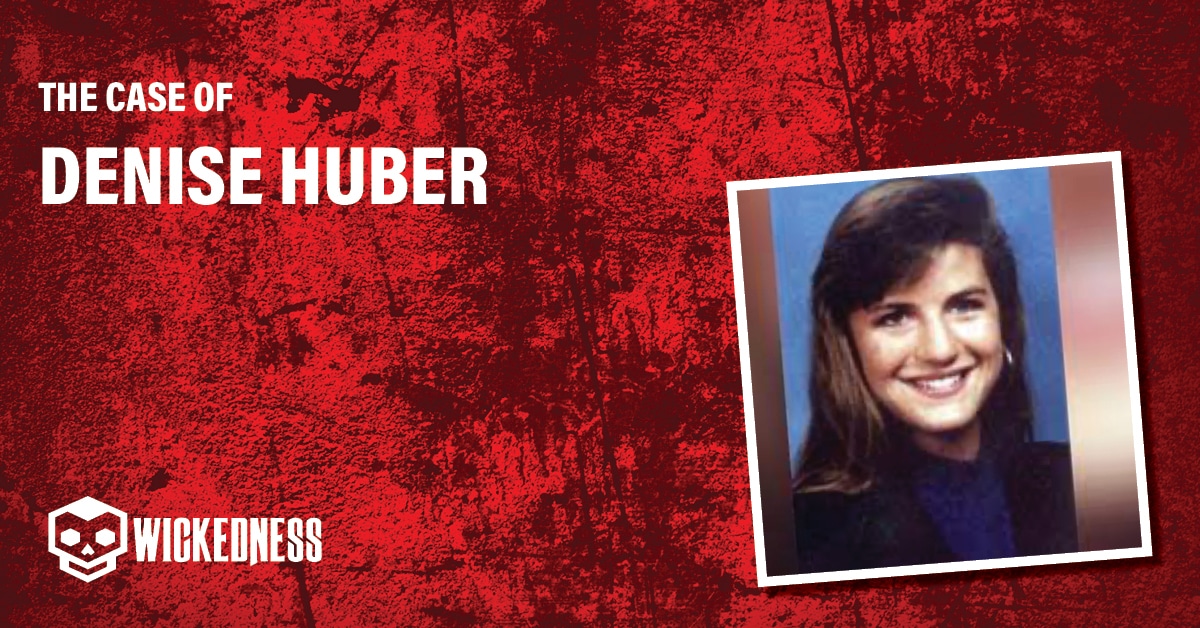 Victim Date of Birth
1967-11-22
Incident Location
Inglewood, California
Date of Conviction
1994-07-
Body Discovered Date
1994-07-
Denise Huber went missing on the 3rd of June 1991 when driving home from a concert. It took police three years to find her body handcuffed in a freezer at the home of her killer.
Denise Huber
Denise Anette Huber was born 22nd of November 1967 to parents Dennis Huber and Ione Huber. Her family moved from South Dakota in the early 60s before Denise was born. Denise often visited her grandparents in South Dakota. She lived in Newport Beach, California, and at the age of 23, graduated from the University of California-Irvine with a degree in Social Sciences. Denise continued to live at home with her parents while working at a local restaurant.
Disappearance
On the 3rd of June 1991, 23-year-old Denise Huber was on her way home from a Morrissey concert in Inglewood, California. It was just after 2 am. However, when her parents woke up that same morning, Denise's bed was empty. She had gone to the concert with her work friend Rob, and her parents assumed she had spent the night with another work friend, Tammy. But her parents began to worry when she was still missing that evening.
Denise's parents, Ione Huber and Dennis Huber, now concerned, called their daughter's work friends in hopes of finding out where she was. When they spoke to Tammy, they were surprised that she had not heard much from Denise recently and that she didn't host her at her house the night before. They then contacted Rob, who said that he and Denise had gone for drinks after the show, but she dropped him home at around 2 am, and he didn't know where she was.
Denise's friend Debbie decided to go for a drive and retrace the way home Denis would have likely taken that night after the concert. During the drive, Denise's friend made a shocking discovery. She found Denise's car had been left on the side of a fairly isolated freeway, with no sign of Denise anywhere.
Her car had a flat tire and pantyhose on the front seat. But Denise's personal belongings, including her purse and car keys, were missing.
Investigation Details
Police searched the area where Denise's car was found extensively to know what had happened to Denise. The dispatched helicopters to get an overhead view for any sign of Denise. The k-9 unit was also utilized. The dogs were able to trace Denise's scent 75 yards away before it disappeared. It was as if she had just vanished. With no leads to follow and no clues, Denise's case went cold.
Until July 1994, when a random tip from Arizona would help solve Denise's case.
The tip came from retired couple Jack and Elaine Court, who had moved to Arizona in the 1990s to settle down. The pair began selling paint supplies at the local swap meet. In 1994, they met a man named John, who was a newcomer to these meets. Jack and Elaine accepted an invite from John to pick up some paint supplies from his home.
Once they arrived at his home, a moving truck caught their eye. The truck was parked in his backyard and appeared seemingly abandoned. The couple was suspicious. John had claimed he had just moved to town 6 months ago. Expecting that he may have stolen the moving truck, they secretly wrote down the license plate number and informed a police officer. The police officer ran the plates and discovered the truck had been reported stolen 6 months ago.
The officer went to John Joseph Famalaro's house and, upon inspection, noticed numerous things that alarmed him. There were chemicals outside of the truck and an extension cord leading from the back of it, making him suspect the truck was being used as a drug lab.
Less than one hour later, a search warrant was issued to investigate the property further. In the back of the truck, authorities found a deep freezer. Inside the freezer was a plastic bag with something clearly in it. When they cut the plastic bag open and peeled it back, they discovered an arm. They discovered that inside the bag was a young adult female on her knees, with her head bent down and her arms handcuffed behind her back. A piece of cloth had been stuffed in her mouth, which was duct-taped closed.
The victim was Denise Huber.
What happened to Denise Huber?
Authorities believe that 34-year-old painter John Famalaro pulled up as Denise was changing her flat tire on the side of the freeway. It is then believed that he hit her over the head with a hammer and dragged her body into his vehicle, taking her to a Laguna Hills warehouse where he lived and ran his painting business. He sexually assaulted her and killed her by hitting her over the head with the hammer more than 30 times. Instead of disposing Denise's body John kept it in a large freezer, even taking it with him to Arizona when he moved there.
Trial
John Joseph Famalaro stood trial for the murder of Denise in July 1994. He pleaded not guilty and was convicted of murdering, kidnapping, and sexually assaulting Denis Huber. He received the death penalty. John Famalaro is currently awaiting his execution at the San Quentin state prison in California.
Frequently asked questions
What happened to John Famalaro?
He received the death penalty. John Joseph Famalaro received the death penalty in July 1994 for the murder and sexual assault of Denise Huber. He is awaiting his execution.
What happened to Denise Huber?
Denise Huber went missing one night when driving home from a concert in California. Her handcuffed body was found 3 years later in a freezer.