The case of
Melissa Ann James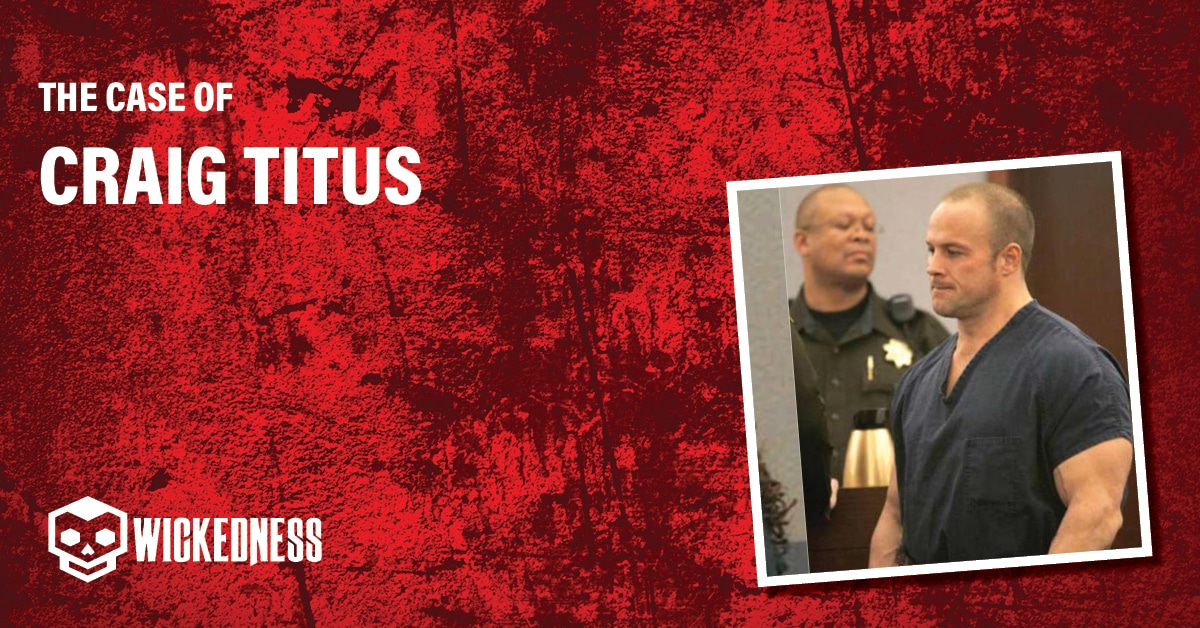 Victim Date of Birth
Info Box
Incident Location
Las Vegas, USA
Date of Conviction
Info Box
Body Discovered Date
Info Box
Craig Titus, Who was Melissa James?
Melissa Ann James was born on March 23, 1977 in Panama City, Florida. Her mom's name is Maura and Melissa grew up with a brother and sister.
As a child, Melissa attended A. Crawford Moseley High School where she has been described as a smart and bright student. While she was there, Melissa was a cheerleader and she also graduated one year earlier than expected, in 1994.
After high school, Melissa went to Gulf Coast Community College where she studied Business Administration. She was there for two years but she knew that her passion was in dance. Having been a cheerleader, Melissa wanted to do something similar as a career. She didn't finish her degree and instead, opened up her own dance studio at 19. It was open between 1996 and 2003 and Melissa was well known in Panama City for her choreographed dance routines. She cared deeply for kids and she offered scholarships to underprivileged children in the area, as well as teaching children with special needs how to dance.
During this time, Melissa did some modelling and local commercials, mainly in the time that her dance studio was quiet. She did some promo work for the likes of Calvin Klein and appeared on MTV. Melissa also had the chance to be an arena football cheerleader for a year.
Melissa James was introduced to Craig Titus in Panama City in 1996. She was a very bubbly person and it didn't take long for her to become interested in him. He was massive, both in muscle and personality. The two became friends and they stayed in touch.
In 2002, Melissa moved to Los Angeles for some modelling work. She had a partner in her dance studio so she knew that would be taken care of while she was away. Melissa wasn't perfect and she was drawn into the glitz and glamor of the LA lifestyle. While she was out there, she met up with Craig Titus and his wife, Kelly Ryan. Her family worried about her being out there but they hoped that the bodybuilding power couple would be a good influence on her.
In 2003, Craig Titus and Kelly moved to Las Vegas. Craig asked Melissa to move with them and become a personal trainer at the gym he was managing. She accepted but unfortunately, that didn't work out so Melissa moved back to Panama City.
However, in October 2005, Craig Titus got in touch with Melissa and asked her to manage a clothing store he was opening with Kelly. Even though Melissa hadn't completed her business degree, she still had an interest in business, and her plan was to go back to college and finish it. She thought that this experience would be good for her, so she agreed. Craig told her that she could move in with him and his wife and become their personal assistant until the store opened.
Unfortunately, the clothing store never materialized, and Melissa would be found dead just two months later.
Melissa James' charred body is found
In the early hours of December 14 2005, law enforcement received a call to report a car on fire in the middle of the Nevada desert. The fire department and police arrived on the scene, and once the fire had been extinguished, police discovered a charred body in the trunk of the car. It was beyond recognition, and it took a few weeks for a formal identification to be made.
It was the body of Melissa James.
The Crime Description
On December 13 2005, Melissa James was due to fly home to be with her family for the holidays. She called her mom that day while eating lunch and told her how excited she was to be coming home. Unfortunately, that was the last time Maura would hear from her daughter.
It's not known exactly what happened that evening as both Craig and Kelly deny murdering Melissa but detectives have managed to piece together the evidence they have and they've come to a conclusion that they believe happened.
Kelly Ryan was jealous of Melissa James. She was younger and prettier than Kelly, and there were rumors that Craig was having an affair with Melissa. Kelly was prepared to forgive Craig and move on, but only if Melissa was out of their lives. However, Kelly wasn't content enough with Melissa moving back home. She wanted to make sure she was gone for good. This was when Craig and Kelly came up with their plan.
On the evening of December 13, Craig and Kelly attacked Melissa with a Taser. Kelly then injected morphine into Melissa's leg and then the couple duct-taped her face, covering her eyes, mouth, nose, and ears. If that wasn't enough, they then beat her and strangled her. There was evidence of a bathrobe tie as well as a speaker wire around her neck.
The couple then loaded Melissa into the trunk of Kelly Ryan's red Jaguar and started calling friends, telling them that they'd found Melissa dead. He even invited one friend over and handed her a black duffel bag that had a Taser and a stun gun inside. It's alleged that he then called their friend, Anthony Gross, to help them dispose of Melissa's dead body.
Kelly then went to a Walmart to buy seven bottles of lighter fluid with her credit card and Craig was captured of CCTV, driving up in the red Jaguar and helping Kelly load the bottles into the car. The couple then drove out to the desert with Anthony Gross in a separate car. They poured the accelerant over the car and set it alight before driving home in Anthony's car.
Craig Titus
Craig Michael Titus was born on January 14, 1965 in Wyandotte, Michigan. He was born to a French mother and Greek father and he lived most of his life in a town called Riverview outside of Detroit. He also has two younger siblings called Kevin and Nicole.
In his school days, Craig played high school football but he ended up quitting because he was too small. He also wrestled briefly but after graduation, he decided to start weight training to build muscle. This is where his interest in bodybuilding began.
By the age of 21, Craig weighed 185lbs, which is when he truly noticed results from weight training. He decided to become a professional bodybuilder and his first show was the 1988 Houston Bodybuilding Championships where he won the Men's Open middleweight title and the overall title. Craig carried on attending bodybuilding contests and championships throughout his life. He became well known on the bodybuilding circuit, and his nickname was "The Bad Boy of Bodybuilding." This didn't change when he met Kelly Ryan and the two got married at the Little White Chapel in Las Vegas.
Craig Titus had a few criminal convictions prior to the murder of Melissa James. In 1995, he pled guilty to conspiracy to possess with intent to distribute ecstasy, and he was sentenced to 16 months of house arrest, and an electronic tag was fitted. Similarly, in 1997, he was sentenced to 21 months in prison for violating his probation by using steroids.
Kelly Ann Ryan was born July 10, 1972, in Minneapolis, Minnesota. Little is known about her childhood except that when she was eight years old, she took up gymnastics. Throughout high school, Kelly was a part of various other athletic activities, particularly basketball and cheerleading.
After graduating high school, Kelly attended the University of South Carolina and studied journalism. While there, she took up a job as a choreographer and she attended her first fitness competition, the NPC South Carolina State, in 1995 where she came first.
Over her career, Kelly won eight fitness competitions. Her high energy routines earned her the nickname "Flyin' Ryan" and she used her choreography, cheerleading and gymnastics background to create these amazing fitness routines which made her stand out.
Kelly was described as sweet but very focused on her goals and she had a high work ethic. When she first met Craig, she rejected his advances as she found him very arrogant but she eventually agreed to date him and they ended up married.
She didn't have any prior convictions but Kelly was an extremely insecure and jealous person outside of the fitness circuit. It's believed that this is what drove her to commit this murder.
Investigation Details
When detectives found the torched car with the body in the trunk, they ran the license plates to see who the car belonged to. It came back that the car was Kelly Ryan's. Police originally thought that the body was Kelly.
However, when they arrived at her home, they expected that they were going to have to tell her husband that she was dead. But they had the shock of their lives when Kelly Ryan opened the door. When the police started questioning her, Kelly told them that she'd noticed that her car was missing at 5am that morning. She also told them that she suspected Melissa James, their live-in assistant, had taken it. Kelly was keen to tell the police about a fight that Melissa and Craig had had the night before. The couple was angry with Melissa as they had discovered that she had been stealing from them. When asked why they hadn't reported the car as stolen, Kelly and Craig said that because they knew who had stolen it, they didn't see the need to report it. Instead, they'd contacted their friend Anthony Goss to help them try and find it.
Before the police left, they asked to look at Melissa's room. They were shocked at the state of it, her room was completely trashed. Kelly was keen to show police a bank card which she said was hers. It seemed suspicious to detectives that Kelly knew exactly where to find the card that Melissa had allegedly stolen amongst the mess.
Detectives spoke to Craig and Kelly separately and this is when Craig admitted that he was having a sexual relationship with Melissa. He said that Kelly didn't know but police didn't believe him. He shared with them his version of events which were similar to Kelly's. Craig said that they told her to move out when the couple found out that Melissa was stealing from them. He had bought Melissa a plane ticket so she could return home. They claimed that Kelly had dropped Melissa off a convenience store at 2.30pm on December 13 for her to get a lift to the airport. This was the last time Craig or Kelly said they saw Melissa.
It was at this point that the body was identified as Melissa James. After this discovery, police wanted to speak to Craig and Kelly again. But the couple had fled the state. Obviously, this made police more suspicious of the couple and they concentrated on building the case against them.
Nine days later, Kelly was arrested in a beauty salon in Boston. Craig was waiting for her in their truck outside and he was also arrested.
When the police brought the couple in, they had an entirely new story for them. This time, they said that after Kelly had dropped Melissa off, they had a dinner party with their friends. During this party, Kelly had seen their garage light out and upon investigation, she had discovered Melissa in the car. She had a needle in her leg and was surrounded by used needles. All three were known for doing drugs but Craig and Kelly panicked. They knew that if this got out, their careers would be over. This is when they decided to burn Melissa's body.
The autopsy revealed that a fatal dose of morphine was found in Melissa's body. As the prosecution couldn't prove that Craig and Kelly had administered this themselves, they offered a plea deal.
Trial
Neither Craig Titus or Kelly Ryan went to trial. As part of the plea deal that the couple took admitting their guilt, they were both offered reduced sentences. However, just days after admitting that he killed Melissa, Craig did a TV interview where he denied the murder.
Verdict
Craig Michael Titus was convicted of second degree murder, kidnapping and arson on August 22, 2008. He received 21 to 55 years in prison. He is eligible for parole in December 2026.
Kelly Ann Ryan entered an Alford plea to arson and battery with a deadly weapon resulting in significant bodily harm. She was convicted of the charges on May 31 2008 and she was sentenced to two consecutive terms of three to 13 years in prison.
In December 2011, Kelly was granted parole on the assault charges. She remained in prison though to serve the rest of her sentence for the arson charge.
Frequently Asked Questions
Are Craig Titus and Kelly Ryan still married?
Kelly filed for divorce while the couple was in prison. This divorce was finalized in December 2009.
Is Kelly Ryan still in prison?
Kelly Ryan was released from jail on October 24 2017 after serving just 12 years.