The case of
Chelsea Ellen Bruck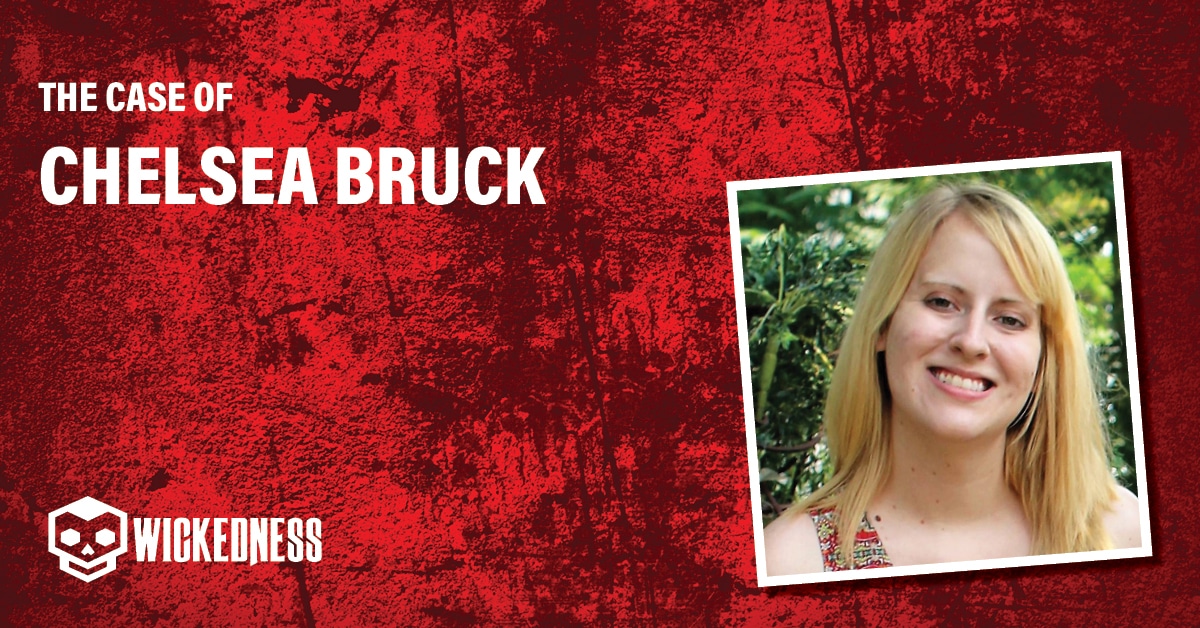 Victim
Chelsea Ellen Bruck
Victim Date of Birth
1992-06-28
Incident Location
Frenchtown Township, Detroit, Michigan
Body Location
Briar Hill Road, Ash Township
Date of Conviction
2017-07-13
Body Discovered Date
2015-04-14
Thousands of young people enjoy celebrating Halloween every year. Wearing interesting costumes, attending fun Halloween parties, and watching horror movies make this holiday an exciting time of the year. For Chelsea Bruck, however, one Halloween turned into a horror movie scenario…
Chelsea Bruck's Life And A Fatal Halloween Party
22-year-old Chelsea Bruck was the youngest of five children. She was born on January 28, 1992, to parents Leannda and Matt Bruck. She had three sisters and one brother. Chelsea worked at Olga's Kitchen in the Mall of Monroe in Frenchtown Township and she planned to attend Monroe Community College to earn a culinary degree.
However, one Halloween party stopped her from fulfilling her dreams. On the evening of October 26, 2014, Chelsea attended a Halloween party on a rural property in Frenchtown Township, Michigan. Dressed in a handmade "Poison Ivy" costume, she partied with her friends. At one moment, she decided to leave to party and go home…
Chelsea Bruck's Disappearance And A 6-Month Long Search
She never came home, though. Weeks and months went by, and there was no trace of Chelsea. for six months, the place where she was last seen alive and the surrounding area was searched thoroughly. More than 1 million leaflets were distributed, but everything was in vain until April 2015.
In early April 2015, Bruck's costume was found at an industrial site in the area of Peters Road and Vreeland in Flat Rock. A few weeks later, her remains were also located nearby. All the hopes of finding Chelsea alive were shattered, but at least her fate was finally known. A new question has arisen – who would hurt Chelsea and why?
Details of Chelsea Bruck's Death And An Improbable Confession
A DNA sample from Bruck's leggings that she wore that fateful night led the police to a man Daniel Clay. He attended the same party as Chelsea Bruck, and when she was leaving the party, he saw Chelsea walking by the road, holding her wig in her hands. He offered her a ride and she got into his vehicle. They drove down the road, and according to his statement, there they had consensual sex. At one point, she stopped breathing. Apparently, he tried CPR, but couldn't revive her. Freaked out, he drove around for the next 30-45 minutes. He found a place deep into the wooded area where he hid her body.
Yet, the physical evidence suggested a slightly different story than what Daniel Clay has told. An autopsy was conducted by the Wayne County Medical Examiner's Office, and it showed that Bruuck died of blunt force trauma with numerous fractures to her face, jaw, and neck. It seemed that the events from October 26th weren't so consensual after all.
Daniel Clay And His History Of Crime
Daniel Clay was born in 1989. Little is known about his personal life, but he had a long criminal record even before murdering Chelsea Bruck. The same month that lab results confirmed that Chelsea Bruck's leggings contained Clay's DNA, he was charged in a separate criminal sexual conduct case. He has a son with Jessica Pridyl, a former co-worker of Chelsea Bruck.
Investigation Details
Once his DNA was found on Chelsea Bruck's leggings, Daniel Clay was arrested by Monroe County Sheriff, Brian Sroka. Daniel Clay didn't try to deny his involvement in her death. He claimed that their sexual relations were consensual, that her death was accidental, and that he tried to revive her. His story was obviously fake, though. He changed his story several times and the evidence showed that the events from that night didn't really happen as Clay described them.
An autopsy showed numerous blunt force trauma on Chelsea Bruck's jaw, face, and neck. This was proof clear enough that she was attacked, raped, and murdered.
Trial
On November 2, 2016, the trial for the murder of Chelsea Bruck has begun. Daniel Clay was charged with open murder. This charge meant that the jury was going to ultimately decide what level of homicide Daniel Clay was responsible for. In court, Chelsea Bruck's mother Leannda Bruck told Clay that she forgives him.
The jury wasn't so forgivable. On May 16, 2017, Daniel Clay was found guilty of first-degree murder. Monroe Circuit Judge Daniel White called Daniel Clay a murderer, rapist, and liar. A chief assistant prosecutor in the Monroe County Prosecuting Attorney's Office, Michael Roehrig, called Daniel Clay a monster.
Verdict
On July 13, 2017, Daniel Clay was sentenced to life in prison, without the possibility of parole. If he was charged with second-degree murder, he would have a chance of parole, but the judge and jury agreed that Clay's crime deserved a harsher sentence.
Frequently asked questions
What was the last known sighting of Bruck?
Chelsea Ellen Bruck was last seen leaving a crowded Halloween party around 3:00 am on October 26th, 2014.
What Was Daniel Clay's Reaction When Faced With His Victim's Family?
Daniel Clay apologized in court. He was quoted saying: "I made a mistake. I know I caused pain to the family and to the community. I am truly sorry. I am sorry for what I put you through."
What Happened To Chelsea Bruck?
She was raped and beaten to death by Daniel Clay when she was going home from a Halloween party. Her body remains were hidden for 6 months in a wooded area 10 miles away from the place she was last seen alive.
What's The Lesson From Leanndra Bruck?
"A very important lesson, from the loss of Chelsea: Don't leave your friends alone," Leanndra Bruck, Chelsea's mother said.