The case of
Cassie Jo Stoddart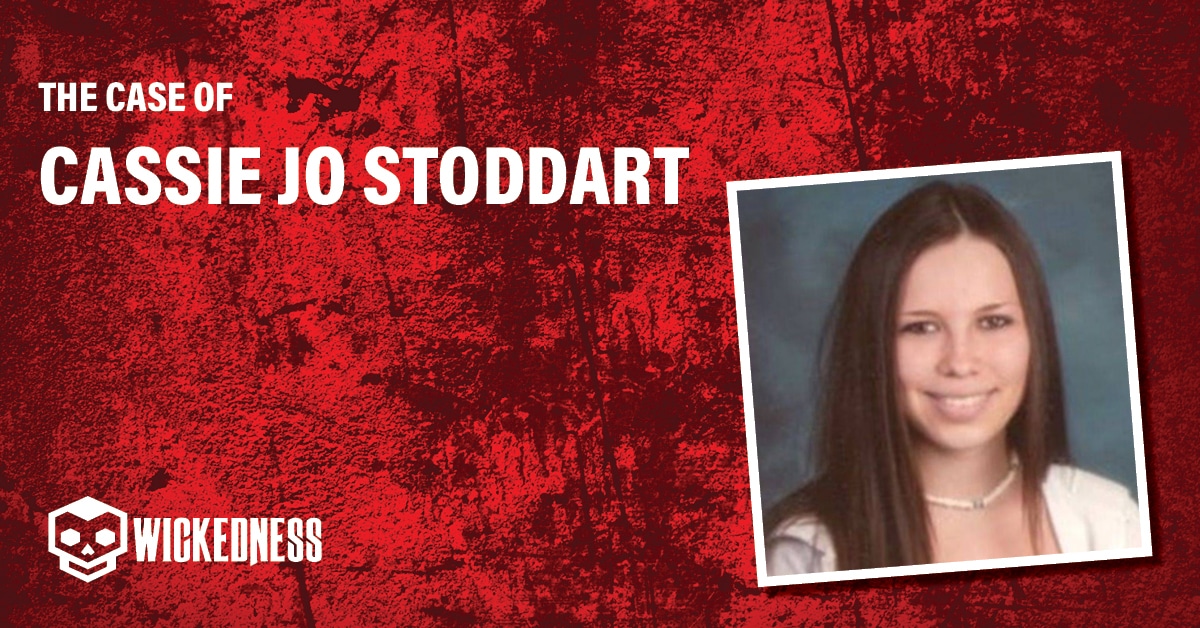 Victim Date of Birth
Info Box
Incident Location
Pocatello, Idaho, USA
Date of Conviction
Info Box
Body Discovered Date
Info Box
Cassie Jo Stoddart, 16-Year-Old said goodbye to two of her best friends that night, not knowing they would return to murder her.
Who was Cassie Jo Stoddart?
Cassie Jo Stoddart was born in eastern Idaho in the United States on December 21, 1989. Her birth a few days before Christmas was a joy for the whole family, especially her mother Anne.
Cassie Jo Stoddart belonged to a loving family and grew up with her older sister, Kristi, and younger brother, Andrew. Her friends describe her as a very good girl, who led a normal life, without excesses or vices, always interested in her studies with an excellent performance in all her classes.
Both her fellow students at Pocatello High School and her teachers remember her as a very kind young woman with a pleasant personality. They all agreed that she was very friendly with everyone, so it was very easy for her to make friends.
Her relatives remember her as being very enthusiastic about art, especially her interest in drawing. Cassie Jo's mother says that she could spend hours in her room listening to music, loved to laugh and had a great ability with numbers.
Cassie Jo's friends always refer to her as a smart girl with lots of ambitions. Cassie always talked about going to college and was very excited about the idea of pursuing a career and becoming a professional.
In all the tributes to Cassie Jo after her death, family and friends alike are clearly shocked that such a bright young woman died in the most horrible way they could imagine.
Everyone assures that Cassie Jo had a full and promising life ahead of her, which unfortunately came to a terrifying and fatal end.
Cassie Stoddart's death is one of Idaho's most remembered crimes and to this day, remains a part of the memories of her family, friends and residents of Pocatella.
The night Cassie Jo was killed by her own friends
Cassie Jo's aunt and uncle, Frank and Allison Contreras, were going away for a weekend trip, and they thought of her to take care of the house and their pets while they were away. Cassie Jo Stoddart had always proven to be a responsible and caring young lady, so they trusted her to do it.
On Friday, September 22, 2006, Cassie was due to go to her aunt and uncle's house. Knowing she would be alone, she decided to invite her boyfriend Matt Beckham over to hang out and watch a movie that day. They both saw this as an excellent opportunity to spend time together and at the same time, Matt could accompany her while she was alone.
After discussing their date that night, they decided to invite a friend of theirs, Brian Draper, to join them for the evening.
Cassie Jo Stoddart's mom stopped by to pick her up from school to take her to her aunt and uncle's house, dropping her off there she asked him to please write or call her to see how she was doing. Her mother was aware that Matt would be accompanying her that evening.
Matt arrived at 6pm, a little before dark, they chatted for a while and spent time together. Later, at about 7pm, Brian Draper and another friend of theirs, Torey Adamcik, arrived.
When Draper and Adamcik arrived, Cassie Jo gave them a tour of the entire house, they toured the bedrooms, kitchen, living room, and other areas of the property, including the basement.
After chatting for a while, Cassie Jo, her boyfriend Matt, and their friends sat down to watch a movie, however, before the movie was over, Brian told them that he and Torey had to leave because they planned to see another movie at the local theater. At approximately 10 pm, the two guys said goodbye and left the house.
Shortly thereafter, there was a power failure and the house was completely dark. Since Cassie Jo was going to be alone, Matt called his mother to ask if he could stay with her that night since the power was out and she would probably need company. His mom replied no, and that she would come to pick him up in half an hour.
Although Matt's mom's answer was a resounding no, she proposed to take Cassie Jo with them, however, the young girl did not want to go, after all she had made a commitment to her aunt and uncle to take care of the house and their cats. When Matt's mom went to pick him up, he said goodbye to her and told her he would call her later.
When Cassie Jo Stoddart was left alone, Draper and Adamcik broke into the house by sneaking into the basement and making noise to scare her. They had caused the power outage and made noise while Matt was still in the house, but apparently, they heard nothing.
When Matt left, Draper and Adamcik continued making loud noises, but when Cassie Jo did not respond, they went upstairs to look for her, and then stabbed her to death 30 times.
Cassie Jo's aunt and uncle returned to the house on September 24, 2006, two days after the murder. When they arrived at the property, they noticed some broken glass and a lot of quiet in the house.
They found Cassie Stoddart's body in a large pool of blood from the fatal wounds and immediately called 911.
Just like a horror movie
Cassie Jo agreed with her aunt and uncle that she would look after their house and cats while they were away. More than the house, they were concerned about leaving their cats alone for the entire weekend.
In light of the fact that she would be alone, Cassie Jo thought it would be a great idea to invite her boyfriend Matt and her friends, Brian and Torey over for a movie. Both Brian and Torey attended the same school as Cassie Jo, and earlier in the day while they were in class, they shared some time together. Brian even used to carry a video camera everywhere he went and recorded Cassie putting her notebooks in her locker that day as they talked.
Later that day, the 3 of them arrived at Cassie Jo's aunt and uncle's house, as they had agreed earlier in the day at school. First came Matt Beckham, her boyfriend, and then Brian Draper and Torey Adamcik.
Cassie Jo Stoddart gave them a tour of the entire house and while they were in the basement, Draper and Adamcik made sure the basement door was left open. They then went upstairs with the couple to watch the movie that night.
Before the movie ended, Brian told Matt and Cassie Jo that he had planned to see a movie with Torey at the local movie theater at that time, so they said their goodbyes and pretended to leave.
Draper and Adamcik drove the vehicle a few yards away from the house so that Matt and Cassie Jo would believe they had really left. However, they left the car a few blocks away and sneaked back to the property and broke into the basement. They entered through the door they had purposely left open when Cassie showed them the house.
The two young men were wearing different clothes and masks, and with the intention of scaring their friends, they made noises from the basement. While this was going on, Cassie Jo's boyfriend Matt was still in the house, but since they had no response to the noises, Brian and Torey decided to turn off the power so that the house would be dark.
Matt didn't want to leave Cassie Jo alone in that situation, however, his mom wouldn't agree to let him stay with her, so they went to pick him up while Draper and Adamcik were hiding in the basement of the house.
The two boys kept making noise but Cassie Jo never came down to see what was going on, so they decided to go upstairs. Searching for her they went to the top of the house, but their intention was more than to give her a scare.
Draper and Adamcik stabbed Cassie Jo with a knife 30 times, in her arms, abdomen, chest and neck. At least 9 of these were the fatal stab wounds that caused her death.
Further investigation revealed that Cassie Jo tried to defend herself, but the violence with which her friends stabbed her was impossible to stop. Also revealed that the whole thing was planned by Brian Lee Draper and Torey Michael Adamcik, so they probably enjoyed every fatal stab wound they inflicted on Cassie Jo.
After murdering her and leaving her in a pool of blood, Draper and Adamcik fled the house to a vehicle they had parked a few feet from the house so that Cassie Jo and her boyfriend would think they had left.
Matt and Cassie Jo's mom called her that night but she did not answer their call, however, they assumed she was sleeping.
On September 24, 2006, her aunt and uncle returned home. Cassie Jo's 13-year-old cousin  found the body on the floor with lots and lots of blood around it. Her uncle called 911 to report what had happened and then called Cassie's mom to give her the worst news of her life.
Brian Drapery Torey Adamcik
Brian Lee Draper was born in March 1990, was raised in Utah and from an early age had to deal with many emotions as he was bullied by other school students. Upon moving to Pocatello, he seemed to lead a quieter lifestyle, however, he hid a certain interest in horror movies in which the killer usually gives a fatal stab wound to his victims.
Torey Adamcik, meanwhile, was born in June 1990 in Pocatello. His mother, Shannon Adamcik, told the Idaho State Journal, that her son was always a quiet young man, who never showed signs of violent attitudes.
Adamcik & Draper met at Pocatello High School and became close friends, especially because they shared many interests and hobbies. After Cassie Jo's murder, it became known that Draper & Adamcik liked to investigate America's most notorious criminal stories, such as Ted Bundy, or even the Columbine High School massacre, also starring two young men, Dylan Klebold and Eric Harris.
In Draper & Adamcik's videos, they talked about recreating movies like Scream, so they decided to do it that night Cassie Jo Stoddart lost her life.
Although his behaviors may have been treated as a consequence of mental illness, it appears that his interest in actual killing was more than that.
Investigation Details
The police arrived at the crime scene and began investigations, which determined, according to the forensic examination, that Cassie Jo had died on Friday, September 22, 2006.
The police investigations began with several interviews, especially with those closest to the victim. After gathering certain information, one of the first to testify was Matt Beckham, Cassie Jo's boyfriend, who was the last person to see her alive and was the first to be questioned.
Matt was subjected to several questions, but he was always surprised and distressed by what had happened. His family and friends were able to attest that he was at home when the murder occurred. In his statements, he mentioned Draper and Adamcik, since they were also with Cassie that night.
After Brian and Torey came up in Matt's statement, on the same day Cassie Jo's body was found, detectives interviewed Adamcik for the first time.
In this first interview, Torey Adamcik told them that he and Brian Draper had gone to Cassie Jo's aunt and uncle's house that night because they expected there to be a party, but when they realized there wouldn't be, he and Brian decided to go to a movie theater in Pocatello to see a movie together. However, he could not give many details about the movie they saw, nor about other questions during their argument.
The first interview Brian Draper was given was not recorded because he was not in custody at the time. During his statement, he told the police that he had gone with Torey to see a movie at the theater after saying goodbye to Cassie, and although they arrived very late to the theater, they still decided to stay and watch the movie. His whole statement was a bit strange, he couldn't argue exactly how their evening at the movies went.
In a second interview, Draper stood by his statement, however, he was confronted by the police as his answers did not seem sincere. It was then that Brian Draper told the police that they had not gone to the movies, but was checking cars all night in the parking lots to see what they could steal. The police did not believe this new version either.
As police suspicions grew, a detective was authorized to search Draper's home. At the scene, they found a knife sheath. When they questioned Brian about this, he told them that the sheath was not his, that it belonged to a friend, and that it was probably him who had the knife.
Brian Draper was subjected to further questioning on September 27, 2006. Pressed by the detectives' constant questioning, he admitted that they had indeed returned to the house that night to scare Cassie. He told the police that this was the only intention and that they had brought masks, gloves and knives. He testified that when they went upstairs to get Cassie, it was Adamcik who had given Cassie the stab wounds.
Draper also told the police that Torey Adamcik threatened him not to tell what happened. In an attempt to save himself from the crime, he led the police to where the gloves, masks, bloody clothes and knives were buried. All of this turned up substantial evidence that led to the arrest of Draper and Adamcik.
In addition, they found videotapes that revealed the most disturbing thing. Draper and Adamcik had recorded themselves saying they would kill Matt and Cassie Jo that night. During one of the recordings Cassie Jo is seen that same day having a conversation with Brian.
The video also shows Draper and Adamcik making a list of people they should kill, however Cassie Jo was the person at the top of the list. Draper and Adamcik can also be seen in the video talking about killing her on the way to the house where Cassie Jo was and then killing her. They both appeared elated after killing her.
Trial
After gathering substantial evidence, Adamcik & Draper were arrested on September 27, 2006. They were charged with first-degree murder, as well as conspiracy to commit murder.
During police interrogations and the jury trial, Drapper & Adamcik blamed each other for planning the murder and using the knife to kill Cassie Jo.
The medical examiner testified during the trial that upon a thorough analysis of the autopsy, he had determined that Cassie Jo received 30 stab wounds and that at least 11 of them were fatal. The forensic pathologist indicated that two knives were used.
Brian and Torey were tried separately. During their testimonies they confessed that they were very interested in the crimes, and Brian even stated that he would have wanted to recreate murders like those in the movie "Scream".
Verdict
Brian Lee Draper was convicted on April 17, 2007. Days later, the trial began for Torey Michael Adamick, who was convicted on June 8, 2007. Draper and Adamcik received separate mandatory life sentences for first-degree murder and neither would have the option of parole.
Both Brian and Torey were incarcerated at the Idaho State Correctional Institution, where life in prison awaits.
Years later, Torey Adamcik attempted to appeal on several occasions based on certain arguments that the supreme court rejected.
It was learned from news media and statements from family members that Cassie Jo's 13-Year-Old Cousin has nightmares recalling the day she found her body.
Cassie's aunt and uncle have stated that they have tried to sell her home, however, due to the crime committed there, people are not interested in buying it.
The crime committed by Draper & Adamcik caused a commotion in Idaho and the rest of the United States.
Frequently asked questions
How Cassie Jo Stoddart Die?
Cassie Stoddart died after being stabbed multiple times.
Who killed Cassie Stoddart?
Cassie Jo Stoddart was killed by her friends, Brian Draper and Torey Adamcik.
Where is Cassie Jo Stoddart's boyfriend now?
No information on where he lives has been found at this time.