The case of
Bryce David Laspisa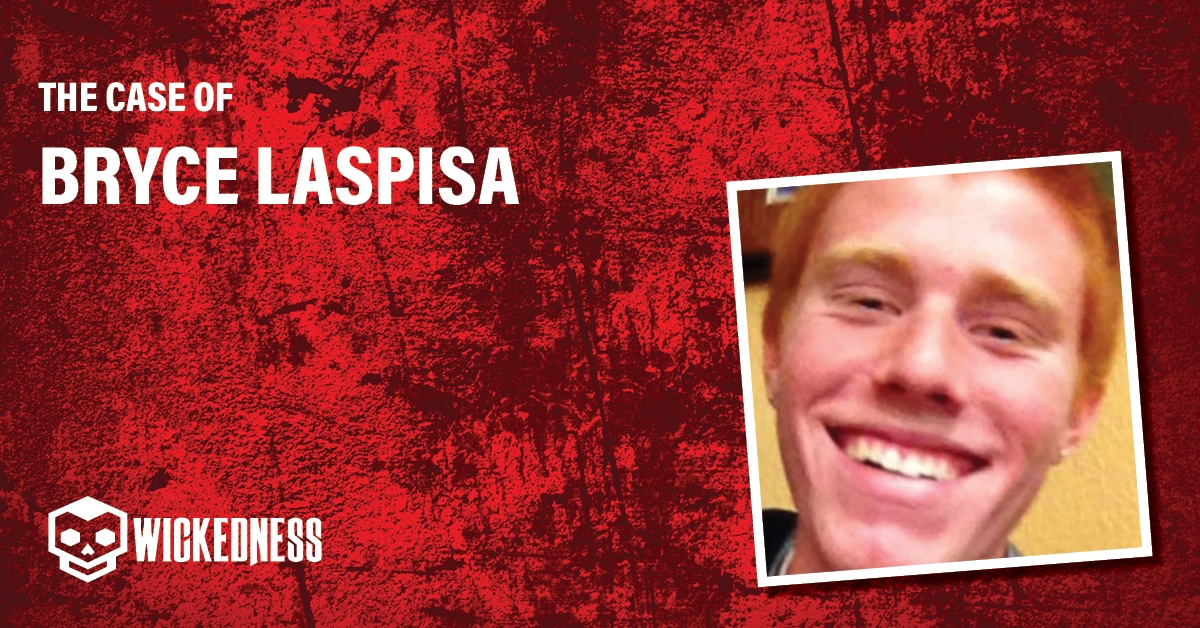 Victim
Bryce David Laspisa
Victim Date of Birth
1994-04-30
Incident Location
Castaic Lake
Bryce Laspisa disappeared on the 30th of August 2013 while going to his parent's house. To this day, Bryce has not been found.
Bryce Laspisa
Bryce David Laspisa was born on the 30th of April 1994 in Springfield, Illinois, USA. He was the only child of parents Michael Laspisa and Karen Laspisa. His parents were older at the time of Bryce's birth and retired at the same time he completed his high school education. Bryce Laspisa graduated from Naperville Central high school in 2012 and grew interested in various kinds of art, especially painting and photography. He was also a sociable person who had many friends in all his stages of life. That summer Bryce and his parents moved to Laguna Niguel, Orange County, California. Bryce then moved away from his parents to Chico,  California, and studied graphic and industrial design at Sierra College. Bryce stayed in the dorms at Sierra College, but he only completed two semesters of his course before his disappearance. At college, Bryce started dating a fellow student named Kim Sly. Kim and Bryce started dating only a couple of days after being introduced by a mutual friend. They often studied and went out together, being described as a happy couple by their friends.
The Disappearance of Bryce Lapisa
Early morning on the 29th of August 2013, Bryce got in his car and started driving towards his parent's house in Laguna Niguel, California. It was a three-hour drive. He called his mother at 2 am on the 30th of August to tell her he was going to stop for a rest in the Sierra Pelona Mountains to the side of Interstate 5. This was the last time his mother heard from him.
Later that same day, police came knocking on Michael and Karen's door. They told them that they had found Bryce's car wrecked in the vicinity of Castaic Lake. Unfortunately, no trace of the boy was found, and his disappearance remains a mystery.
The lead up to the disappearance of Bryce Lapisa
He spent the summer with his parents, who spent a lot of time with him and said that they saw nothing new or unusual about his character or behavior at the time. In August 2013, his sophomore year began. Bryce got a campus apartment with a roommate Sean. Bryce was a 19-year-old college student at this time. Two weeks in, his roommate Sean called Karen, Bryce's mom. He told Karen that he was worried about Bryce. Bryce's personality had changed entirely. He claimed that Bryce stayed up drinking all night one night, clearly drinking heavily. He also said that Bryce Laspisa was taking the medication Vyvanse, which is used to treat ADHD, a condition Bryce wasn't diagnosed with. The drug, Vyvanse has several unpleasant side effects, including depression and mania. It is reported that Bryce was taking the medication with a friend to stay up all night drinking and playing video games.
Three days before his disappearance, Bryce broke up with his girlfriend, Kim, by text message. Bryce told her that she would be better off without him. Bryce also texted his roommate Sean, saying,"'I love you, bro, seriously. You are the best person I've ever met. You saved my soul." Bryce then gave Sean his Xbox console and gave someone an expensive pair of diamond earrings that he had.
On the 28th of August, Bryce went to Kim's house to talk about the breakup. The pair ended up making up, but Kim noticed that he was still acting strange, so she took the keys to his vehicle. After this Bryce called his mother and told her about the argument he was having with Kim, and how she had taken the keys to his vehicle. Bryce's mother Karen ended up convincing Kim to return Bryce his keys so that he could drive home to sleep.
A couple of hours later, Bryce called his mother and told her that he had a lot to talk about. He then started driving toward her home at around midnight.
At 11 am, Karen and Michael were notified that Bryce had used their roadside assistance service. A man named Christian, owner of Castro Tire and Gas in the town of Buttonwillow, reported that he'd delivered three gallons of gasoline to their son after he ran out of fuel at around 9 am. Christian noticed the parent's concern and offered to return to the spot where he'd seen Bryce.
After returning to the location, Christian noticed that Bryce hadn't moved in hours. He approached the boy telling him that his parents were worried, and called them to let them know their son's location. Bryce agreed to drive home to his parents, and Christian watched as he drove off at around 3 pm.
Hours later, the Laspisas still hadn't heard from Bryce Laspisa, so they filed a missing person report with the Orange County Sheriff's Department. Two Kern County officers tracked his cell phone and located him just a few miles from where Christian had seen him. The officers reported that he seemed calm and friendly and showed no signs of intoxication, and there was no evidence of drugs or alcohol found in his vehicle.
At 2 am on the 30th of August, Bryce called his mother to tell her he was too tired to drive anymore and would pull off the road to sleep before driving any further. She agreed with that decision and expected to see him in the morning. But that was the last time she ever heard from him.
Investigation Details
When the Laspisas family doorbell rang six hours later, it wasn't their son at the doorstep but a police officer. Bryce Laspisa's car had been found abandoned near Castaic Lake. It was found off an access road where there was a 25-foot embankment. His car was at the bottom of this embankment and on its side. The rear window was shattered, but it looked like it had been kicked out or an emergency tool had been used. His laptop, phone and wallet were found inside, but there was no trace of Bryce himself. However, his duffle bag was found open and unzipped outside the car. The keys were still in the ignition. Blood was also found in the car but not enough to suggest a fatal injury. It was droplets on the driver's side window. It is predicted these are from him hitting his nose or head.
Evidence from the scene had shown that Bryce Laspisa had accelerated as he drove off the embankment.
The police used dogs to try and locate Bryce Laspisa based on smell, but the trail went cold. They searched for 48 hours straight, and no sign of Bryce was found.
At 2.07 am, 6 minutes after Bryce had called his mother to say he was stopping in the Sierra Pelona Mountains to the side of Interstate 5 to rest, surveillance footage found his vehicle driving towards the lake. The same camera caught him at 4.29 am on the same ride. Bryce drove up and down this long windy road twice. Bryce's car was found destroyed under an hour after this second pass.
On September 4th, 2013, a jogger reported a fire in a woody area, 3 miles from where Bryce's car had been found. They found the source was a body burning in the woods. DNA indicated this was not Bryce. Instead, It was 35-year-old Lamondre Miles of South Los Angeles.
A body was never found, making it impossible for detectives to close the case. A number of theories were developed to explain the disappearance of Bryce Laspisa. The first theory proposed was that since Bryce had left his phone and wallet behind, it could indicate that he intended to leave his old life for a new one. Either off the grid or under an assumed identity.
Another theory was that the drug and alcohol use provoked a psychotic break, or withdrawal from Vyvanse caused a sudden severe depression.
It is also possible that Bryce did die on or around the night of August 30, 2013, and his remains have yet to be found.
In the years since the disappearance of Bryce, no new information has been learned. However, Bryce's parents hope to one day know the truth about what happened to their 19-year-old boy on the 30th of August 2013.  Karen and Mike Laspisa hired a private investigator who looked at a foul play possibility.
If Bryce had decided to run off and start a new life, it would have been difficult for him to keep his name a secret for very long. His data was registered in the national missing person database, including his fingerprints, dental records, and DNA.
Frequently asked questions
Did they ever find Bryce Laspisa?
No trace of Bryce Lapisa was ever found. The vehicle he was driving and his personal belongings were found off an embankment near Castaic Lake. But to date, no sign of Bryce has been found.
Where was Bryce Laspia last seen?
Bryce Laspisa was last seen in Kern County on the 30th of August, 2013, at approximately 2:08 a.m. He has not been seen or heard from since.