The case of
Brookelyn Shae Farthing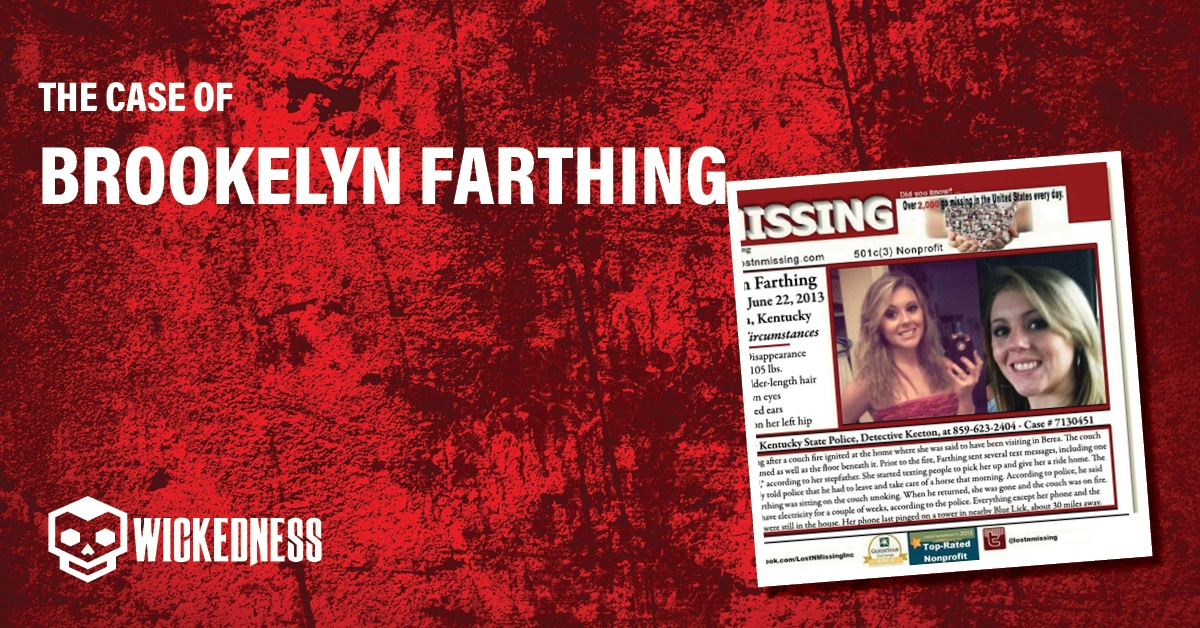 Victim
Brookelyn Shae Farthing
Victim Date of Birth
1994-08-26
Incident Location
Berea, Kentucky, USA
Body Discovered Date
Body not found
Brookelyn Farthing
Brookelyn Shae Farthing was born on August 26, 1994. She lived in Berea, Kentucky with her mother Shelby Walker, her stepfather Randall Walker, and her two sisters Tasha Thomas and Paige Farthing. According to everybody who knew Brookelyn, she was always a sweet, funny loveable creature. She got along well with her sisters and she loved animals and the outdoors.
On May, 2013, Brookelyn graduated from Madison Southern High school. She wasn't sure if she wanted to go to college or if she wanted to become a cosmetologist. Everyone knew that whatever her decision was, she would be succesfull at it. She was a promise.
Brookelyn Farthing Goes Missing
June 21, 2013 was supposed to be a perfect day for 18-year-old Brookelyn Farthing. In the morning she went to take her driver licence's exam with her younger sister page. Right after she was super happy because she had passed the test. That same day, Brookelyn's family had 70th birthday party planned for her grandfather. She attended the party with her family and they had a great time.
Later at night, Brookelyn, her 16-year-old sister Page and her cousin had planned to go to a field party, a very common thing for country teenagers. She had planned to go to the party and afterwards spend the night at her best friend's house, so she packed a little overnight bag. When in the party, Paige and her cousin just stayed for a bit and left Brooke with her friend, who she would have a disagreement later for some reason. Apparently her friend was more interested in leaving with a boy from the party, so they argued and Brookelyn decided she wasn't going to stay with her friend anymore. This was a problem because Brooke didn't have a car, so now she needed to find a different ride.
After looking around in the party for somebody she knew and trusted, Brookelyn found her friend Tyler, a boy she knew from school, and his friend Josh. She asked them if they would give her a ride and they accepted. So Brooke ended up leaving with them.
Around 4am in the morning of June 22, 2013, 18-year-old Brookelyn Farthing called her sister Paige and told her that she was at Josh Hensley's house and that her ex-boyfriend Jared would be picking her up after his overnight shift in a local factory, around 6am. Brooke asked her sister to please leave the door unlocked. Paige suggested waking her mother up and have her going to Josh's to pick her up but Brooke said she didn't want to be a pain for her mom waking her up so early. After the call, Brookelyn texted Jared to ask him what time he would be picking her up. He told her it would be around 6-6:30am. He asked if she was ok waiting there for him and she said ¨I'm fine, had been drinking but sobered up¨.
Around 6.am, after Jared got out of work, he finally was able to take a look at his cell phone again to communicate with Brooke. He' was surprise to see how Brooke's tone had changed at 4:26 am, her text said ¨Can you hurry? Please hurry, I'm scared¨ what was even more weird is that at 5:30am she texted Jared again saying ¨Nevermind, I'm ok. I'm going to a party in Rockcastle county¨ Jared immediately texted and tried to call her but he never got an answer. Taking into consideration the last ¨I'm ok¨ text, he didn't make anything bigger out of it and went home.
In Saturday morning, Brookelyn was supposed to meet a friend and attend a car show, but Brooke didn't show up. The friend called Brooke's sister Paige and asked her if he knew what was happening. The family didn't get worried at the beginning, they assumed maybe she had partied too hard and was going to be home soon. By midday, without news of Brooke, the family started getting nervous.
After talking to Paige and Jared about Brookelyn staying at Joshua Hensley's house that morning, her older sister Tasha called him. She asked him if he knew anything about Brooke. All Joshua said was that after he and Brookelyn arrived to his place around 4:00am, he thought it would be a good idea to just leave her alone since he and Jared were friends and Josh didn't want to create an awkward situation by having Jared thinking something was going on between him and Brooke, so he left to check on his horses and that was it. He also said Brookelyn mentioned the possibility of going to a party in Rockcastle.
Not even 20 minutes later after Joshua hung up the phone; he called Brooke's sister back and in a nervous voice told her that he had left Brooke on his couch smoking a cigarrette but when he got back to his house that morning, it was on fire. He told her he could see from the window that all of Brooke's belongings were still inside the house but he couldn't see anything else.
After hearing this suspicious testimony, Brooklyn's family reported her missing and immediately went to Hensley's house themselves. Fire men were already there and they had taken Brooke's belonging outside the house. They found her overnight bag that she had packed to stay at her friend's and her pair of cowboy boots. No traces of her or her cellphone.
Joshua Hensley
In June 2013, Joshua Hensley was the owner of the house Brookelyn Shae Farthing was last seen in. At the time, he was going through a divorce by the time of the events, his house was in foreclosure. It means his house didn't have electricity or water service.
Even when everything Joshua did the morning of June 22, 2013 plus the misinformation to Brookelyn's sister and the fire deparment, he was never named an official suspect for her disappearance.
In 2020, the Internet Crimes Against Children Task Force investigation, cough him with child porn material. He was charged with one count of possession of matter portraying a minor in a sexual performance. He was sentenced to time in jail and he's currently serving time.
Investigation Details
It was determined that the house fire began on the couch and was ruled suspicious. What was even more suspicious is that at the time the fire department received a call about the fire, nobody told them that there was a missing person who was last seen on that couch!
When taking a look to the gps trace on Brookelyn's phone, the pin marked a spot about 30 miles away from Josh Hensley's house. Police conducted large scale in the Red Lick, people on horses, and search dogs, but turned up no sign of her. Three weeks after her disappearance, nearly 200 volunteers searched an area within 1.5 miles of her last known location.
The search continued while police analysed Brookelyn last text messages. They even went all the way to Rockcastle just to find out that there was no party going on there that morning and even if there was, why would Brooke go to a party at 6:0am in the morning when she wanted to a car show with her family and friends that morning?  This led police to believe that the last message sent from Brooke's phone probably wasn't written by her and that she had been taken against her will.
In July 2013, searches for Brookelyn were called off.
Up to this date, almost ten years after her disappearance, Brookelyn Farthing's case remains an active investigation. Joshua/ Josh Hensley has never been charged in Brookelyn Farthing's disappearance, or named as an official suspect. In fact, nobody has ever been named as a suspect in this case.
If you have any information about this case, you can contact the Kentucky State Police.  There's also a 14 thousand dollar reward for any information leading to Brooke's return or to the capture/conviction for anybody who is responsible for her disappearance, you can visit www.findbrookefarthing.com/
Frequently Asked Questions
 Is Brookelyn Farthing dead or alive? 
Up to this date, nobody knows if Brookelyn is still alive. In Berea, Kentucky, the town she is from, everybody sayd what happened to her is clear but sadly police just doesn't have a way to prove it.
Why has Joshua Hensley never been charged with murder?
Brooke's family and friends believed that Joshua had likely killed Brooke and then burned the couch to cover up the evidence. If so, he did a great job; technicians were unable to obtain any forensic evidence from the couch due to its charred condition.