The case of
Bethany Anne Decker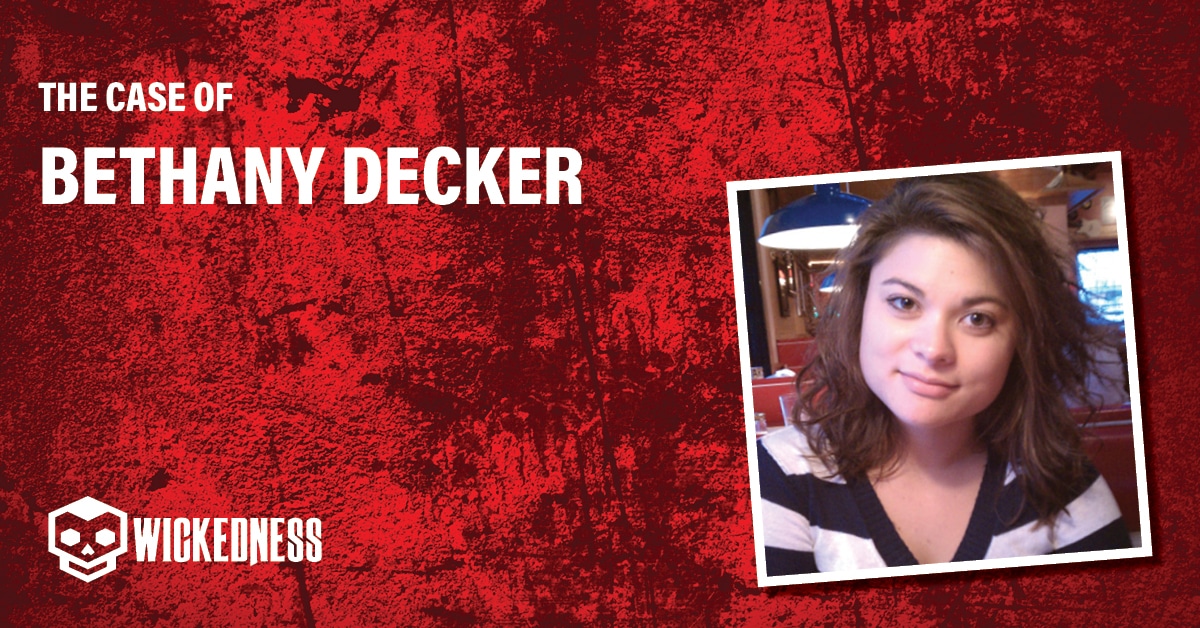 Victim
Bethany Anne Decker
Victim Date of Birth
Info Box
Incident Location
Ashburn, Virginia, USA
Date of Conviction
Info Box
Body Discovered Date
Info Box
Who was Bethany Decker?
Bethany Decker was born in Fredericksburg, Virginia on May 13, 1989. Her academic studies began at Stafford High School and she went on to pursue a degree in Global Change and Economics at George Mason University.
She had her first child in 2009 at the age of 19. Her boyfriend at the time, Emile Decker, married her shortly thereafter. The child was living with Bethany Decker's parents while she finished her last semester of college and Emile was overseas serving as a member of the Army National Guard.
In addition to her studies, Bethany had a full-time job as a waitress at Carrabba's Italian Grill in Centreville, Virginia. While Bethany's husband was in Afghanistan, she began an extramarital affair with Ronal Roldan, a Bolivian-born immigrant whom she met at her workplace.
While married to Emile, Bethany moved in with Roland, her lover, in September 2010, to an apartment in the Orchard Grass Terrace complex in Loudoun County. Once she started living with him, she noticed certain controlling and abusive attitudes.
Bethany was last seen in January 2012, she was 5 months pregnant when she disappeared
Disappearance
21-Year-Old Bethany Decker was studying and working at the same time. Her husband, Emile Decker, was serving in the army in Afghanistan. At the time, Bethany was having an affair with Roland Roldan, an older Bolivian immigrant with whom she decided to move in.
Bethany's family indicated that she quickly noticed that Roland's behavior was abusive. His attitude was quite controlling and possessive, to the point that he was constantly asking for pictures of his pregnant girlfriend to find out where she was.
Even knowing of his infidelity, Emile Becker did everything he could to get their relationship back, even without really knowing who the father was.
In January 2011, Emile asked for a leave of absence to return from Afghanistan so he could spend time with his wife. The couple went on a trip to Hawaii just days before Emile's leave was due to expire. Upon returning from the trip on January 28, 2011, they spent the night at Bethany's grandparents' home, who did not know about their marital problems.
The next day, January 29, 2011, Emile said goodbye to Bethany who returned to her apartment in Ashburn. Roland claimed to have seen her at the apartment that same day during the afternoon.
According to phone records, Emile called his boss to confirm the work schedule he was assigned for the next week. That was the last contact Bethany made before she disappeared.
Since then, no one has seen or heard from Bethany Littlejohn Decker.
Days later
Emile Decker was due to return to Afghanistan on February 2, 2011, because his leave had ended.
One of the things that caught the attention of both Emile and his family was that Bethany did not go to the airport to see him off as she usually did. However, they thought the reason might be because of the marital problems they were having at the time.
In view of the fact that Bethany was studying and working, it was common for her not to have contact with her friends, family or her son every day, so at first they were not surprised by her absence. Since Bethany hadn't gone to her grandparents' house, they hadn't heard from Roland either.
Emile tried to contact Bethany, mostly concerned that she was a pregnant woman. He even called her workplace, and was told she had not shown up for work.
During those days, Bethany's friends contacted her mother to tell her that they were receiving messages on their cell phones from her via Facebook that did not appear to be written by Bethany herself. It was then that Bethany's mother contacted her grandparents to come to the apartment where she lived.
On February 19, 2011 they went to pick her up, her car was parked and no one answered when they knocked on her apartment door. That same day Bethany's grandparents called the Loudoun County police to report her missing.
Suspect or Convicted Killer Details
After Bethany's family reported her disappearance to Loudoun County police, the first suspect considered was her husband, Emile Decker. At the time of her missing person's report, he was in Afghanistan serving in the Army.
Emile Decker met Bethany while she was a freshman in college, and they married after three years of dating in 2009. Soon after, the two had their first child named Kylie. He is in the U.S. Army.
After interviews by Loudoun County police remotely, Emile said he had nothing to do with Becker's disappearance.
The second suspect was Ronald Roldan. This young immigrant from Bolivia met Bethany at her workplace. Even though he was older than her, they fell in love and began a romantic relationship while Bethany was still married to Emile.
At the end of 2010, the problems in the Decher's marriage continued and Bethany moved to another apartment, where Roldan started living with her. Since then he showed signs of being very jealous, and controlling. However, she became pregnant. He was the last person to see her.
Until that time it was not known that he had a criminal record, however, when the police began to investigate him, they found several crimes, such as identity theft, among others. Years after Bethany's disappearance, he began another relationship in which he was involved in a felony assault.
Investigation Details
On February 19, 2011, her grandparents went to the apartment, no one answered and reported her missing to Loudoun Co. police. Bethany's car was still parked in front of her apartment, with a flat tire and full of dust, a sign that Bethany had not used her vehicle for the day.
Investigations found that Decher had not used her bank accounts, nor her cell phone since the date she was last seen. Their first suspect, Emile, was questioned remotely and then brought to the United States, where he was subjected to extensive questioning at Loudoun County Sheriff's Office which he passed without issue.
Attention was then turned to Roldan, who moved out of the apartment where he lived with Decker claiming that since he did not return, he had decided to stay with his family. However, the police found in his record crimes such as identity theft, destruction of private property and intoxication.
In addition, according to police and their statements to the Daily Mail online, Roldan gave very inconsistent answers when asked about Bethany's vehicle, parked in front of the apartment.
Upon obtaining a search warrant, they were able to enter Roldan's apartment, where they found several cell phones and a laptop, which was not enough evidence to lead to Bethany's whereabouts. There was also no evidence that Bethany could have had her baby during that time, although she published a photo of what Bethany might have looked like at the end of her pregnancy in the Daily Mail and the Loudoun-Times Mirror.
Roldan stopped cooperating with police and was identified as a person of interest in Bethany Decker's disappearance.
During 2014 Roldan began a romantic relationship with another woman named Vickey Willoughby, with whom he also displayed a controlling and abusive attitude. According to the woman's statements the relationship was toxic and violent, to the point that one day, during an argument, Vickey used a gun to defend and protect herself, she shot Roldan twice unsuccessfully. Roldan then took the gun from her and shot the woman several times, once in her head, causing Willoughby to lose an eye.
Roldan was arrested because of this situation and was charged in April 2015 with attempted murder while being held in the Mooore County Jail. He pleaded guilty and was sentenced to 6 years in prison in 2016 after accepting a plea deal.
Trial
The news of Roldan's arrest and conviction for attempted murder came to public light in different media outlets, such as the Daily Mail and the Loundoun-Times Mirror, which had followed the case closely since Bethany's disappearance in 2011.
The police were constantly visiting Roldan in jail to get more information about Bethany's case. With the collection of some facts and witness testimony, Loudoun County police were able to get Ronald Roland charged with second-degree murder in the Bethany Decker case in December 2020, in front of a jury that first indicted him on abduction charges the month before.
The final trial was scheduled for February of the following year, however it has been postponed several times. Roland's defense attorney has told Loundou-Times Mirror on multiple occasions that the prosecution has no evidence of murder and no substantial forensic evidence to charge or convict him.
Verdict
So far there is no final verdict for Ronald Roldan in the case of the disappearance of Bethany Decker. The trial has been postponed several times, and according to the latest articles published by the Loudoun-Times Mirror and Daily Mail, it is expected to take place in January 2023.
Frequently asked questions
Who was Bethany Decker?
Bethay Decker was a 21-year-old pregnant woman who went missing in 2011.
When did Bethany Decker go missing?
Bethany Decker was last seen on January 29, 2011.
Did they ever find Bethany Decker?
So far Bethany Decker has not been found dead or alive.