The case of
Patricia Whitaker, Kevin Whitaker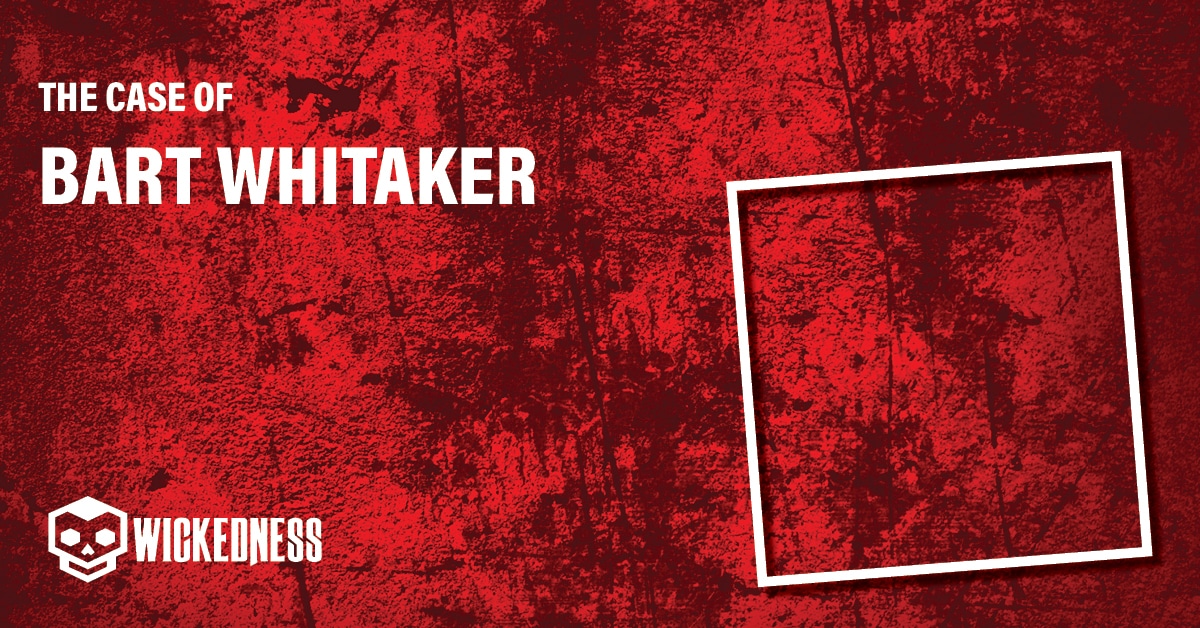 Victim
Patricia Whitaker, Kevin Whitaker 
Victim Date of Birth
1952 and 1984
Incident Location
Houston, Texas, USA
Body Location
Houston, Texas, USA
Date of Conviction
March 2007
Body Discovered Date
2003-12-10
Murderer
Bart Whitaker, Chris Brashear, Steven Champagne
Barth Whitaker deceived his family and planned his brutal murder
The Whitakers: A Wealthy Family
The Whitaker family lived in Sugarland, Texas, a well-respected city where well-to-do families lived.
Kent Whitaker, the father of the family, owned a family construction company, which had been passed down through the generations. The company was very profitable, so they never had financial problems and always had a very good quality of life.
Patricia Whitaker, on the other hand, was a school teacher; however, after she became pregnant and had her first child, Thomas Bartlett Whitaker, she decided to quit her job and dedicate herself exclusively to the baby.
A couple of years later, the couple had their second son, whom they named Kevin.
As we mentioned, the family had a very profitable business and enjoyed good economic stability. The children attended the best schools and were very privileged.
Both children grew up with the best toys and all the comforts, so they were very spoiled by their parents. The family spent a lot of time together and the relationship between the siblings seemed to be very cordial, even though they were very different.
Bart, the oldest son, seemed to be much more rebellious than Kevin, who was much more quiet and passive. However, those differences didn't seem to be a problem as the two got along very well; everything seemed to indicate that they were the perfect family.
Bart Whitaker, the eldest son, now 23, was attending Sam Houston State University and was about to graduate, so on December 10, 2003, the whole family went to a restaurant to celebrate.
Bart, his younger brother Kevin Whitaker and their parents had dinner together and had a very enjoyable evening of celebration. When they returned home, a gunman was waiting for them and shot 19-year-old Kevin and 51-year-old Patricia, who died on the spot.
Bart and his father Kent Whitaker were injured.
A Celebration That Ended in A Brutal Murder
On December 10, 2003, Thomas Bartlett Whitaker, known to his family as Bart, called his parents to tell them the good news. He told them that he had successfully completed all of his college exams and would soon be graduating.
That same day, Bart went to his parents' house to celebrate with them and his younger brother. They spent a few hours at home chatting, talking about the final college exams and how happy he was that he would soon be graduating with honors.
The family were very happy with the news and very proud of Bart.
Kent Whitaker had made sure that his son Bart had no problems during his academic studies, so he took care of all the expenses and even gave him a luxury car while he was in college.
When they met that day at the house to celebrate, Kent gave Bart a Rolex valued at $4,000 as a token of his pride and happiness that he would finally complete his studies at the university.
Hours later they decided to go to Pappadeaux in Stafford, Texas, to have dinner together and continue the celebration. Once there, they enjoyed their meal and continued talking about Bart's future plans, while his father took pictures of the moment.
They then took the car back home later and once they arrived, they all started walking to the driveway. Bart went back to the car because he forgot something, while his parents and brother went inside.
Upon entering the house, Kevin, the younger brother, found a gunman with his face covered, who shot him in the chest. Seconds later, he shot Patricia in the heart and then Kent in the arm.
Bart, who came up behind them, ran in when he heard the gunshots and found the man, ran after him, however, the stranger also shot him in the arm and escaped.
While injured, Bart grabbed the phone and called 911 to report what had happened. Patricia was dying and Kevin was already dead.
Investigation Details
In the phone recording during the call to the police, Thomas Barlett Whitaker can be heard very excited saying that a man had shot at him in his house and that he had chased him out the back door but could not catch him.
Minutes before Bart called 911 and was shot, another neighbor had already called the police, according to another phone recording.
Police arrived minutes later at the scene, found Kent Whitaker outside the house shot in the arm, a few feet ahead of Patricia, who was alive but in serious condition and later died at the hospital. Kevin had already passed away.
Kent and Bart were taken to the hospital, the wound in their arms was not life threatening and both were conscious. When the police searched the house, everything seemed to indicate that it was a burglary gone wrong.
They found a glove outside the house and the murder weapon in the kitchen, near where Bart had been shot. Then they saw that all the drawers in the master bedroom were open, indicating that the burglar had been going through them.
While the police were investigating, a reporter went to the house to gather information about the family murder plot. Up to that point, he only knew that the family had returned from celebrating Bart, the eldest son, who was soon to graduate from college.
To expand his story, the reporter went to the university to learn more facts. However, upon arriving at the college, he discovered that Bart was not attending that college so it was not possible that he was going to graduate.
The reporter gave this information to police investigators, who went to the hospital to talk to Bart Whitaker's father about what they had discovered.
Kent Whitaker did not appear to be very upset despite the death of his wife and son, nor that his older son had lied to him about college.
Once the detectives confronted Bart, he confessed to them that he was under a lot of stress, which is why he dropped out of college, but that he didn't want to tell his parents about it so he wouldn't disappoint them.
Six days after the murder, a funeral was held for Bart Whitaker's brother and mother, Kevin and Patricia. The funeral was attended by many people, as the family was very popular in the community.
At this point, detectives completely ruled out that this was a robbery, as the house had jewelry, cash, and nothing had been taken. The drawers were opened, however, nothing was removed, the house was not in disarray, nor were there any signs of forced entry.
The murder weapon they found in the kitchen was indeed the one used for the shooting. However, another thing they found suspicious was that only 4 shots were actually fired, there were no signs of bullets in other parts of the house.
The gun had no fingerprints on it to identify it, however, they discovered that it was in the name of Kevin Whitaker, the younger brother. This gun had been taken from a safe deposit box in Kevin Whitaker's bedroom, which seemed to indicate that the killer knew where it was.
The only thing the killer had taken was Bart's cell phone. The moment Bart chased the man he dropped his cell phone and the stranger took it and escaped.
The news of the murder went viral, so many people found out what had happened. Thanks to the news, a friend of Bart Whitaker's named Adam, with whom he shared a room in college, called the police to tell them that a few years earlier, Bart had proposed to him to kill his family in exchange for money, however, he never accepted.
The police confronted Bart, who denied everything, while his father, Kent Whitaker, told the detectives that he was aware of the plan but that it had only been a joke by his son and nothing ever happened. Up to that point, everything seemed to indicate that Bart was behind it all but there was not enough evidence.
Bart's father insisted that his son had nothing to do with it, that he was a good boy and that he had only lied about college because he didn't want to let his family down.
More Details
Bart Whitaker and his father, Kent, left the hospital and returned to the house where the murders had occurred. After the police's discoveries, they feared that Bart's father's life was in danger, considering that everything seemed to have been planned by him.
Bart's father asked the police to keep looking for the killer and stop focusing on Bart, as he was incapable of such a thing. After what had happened he had become much closer to the church and was still affected by the death of his mother and brother.
Investigations and doubts about Bart continued, so the police began to interview other of his friends, to see if he had made the same proposal to anyone else. In this way, they reached Steven Champagne, a neighbor of the family, and Chris Brashear, Bart's roommate, who spent a lot of time with him, but denied having participated in the murder.
Despite that, they took DNA evidence from both men, including scent and odor samples. Chris Brasher's scent matched the same scent that was inside the house on the day of the murders, even after he said he had never entered the residence.
The detectives convinced Adam, Bart's friend with whom he had wanted to plan the murder years before, to call him so they could get a confession by blackmailing him about what they intended to do at the time.
Although Bart neither accepts nor denies anything, he did agree to give him money, so he sent him the amount he asked for and the police named him as the main suspect in the death of his mother and brother.
Days after this, Kent Whitaker woke up one morning and Bart was gone, he had disappeared. Bart stole $7,000 in cash from him and it was then that Kent thought then that maybe he did have something to do with the murder.
Under pressure from the police, Steve Champagne and Chris Brashear, confessed that they did collaborate with Bart to murder his family and were arrested.
Bart Whitaker had fled to Mexico in June 2004 and in September 2005 an arrest warrant was issued for the murder of his younger brother and mother, and a reward was offered for anyone who found him. Bart took a false name "Rudy Rios" thanks to the help of an acquaintance and was living illegally in the country.
This friend, upon learning of the reward, contacted the authorities and in collaboration with the Mexican authorities, he was arrested.
The Crime Description
Bart Whitaker planned the death of his family. He convinced Steven Champagne and Chris Brashear to help him.
Bart began to feel pressured because college graduation was coming up and he knew his family was going to find out that all the money they had given him for it had been spent on luxuries.
That was how he contacted Steven and Chris so that one of them would enter the house and wait for them there to murder them. The idea was to make it look like a robbery, so he told him where the safe was with the gun that his sister Kevin had in the room.
That day, Bart called his family to celebrate his supposed graduation. Arriving at his parents' house, Bart was not alone, he was already with Chris, who hid while Bart shared with his family in the living room, waiting for everyone to leave the house.
Bart invited them to the restaurant for dinner, so he could have an excuse to get them out of the house. He also made sure they all went and returned home in the same car to arrive together and avoid having to shoot them separately.
Chris entered the house with the password to the security alarms that Bart had previously given him. While the family was in the restaurant, he began to open the drawers in the master bedroom to pretend it had been a robbery and get the gun out of Kevin's room.
For his part, Steve Champagne was outside the restaurant the entire time to get the timing right. Once the family left the restaurant, Steven called Chris to tell him they were on their way home.
Steven followed them and parked several meters away from the house to wait for Chris since he was the getaway driver.
Once they arrived he shot them one by one. Bart was shot in the arm as he had told him so as not to arouse suspicion.
When Chris ran out of the house, he ran to the car where Steven Champagne was waiting for him. Chris told him that Bart had a slight smile on his face when he shot him and then they went to the lake to throw away the bag with the things they used to break into the house and all the evidence.
Chris and Steven waited several hours for Bart to call them and arrange for their payment, however, Bart never paid them anything for what they did.
Bart Whitaker: Tried to Kill Them 3 Times Before
Thomas Bartlett Whitaker was born on December 31, 1979 in Texas into a very wealthy family. For years he used the money his family had given him for his college education for personal expenses and hid it.
According to his statements and the evidence gathered, Bart Whitaker intended to murder his parents and younger brother in order to keep the family estate. He attempted to murder them several times before.
Trial
The trial against Bart Whitaker began in March 2007 and was held in Fort Bend County. Several pieces of evidence were presented that directly implicated him in planning the murder and recruiting Steve Champagne and Chris Brashear, who were 24 and 25 years old respectively at the time of the trial.
According to witness testimony, Bart Whitaker had planned the brutal murder of his family on at least 3 occasions with others. All witnesses received immunity for cooperating with the investigations.
Although the defense team requested a plea bargain, it was denied. The prosecution, on the other hand, requested that he be tried for murder, because although he was not the one who fired the gun, he was the mastermind of the crime and had already planned it on several occasions.
In March 2007, Thomas Bartlett Whitaker was found guilty of murdering his mother and brother.
Verdict
On March 5, 2007, after several hours of deliberation, Thomas Barlett Whitaker was sentenced to death.
The defense team appealed the death sentence, however it was rejected. In November 2017, the death warrant was signed and approved, which was scheduled for February 2018.
Kent Whitaker, along with the defense team, again appealed his son's death sentence with a letter to the Texas government. In it he requested clemency for death row and the pardon he had already granted his son.
In February 2018, against all odds, Bart Whitaker's death sentence was commuted to life in prison without the possibility of parole, as a result of a meeting attended by Texas Governor Greg Abbott.
Chris Brashear, who shot Bart's family, was sentenced to life imprisonment with the option of parole after serving 30 years in prison.
Steven Champagne was sentenced to 15 years in prison for accessory to murder.
Frequently Asked Questions
Where is Bart Whitaker now?
Bart Whitaker is serving his life sentence at the William G. McConnell Unit at Beeville in Texas.
Why did Bart Whitaker want to murder his family?
It is presumed that Bart wanted to murder them in order to keep the family's financial assets.
How many years did Bart Whitaker receive?
Bart Whitaker was sentenced to life imprisonment without the possibility of parole.