The case of
Alianna Selena DeFreeze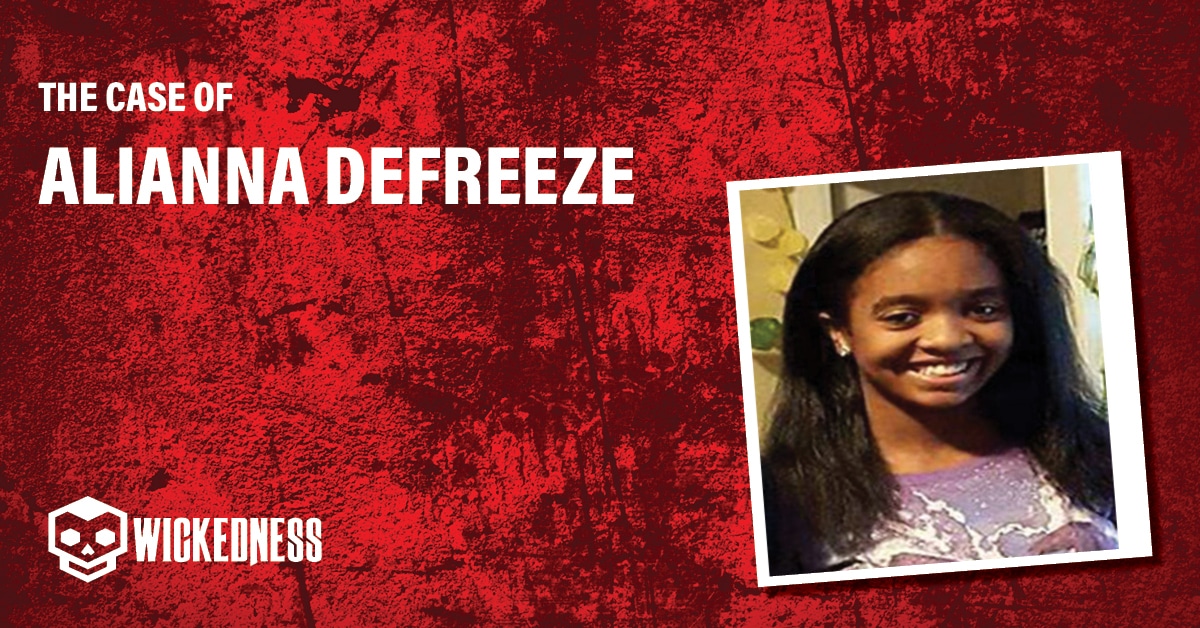 Victim
Alianna Selena DeFreeze
Victim Date of Birth
2002-06-12
Incident Location
Fuller Avenue, Cleveland, Ohio, USA
Body Location
Fuller Avenue, Cleveland, Ohio, USA
Date of Conviction
2018-02-13
Body Discovered Date
2017-01-29
Murderer
Christopher Whitaker
Who Was Alianna DeFreeze?
Alianna Selena DeFreeze was born on June 12, 2002, in Detroit, Michigan to her parents, Damon DeFreeze and Donnesha Cooper. At the time of her murder, she was 14 years old and in the seventh grade at E Prep and Village Prep Woodland Hills. She had a developmental disability but despite this, she caught two buses to school each day. Her mom and grandmother didn't like this but her stop was near a police station which gave them some comfort.
On the morning of January 26, 2017, 14-year-old Alianna DeFreeze set off for her school day at around 6.30am as this is when she caught her first bus. She got off the bus at 7am and crossed East 93rd Street. Alianna was stopped outside the True Gospel Missionary Baptist Church by a man, Christopher Whitaker, who she seemed wary of. As he approached her, she took a step back before carrying on walking in the direction she was heading. He followed her.
Victim Was Found Dead/Start of The Crime
On January 29, 2017, three days after she was reported missing, Alianna DeFreeze's body was found in an abandoned house on Fuller Avenue. Her crumpled body was in the corner of a room in a pool of blood. Alianna was naked apart from socks.
Her throat had been slit and she had four puncture wounds to her head, as well as one on her head which had dislodged her right eyeball. Alianna had suffered so many injuries that the medical examiner couldn't be sure which one had killed her.
The Crime Description
After Whitaker stopped her outside the True Gospel Missionary Baptist Church, he followed her before grabbing her. A witness came forward and said they saw this but they didn't contact the police because they weren't sure of the relationship between them. After this, surveillance footage showed Whitaker leading Alianna through a field towards Fuller Avenue. They entered an abandoned house which is where the tragic events that led to Alianna's death occured.
Once they were inside, Christopher raped Alianna. Over the next few hours, he subjected the 14 year old to numerous beatings using various tools, including a Black and Decker drill, a Phillips head screwdriver, a hammer, a box cutter, and a nut driver. Alianna Defreeze died as a result of the stab wounds and blunt force trauma that she endured.
Suspect or Convicted Killer Details
Christopher Whitaker was born in 1973 in Fayetteville, Tennessee. He had a history of crime and had a long criminal record to prove it.
In 1998, he was charged with grand theft and burglary. There was a charge against him for aggravated robbery and felonious assault but this case was dismissed.
In 2005, he attacked a woman in her home after she let him in to use the bathroom. He came out of the bathroom holding a pair of scissors and stabbed her in the back of the neck, and began choking her. She passed out, and when she woke up, her bottoms and underwear had been removed. An examination revealed that she had been raped. Whitaker was charged with third-degree felony sexual battery and second-degree felonious assault. He was sentenced to four years in prison. After his release in 2009, he became a registered sex offender.
In 2012, he was charged with aggravated theft.
After murdering Alianna Defreeze, Christopher assisted a pastor at Golgatha Missionary Baptist Church unload pantry items from a truck. The pastor described Christopher's demeanor as calm.
Investigation Details
At 4 pm on January 26, Alianna's mom was concerned that her daughter hadn't arrived home yet. She called E-Prep, and she was informed that Alianna had not been at school at all that day. Her mom reported Alianna as missing to the police, and a city-wide search commenced.
Police began looking through surveillance video and this is when they found footage of Christopher pacing outside the church for a few hours before Alianna walked by. He followed her for a while before grabbing her and leading her through a field. This is the last footage of Alianna Defreeze alive.
Investigators were told to search all abandoned properties in the vicinity. Three Cleveland police officers entered the house Alianna was in because they noticed that the back door was open and they found a trail of blood leading from the dining room to a room behind a closed door. They forced their way inside and this is when they found Alianna DeFreeze's body, nude apart from a pair of socks.
The wounds on her body had signs of healing, meaning they'd been inflicted before she'd died. Her blood-soaked clothing was found strewn about the house, and it appeared as though she'd been dragged and thrown into the room she was found in. Her backpack was also found and various tools, including a drill and a box cutter, were found on a built-in bench in the dining room, on what appeared to be a makeshift workstation. All of the tools had blood on them.
Alianna was in such a bad condition that she was identified via her dental records. Whitaker's DNA was found by forensic analysts, and he was finally arrested at 7 pm on February 2 at the Villa Serena Apartments in Mayfield Heights with assistance from US Marshals.
Christopher was taken in for questioning, and his story changed several times. At first, he denied having anything to do with Alianna's murder but he eventually admitted it. He said that he was high on crack-cocaine. He claimed that after punching Alianna in the face, he blacked out and he wouldn't have committed the crime if he was sober.
Trial
Christopher Whitaker's trial began on February 1, 2018; which was almost one year after he'd been arrested. His defense was that he was an addict who acknowledged the crime he'd committed but his drug use made him act on impulse.
The prosecution disagreed and said that his actions didn't point to someone who wasn't aware of his actions. They claimed that he knew exactly what he was doing.
After 12 days, on February 13, 2018, Christopher Whitaker was found guilty of all ten counts.
Verdict
The jurors had to decide whether he should have a death sentence or life in prison. On February 23, the jury decided that he should face a death sentence for aggravated burglary, kidnapping, rape, aggravated murder, tampering with evidence, and abuse of a corpse. The judge agreed because of the heinous crime he'd committed.
He was also sentenced to 48 years in prison for aggravated burglary, felonious assault, rape, obstruction of justice, and gross abuse of a corpse. Whitaker is now on death row at the Chillicothe Correctional Institute in Chillicothe, Ohio.
In January 2019, DeFreeze's parents filed a wrongful death lawsuit and named the school as well as the man who owned the abandoned house, as defendants. They said that the school should have sent a message notification to her parents to inform them of her absence at school. It was uncharacteristic of Alianna to have unexcused absences. The school said there was a system in place but it had failed on the day Alianna went missing. The owner of the house should have maintained his property and not allowed illicit activities to take place inside. The family were looking for $15 million in a settlement agreement.
The Alianna Alert bill was signed into law and it requires schools to send a notification to parents in the first 120 minutes if their child hasn't arrived in school.
Frequently Asked Questions
What happened to Alianna DeFreeze in Cleveland, Ohio?
Alianna DeFreeze was raped, beaten and stabbed to death by 44-year-old Christopher Whitaker.
What were Alianna DeFreeze's injuries?
Alianna had that many injuries, the medical examiner couldn't be sure which one she'd died from. Her throat was slit, she had four drill wounds on her face and one on her forehead which dislodged her eyeball as well as many others.