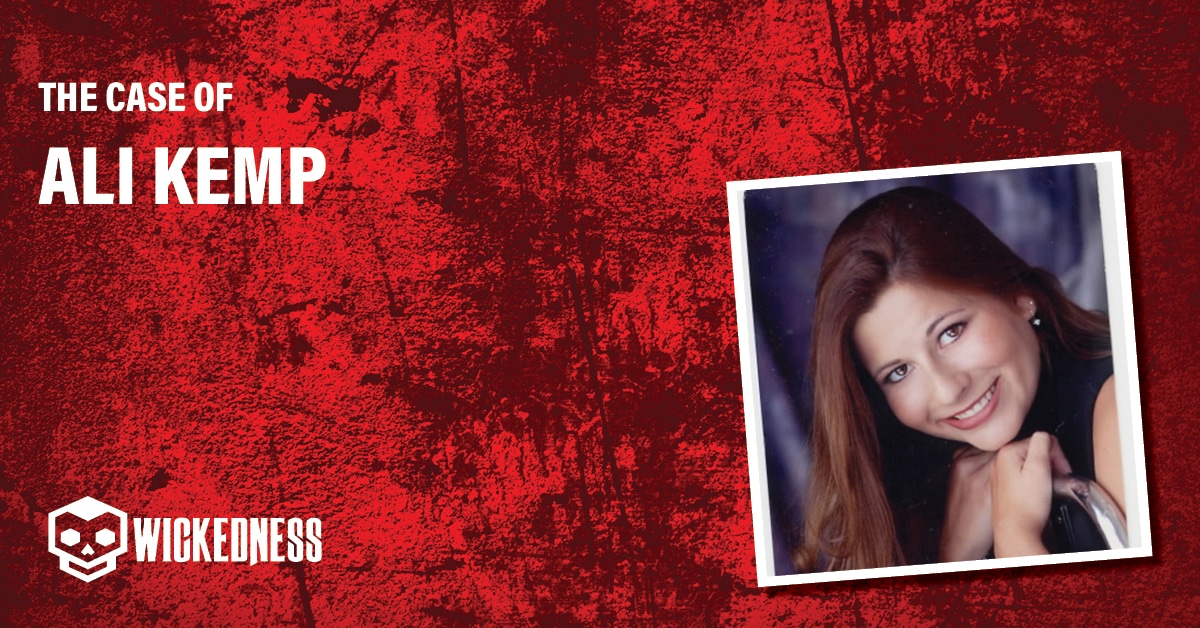 Victim Date of Birth
Info Box
Incident Location
Leawood, Kansas
Date of Conviction
Info Box
Body Discovered Date
Info Box
Ali Kemp, a beautiful 19 year old girl, found beaten and strangled at her community pool.
Who Was Ali Kemp?
Alexandra Elizabeth "Ali" Kemp, a beautiful 19 year old girl with her entire life ahead of her, was home for the summer after finishing her freshman year at Kansas State University. Ali was working a summer job at the local community swimming pool, alongside her brother, Tyler and high school sweetheart, Phil. Ali Kemp loved her community and children which made the community pool a perfect place for her to spend her summers.
Where is Ali?
On June 22nd, Ali Kemp arrived at the community pool at about 2pm to relieve her boyfriend, Phil from his shift as a pool attendant. The two high school sweethearts hugged and quickly made plans for a night out together that evening. Ali's brother, Tyler, was scheduled to relieve her of her duties at the community pool by 5pm, so that she could get ready for the date. When he arrived, he found Ali's belongings but couldn't find Ali Kemp anywhere. After 15 minutes of searching for his sister, Tyler had a bad feeling and called his father, Roger Kemp.
A Gruesome Discovery
Roger headed for the community pool immediately with a feeling of dread. He met a very confused and concerned Tyler at the gate. Together, they searched the entire grounds. Eventually, Roger made his way to the pool pump house. As soon as he opened the door, he caught a glimpse of a leg sticking out of a rolled-up tarp. Roger pulled the tarp back to discover Ali Kemp bruised and battered. He often recalls that moment and pulled Ali Kemp to his chest and begged her, "You need to fight through this. Come back to me."
"I think my daughter has been murdered…"
Roger frantically called 911 hoping that somehow his daughter could be saved. "I think my daughter has been murdered…" is about all Roger could get out during his heartbreaking 911 call. Unfortunately, Ali Kemp was immediately pronounced dead upon her arrival to St. Joe's Hospital. The medical professionals reported that Ali had multiple broken fingers, bruises covering her body and the most obvious, strangulation marks on her neck which was later listed as the cause of death.
Ali Kemp Fought For Her Life
Deputy Craig Hill was called to the scene and described the pool house as appearing as though a "grenade went off" with items strewn about everywhere, proving that Ali fought very hard for her life. Plenty of evidence was collected at the scene and no stone was left unturned since crime scene investigators were determined to find the killer's DNA on something. One seemingly insignificant item collected was a small cap from what appeared to be an ointment bottle. That cap proved to be very significant later in the investigation.
Who killed Ali?
By the time reporters arrived at the scene, a large crowd of people had congregated. Police stayed alert to the crowd knowing that the killer often returns to the scene. However, no one in the crowd caused concern for Deputy Hill that day. So, the process of elimination and an intense investigation began. As we know, they always start with the people closest to the victim – Ali's boyfriend, friends, and family members. Detectives quickly eliminated Ali's boyfriend, Phil. He had an alibi and all of his stories lined up. The rest of Ali's inner circle was quickly eliminated. Detectives moved on to all residents of Leawood, looking for anyone who may have seen something. Finally, a clue came in from a lawn crew that was working nearby. They reported seeing an old beige, Ford pickup truck near the scene around the time of the murder. They followed lead after lead about the truck but came up empty-handed. In the midst of receiving tips, Ali's friend Laurel brought some interesting information to the detectives. Laurel told police she stopped by the pool quickly just to say hello to Ali and after pulling in, honked on her horn continuously as a joke and expecting Ali to come out jokingly and say, "What are you doing?!" Instead of Ali coming out, she saw a man peeking out of the pool room. Laurel reported that she immediately ducked her head down thinking it was Ali's boss and that she was going to get Ali in trouble. The man then exited the pool house, waved at Laurel, and went to his car. He acted cool and nonchalant and finally drove away. Laurel waved and also left. This new information now gave police the opportunity to get a detailed composite sketch of the alleged killer and a timeline for Ali's murder.
The Face Of The Killer
A composite sketch of the alleged killer was released. The sketch portrayed a white male, mid 30s, 5'8 to 6'0, heavy build, and short brown hair. The tips flooded in. Deputy Hill recalled how he was shocked by people turning in their own relatives thinking they looked just like the sketch. Unfortunately, it was a general sketch and looked like many men in town.
James Strader, An Uncanny Look-A-Like
James Strader had an incredible resemblance to the sketch and to make matters worse for him, he had an old beige, Ford pick up truck like the one seen nearby at the same time. Detectives believed they had found their man. However, James vehemently denied any wrongdoing or association to the murder of Ali. After interrogations and alibi checks, he was cleared and detectives were back at square one.
The DNA Lab
Several weeks passed and finally, the DNA lab had promising information. That seemingly, insignificant ointment cap was not Ali's and did not have her DNA on it. They ran the DNA found on the cap through CODIS – the national DNA database which has been used to solve many crimes. Sadly, there was no match in CODIS to the DNA on the cap.
A Father's Fight
Enduring a parent's worst nightmare, Ali's dad, Roger, became an incredible advocate for finding his daughter's killer. Detectives and investigators were so impressed with Roger's perseverance and tenacity as well as his ability to stay calm and polite throughout such a horrible experience that they actually made him a personal spot in the unit to have coffee with them every morning while they combed over clues. He quickly became a force to be reckoned with.
At A Standstill
After DNA results were completed, more tips were sorted through and alibis were checked, the police were officially at a standstill. The investigating unit then reached out to America's Most Wanted. The show did a very large piece on the murder of Ali and tips poured in again. Nothing new came from those tips or the airing of the story and the case ran cold again.
James Strader, In The News
A year and a half after Ali's murder, a familiar mugshot came across the local news. James Strader had been arrested for assaulting three women. The investigators thought maybe they had eliminated Strader too quickly and regretted not getting his DNA previously. They decided to bring James back in for questioning and to get a DNA sample. Their search for Strader proved to be difficult as he had decided to go on the run after being charged with the sexual assault of the three women. Fortunately, three weeks later, Strader was pulled over in Utah after he fled a gas station after filling up and not paying. Again, Strader denied any wrongdoing and even agreed to the DNA test to eliminate himself as a suspect. Sure enough, his DNA was not a match.
At A Standstill…Again
Ali's family and friends were growing weary of the ups and downs of the search for her killer. The thought that James Strader was the killer and had been caught and then finding out it wasn't him, took a toll on all involved. Time marches on, two years passed and they were still no closer to finding Ali's murderer.
A Newspaper Ad
Still, Roger Kemp did not give up the fight. He decided to reach out to America's Most Wanted and asked them to air the episode again. Impressed by Roger's tenacity, they agreed. Roger also decided to run an ad in the newspaper asking for tips and information. His initial award of $1,000 didn't seem like enough of a high-paying reward. He felt the longer the case went on, the further away from finding Ali's killer they would be. So, he upped the amount to $25,000. The city of Leawood decided to match it, bringing the reward to $50,000. Together, they created an ad titled, "Do you know who killed me?" with that new reward amount posted prominently. Unfortunately, the ad did not bring in any new tips.
A Billboard
One day while Roger was posting a reward poster at a storefront, he turned around and saw a billboard. He immediately decided that he was going to post everything including the sketch on that billboard saying, "Now, THIS is a great way to catch people's attention." And he did just that. He called a billboard company and they agreed to his print his billboard idea. Heaps of leads flooded in.
Teddy Hoover
Two tips listed a man by the name of Teddy Hoover. According to those tipsters, he looked identical to the sketch, had an old beige pickup truck and was surprisingly also in the pool maintenance business. The police decided that Hoover fit too much of the description and decided to pay him a visit at his home. Police noted that Hoover was nervous upon answering the door but thought it may just be general nervousness of having the police at your home and questioning you. The detectives asked Teddy to recall where he was that day but knew it would be difficult for anyone to answer that question after 2 years had passed. Hoover did say that he had never serviced the pool Ali was found murdered at. Then detectives asked Teddy for a DNA sample so they could eliminate him as a suspect. He immediately declined and asked to speak with his attorney. According to Hoover's attorney, his main concern was his blood being in a database. So, the detectives promised not to put it in the database but only test it for Ali's case. In the meantime, they looked over old case information. Surprise! They found that a man by the name of Ted Hoover had been interviewed at the scene on the day of Ali's murder. Now, police knew they needed his DNA. Detectives called Teddy's attorney to ask again for the DNA sample. Unfortunately, Teddy had fled and no one knew his whereabouts. Detectives were back to a waiting game but they would continue the search.
Benjamin Appleby
In August of 2004, the investigation unit received a call saying that the guy they knew as Teddy Hoover was actually a man by the name of Benjamin Appleby and he was living in Connecticut with his girlfriend. Connecticut authorities arrested him and immediately took a DNA sample.
Crafty Investigators
During the interview, Teddy insisted he wasn't Teddy but that he was Ben and he'd never been interviewed before. But, he wasn't fooling anyone. The police knew it was the same man they had previously interviewed. Benjamin was moved to an interrogation room where police hoped that they would coax a confession out of him. Investigators set up props in the room – pictures of the crime scene, binders with his name on it and pictures of him all around the room in an effort to make him believe they knew him better than they actually did. The moment Benjamin walked into the room and saw all of the "evidence" surrounding him, he buckled under the pressure. He began crying and within minutes, he uttered the words, "I killed her." He also stated, "I strangled her..I guess. And I don't know why I f–king did it."
What happened that day?
Benjamin told investigators that he went to the pool to conduct some business and when he saw Ali, he decided to hit on her. He told detectives, "She was an attractive young lady." He went on to explain that when he made a pass at her, she turned his advances down and it humiliated and angered him. He then began punching her and choking her until she was unconscious. He admitted that he planned on raping Ali and using some ointment from the first aid kit in the pool house as a lubricant. As he was preparing, Ali's friend, Laurel, interrupted him with her incessant honking. He became afraid and nonchalantly walked out to his car waving at Laurel before driving away.
Roger – Relieved And Heartbroken
DNA results came back and of course, they were a match. Ali's killer had finally been caught and his name was Benjamin Appleby. Roger was relieved yet sickened and heartbroken. "It just makes you sick," he told interviewers, "You can't get any lower, any more subhuman than whatever he is. You can't believe someone like that exists."
Benjamin Becomes a Nightmare
The night that Benjamin confessed, he told investigators that he wouldn't cause any issues for the family in court. "I'm not going to put the family through a trial. I feel so bad for what I've done."  All that changed just a day later. Benjamin decided to plead not guilty and began giving excuses and backtracking on his confession, even suggesting that the detectives forced the confession by threatening his family members. Eventually, Ben's defense attorneys came out and said that Ben would confess to the murder but not the premeditation and that the murder "just happened". No one bought that story.
The Final Verdict
Throughout the trial, it was found that Benjamin had circled the pool for quite a while that day before the murder leading them to believe it was in fact, a premeditated murder. It also took him over 10 minutes to kill Ali which killed the defense's strategy of saying it was an accident. The verdict finally came, Benjamin was found guilty of first-degree murder by a jury and sentenced to 50 years in prison. The family was allowed to give impact statements following the verdict and sentencing. Being the coward that Benjamin is, he asked to be removed from the courtroom so he did not have to hear the family speak. The judge granted his wish, much to the dismay of the rest of the courtroom.
Ali's Legacy
After the loss of Ali, Roger and his wife realized they had to do something to make sure this never happened to another girl. so, they created a self-defense class for girls called Take Defense: The Ali Kemp Educational Foundation. Tens of thousands of girls have now participated in the self-defense classes turning this horrible heartbreak into promise and protection for other girls.
Roger Kemp
Roger was invited to the Whitehouse to meet President Barack Obama and given an award for his idea to put the case information on a billboard, as this was the first time someone had come up with such an idea. He has been recognized many times for his efforts. Unfortunately, Roger Kemp passed away in March of 2022 but his efforts will never be forgotten.
Timeline of events
May 5, 2002: Ali Kemp was found dead in the back room of the tanning salon where she worked. She had been strangled and sexually assaulted.
May 6, 2002: The Kansas City Police Department began an investigation into Ali Kemp's murder.
May 7, 2002: The police released a sketch of a suspect based on a witness's description of a man leaving the tanning salon around the time of the murder.
May 8, 2002: Ali Kemp's family and friends held a candlelight vigil in her memory.
May 10, 2002: The police announced a $10,000 reward for information leading to an arrest in the case.
May 12, 2002: Ali Kemp's funeral was held at a church in Kansas City.
June 12, 2002: Police arrested Jerry Bausby, a 34-year-old man, in connection with the murder. Bausby was identified through DNA evidence found at the crime scene.
August 6, 2002: A grand jury indicted Bausby on charges of first-degree murder, rape, and sodomy.
April 2003: Bausby's trial was delayed after his defense attorneys requested more time to prepare.
June 2003: Bausby's trial began in Kansas City. The trial lasted for several weeks and included testimony from witnesses and experts in DNA analysis.
July 11, 2003: The jury found Bausby guilty on all charges.
August 22, 2003: Bausby was sentenced to death by lethal injection.
September 2003: Bausby's attorneys filed an appeal of his conviction and sentence.
November 2004: The Missouri Supreme Court upheld Bausby's conviction and sentence.
May 2006: Bausby's attorneys filed a federal appeal of his conviction and sentence.
June 2008: A federal judge upheld Bausby's conviction and sentence.
March 2016: The Missouri Supreme Court set a date for Bausby's execution for May 19, 2016.
May 17, 2016: The Missouri Supreme Court granted a stay of execution for Bausby.
May 2021: Bausby remains on death row at the Potosi Correctional Center in Mineral Point, Missouri, and his case is still in the appeals process.
Frequently asked questions
Who killed Ali Kemp?
Benjamin Appleby
How did Ali Kemp die?
Ali was beaten and strangled by Benjamin Appleby while working a shift at her community pool.