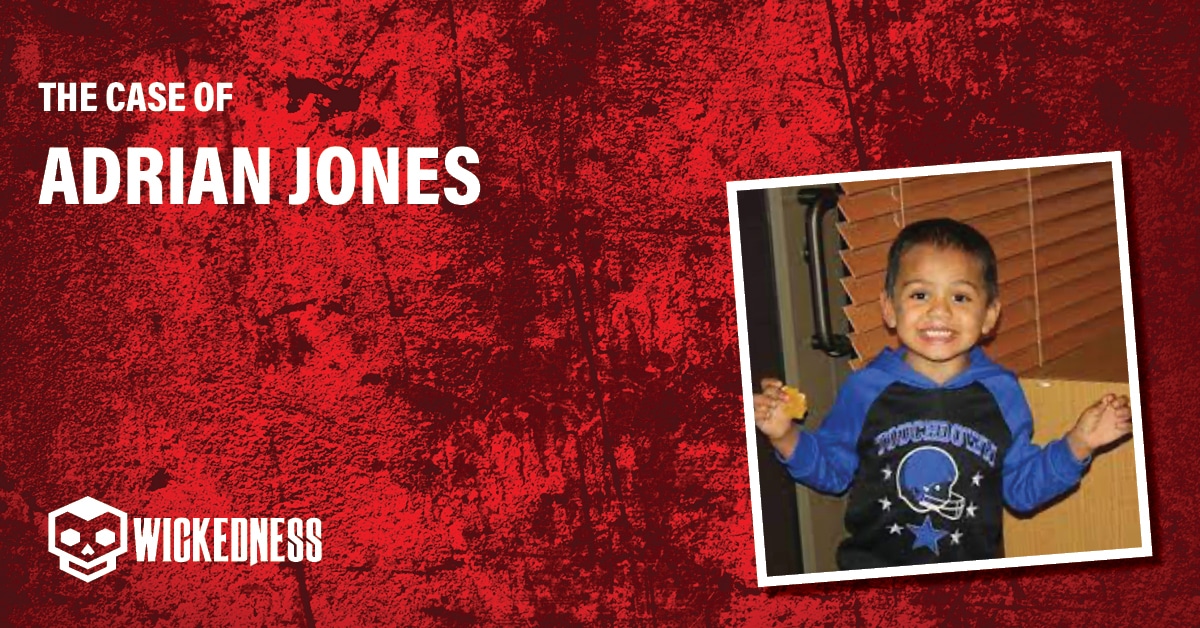 Victim Date of Birth
Info Box
Incident Location
Kansas City, Wyandotte County, Kansas, USA
Date of Conviction
Info Box
Body Discovered Date
Info Box
Adrian Jones was tortured, starved, and held captive by his father and stepmother until his death at just seven years old. They fed his body to the pigs.
Adrian Jones
Adrian Jones was born on May 15, 2008, to Michael Jones and Deanna Pierce, who was married at the time. Dana and Michael did divorce not long after Adrian was born. Deanna retained custody of the two girls and one boy, but unfortunately, around the time Adrian turned 2, she lost custody due to reports that she was leaving the children unsupervised. As a result, the children were placed with their father, Michael.
Michael had moved on and remarried to a woman named Heather Jones, who had four children of her own, so the pair now had seven children in their care.
Records show that Adrian himself opened up about the abuse to child welfare workers. Adrian reported that his father and his stepmother were hurting him to the child welfare workers. In particular, he mentioned he was being kicked in the head and the stomach and not given food. However, once the calls started coming into child protective services, Michael and Heather began to move around, making it difficult for child welfare officials to monitor and follow up.
Adrian's maternal grandmother tried to get custody of Adrian when she became aware of what was going on. However, for whatever reason, Adrian was not taken seriously and was left with his father. At the age of 5, Adrian was being treated with PTSD at a facility. During which he told staff he was being hurt at home and that he wasn't being fed properly.
Evidence of abuse
The family had 39 cameras that they used to keep an eye on the children as well as to watch who was approaching the property. Caught on these cameras was Adrian being made to stand in a filthy swimming pool with the water up to his neck. In a video recording, he was also being kicked in the head, his stepmom was pulling his ears, and he was made to stand outside in handcuffs. Adrian was given food, but he was handcuffed, making it difficult for him to eat it. He had to get down on the ground and eat it as if he was an animal. In another video recording, he was blindfolded and strapped to an inversion table with handcuffs and ace bandages by his father and stepmother.
Babysitters who were hired also reported that abuse was going on inside the home and that the living conditions were poor.
At one point, Adrian ended up tied to a chair and sat in a shower stall. He sat there for two weeks, and he eventually died. His body started to decay, and when Michael and Heather couldn't stand the smell anymore, they took the 7-year-old boy's body and fed him to the pigs. They had purchased the pigs only two weeks prior and starved them so they would be hungry. His remains were left in the pigpen on their 15-acre property.
Investigation Details
In November 2015, authorities received a 911 call about a possible domestic dispute. They arrived at the property, and Michael was not home, but his wife Heather was. They saw the horrible conditions of the home. She told police if you looked around out the back, you would find the body of her husband's son, who was fed to the pigs.
The police found the remains inside the livestock pen and arrested Heather Jones. Michael attempted to flee, but the police found him. He was driving away with the surveillance footage from the surveillance cameras around their home. He was arrested. Heather Jones and Michael Jones were initially charged with aggravated assault and child abuse.
Verdict
In December 2015, after identifying the remains as Adrian and interviewing his wife, police determined they both participated in this murder. They were both charged with first-degree murder. A trial didn't occur as they both took plea deals. Heather Jones and Michael Jones were sentenced to life in prison with the possibility of parole after 25 years.
Frequently asked questions
Where was Adrian Jones buried?
Oak Hill Cemetery Lawrence, Douglas County, Kansas, USA
How old was Adrian Jones?
Adrian Jones was seven years of age at the time of his murder.
What sentence did Michael Jones receive?
Both Michael and Heather Jones received a life sentence for the torture and murder of 7-year-old Adrian Jones.
What happened to Adrian Jones?
Adrian Jones received both mental and physical abuse from his father and stepmother. His last months on earth were made a living hell. He was tortured, made to stand in neck-deep water in a dirty swimming pool, and starved. Eventually, he passed away before they fed his remains to pigs.