The case of
3 Guys 1 Hammer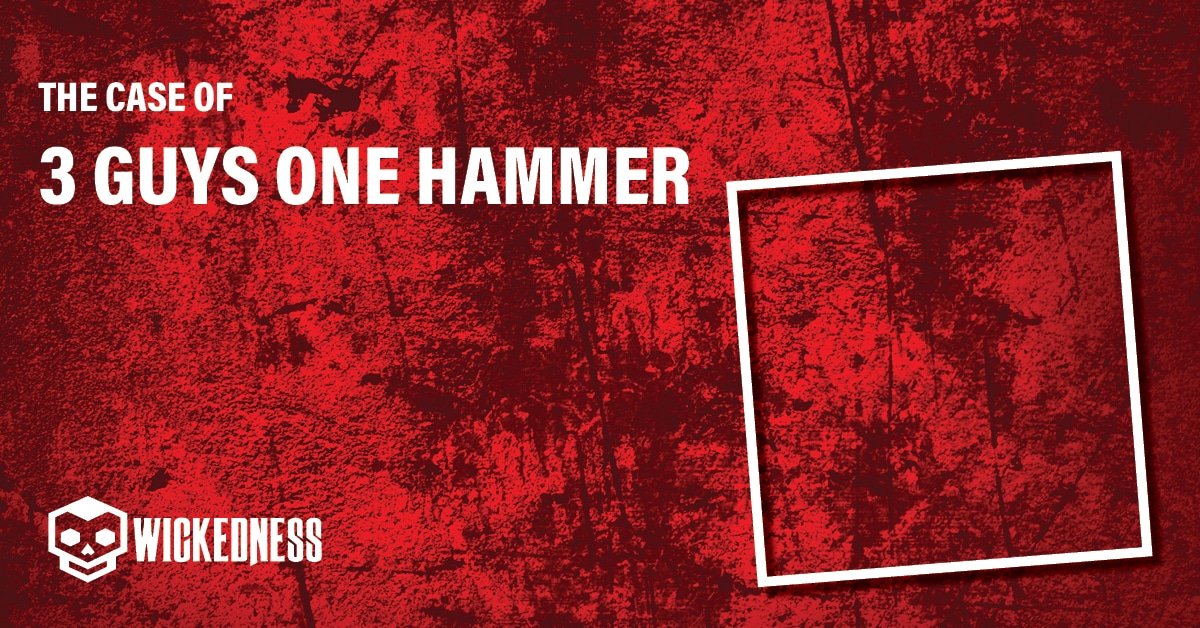 Victim Date of Birth
Info Box
Incident Location
Dnepropetrovsk (Now Dnipro), Ukraine
Date of Conviction
Info Box
Body Discovered Date
Info Box
3 Guys One Hammer
Who Were The Victims?
Almost Too Many To Count
The victims were seemingly chosen randomly, without any common denominator or link between them. They include men, women, and children. Most were killed within Dnepropetrovsk, but some also in Novomoskovsk And Podgorodnoye.
Vadim Bogdan, A 23-year-old police officer.
Ekaterina Ilchenko – Murdered randomly after passing Suprunyuk by on the street.
Roman Tatarevich, Murdered shortly after Ekaterina, While sleeping on a bench.
Alexey Kovbasa, 69 years old.
Valery Krivospitsky, 53 years old.
Yevgenia Grischenko, The first victim in July.
Nikolai Serchuk, Murdered the same day as Yevgenia.
Egor Nechvoloda, a discharged army recruit, was bludgeoned 15 times and had a swastika drawn on his head after the murder.
Yelena Shram, A 28-year old night guard, was hit 8 times with a blunt object.
Valentina Hanzha, 51 – no relation to Alexander Hanzha.
Andrei Sidyuk was murdered on July 7th.
Nikolai Pshenichko, 53 years old.
An unidentified man.
Sergei Yatzenko – his murder is the one shown on the leaked footage titled "3 guys one hammer".
Regina Prokopenko, the oldest victim – was 85 years old at the time.
Nikolai Maryanchikova was murdered on Friday the thirteenth.
Valeria Lobachenko was pregnant when murdered, and had her fetus ripped from her womb.
The unborn child – who knows what could have been…
Natalia Mamarchuk was hit with a blunt object while riding a scooter.
Vladimir Rakovsky, 51 years old.
Yuri Pekhotin, the last victim, was murdered on July 16th.
May they all rest in peace.
How Did Three Ukrainian Teenagers Become The Notorious Dnepropetrovsk Maniacs?
They were friends, growing up together and having a normal life at school. The trio weren't always the best of students and were very much isolated from other groups of friends. When they were growing up, Suprunyuk had a birthday, but it wasn't a regular one. This was a special birthday for him because he received a very special gift from his parents – a green Daewoo Lanos car.
Shortly after receiving the gift, Suprunyuk began using it as an unlicensed taxi, often with his best friends, picking up passengers and making illegal money. Soon, things had begun escalating as the passengers on this car were not only driven but also robbed. The three had picked up unsuspecting passengers and threatened them with various weapons. It was going well for them until one of the boys, Alexander Hanzha, wasn't interested in taking part in any more of those robberies. Igor Suprunyuk and Viktor Sayenko also didn't want to perform any more of these robberies, but their reason was completely different – they wanted more.
The three had remained good friends but it was Suprunyuk and Sayenko who were still interested in the world of vice and crime. The two had started getting involved in several animal cruelty incidents, even crucifying a cat, and killing several dogs, all the while photographing their gruesome actions, often with a salute or a swastika drawn with the animal's blood.
Animal blood was just the beginning, as Suprunyuk and Sayenko go on another trip in their made-up taxi service. This time they picked up Vadim Bogdan. They didn't rob him, they didn't charge him money for the taxi ride. They killed him. This set things in motion for the two, as they would later kill more than 20 people in a very short amount of time, sometimes randomly, in the middle of the street, without preparing or planning, simply because they felt like it at the moment.
This type of cruelty and love for crime is not a hypothesis, it is shown clearly in what is now referred to as "3 guys one hammer" – the atrocious video documenting the murder of Sergei Yatzenko.
3 Guys One Hammer – The Story Behind The Video Recordings
48‑year-old Sergei Yatzenko was at the wrong place, at the wrong time. Like many of the maniacs' victims. He went in a cab, not knowing that it was the last ride he would take. Sergei had been going to cancer treatments for several months before the killing. He was just regaining his ability to speak when he was picked up by Suprunyuk and Sayenko.
They took him to a wooded area, parked the car at the side of the road, and went nearby into the woods. The two had started ruthlessly hitting Yatzenko in the head with their hammer, and then proceeded to stab him in the abdomen and eye with a screwdriver.
Yatzenko was going in and out of consciousness as the attack went on for 4 minutes. The killers were surprised he could still breathe after being stabbed through the eye, and so they blew a fatal blow with their hammer into his head.
After they were done, they took photos with the body and got back to the car. They washed their hands and murder weapon with a bottle of water and discussed their crime calmly, before bursting into laughter.
Many who had watched the killing video state that it was an experience that will fuel their nightmares for years to come, as said in numerous reaction videos.
Igor Suprunyuk, Viktor Sayenko, And Alexander Hanzha – 3 Forms Of The Devil
They were born into good, wealthy families, they were going to school, and they lived in a good place, so what can go wrong?
As mentioned, the three were good friends, but what's disturbing are the things that brought them together. They were outcasts and were bonded over many shared fears and insecurities, like the fear of being bullied, and even the fear of heights.
At first, it does not sound like something wrong, but they had tried to solve those fears in ways that range from weird to terrifying. For example; they were hanging over very high balconies in an attempt to rid themselves of their Acrophobia. Later on, they would harm people as a way to ease the fear of being bullied by others.
The Investigation
The city of Dnepropetrovsk was terrified of the random attacks, but the police still couldn't link any of the murders to create the sense that it was a serial killer's case.
That is until they had a survivor.
Vadim Lyakhov was a teenager who survived the attack that took the life of Andrei Sidyuk. When he came to the police, they thought he was the killer, but as he went on to tell them what happened, some dots started to connect. He helped the police sketch the attackers and the police had started investigating secretly, with a team of over 2000 investigators and experts coming in from Kyiv.
The breakthrough was achieved when police discovered that some victims were robbed after being murdered, and their belongings were sold in pawn shops around the city. At one of those sales, the two boys had tried to sell a cell phone of a victim in one of the pawn shops. When the owner turned it on to check its functionality it was traced by the police which led to the arrest of Igor and Viktor at the shop near the cash register. Alexander Hamzha was arrested at his home, where he tried to flush stolen property down the toilet.
The police now had the attackers in their hands and ready to be trialed.
The Trial
The trial began in June of 2008 and lasted for approximately 8 months.
Collectively, the three were accused of 29 incidents, including the 21 murders. Igor Suprunyuk was charged with 27 of the cases, including 21 counts of capital murder, and other counts of robbery and animal abuse. Viktor Sayenko was charged with 18 murders, as well as robbery charges and animal cruelty charges. Alexander Hamzha was charged only with the involvement in the robberies.
The three have all confessed, but Suprunyuk quickly withdrew his confession. Suprunyuk was also the only one to plead not guilty to the charges he was accused with.
The Verdict
The verdict was given on February 11, 2009, and found Suprunyuk guilty of 21 murders, Sayenko was guilty of 18 murders, and all of them guilty of the robbery charges.
Alexander Hanzha received 9 years in prison for his involvement in the robberies, and as of 2019 is walking freely after serving his sentence.
Igor Suprunyuk and Viktor Sayenko both received life in prison as a punishment.
They were not sentenced to death as there is no death sentence in Ukraine, although a poll held after this trial found that 60% of Ukrainians are supporting the death sentence for such cases.
Frequently Asked Questions
Where are the Dnepropetrovsk Maniacs now?
Alexander Hamza is now released from prison, while Igor Suprunyuk and Viktor Sayenko are still serving their life sentence.
Who is the victim in the "3 guys one hammer" video?
48-year-old Sergei Yatzenko is the victim whose murder is filmed in the video known as "3 guys one hammer".