Murder mystery games have a long history, dating back to the early 19th century. The popularity of this game continued to grow, and the first murder mystery parlor game was released in 1935. In 1948, the first murder mystery board game was released and it remained popular until today. If you guessed we are talking about Cluedo (Clue), you were right!.
The second half of the 20th century saw the beginning of role-playing murder mystery games, such as "How to Host", or "Mafia". Nowadays, murder mysteries are just as popular as before, and technological advancements allowed players to enjoy the gameplay in many different ways.
Murder Mystery Boxes
Murder mystery box games start by receiving a box that contains physical evidence from the "crime scenes" and clues to solve a murder. Most murder mystery box games can be solved in 2-4 hours, depending on the skills, focus, and whether it is played by one or more people.
Hunt A Killer
This Hunt a Killer website offers some great murder mystery packs, so if you are interested in checking them out, make sure to visit the website.
Hunt A Killer: Nancy Drew – Mystery at Magnolia Gardens
Someone in Magnolia Gardens is using the facilities plants to murder people. Nancy Drew becomes poisoned herself but not before she collects all the evidence you need to solve the case. So you are your friends are off to Hunt A Killer. If you remember Nancy Drew from your childhood there is NO BETTER murder mystery kit out there.
Hunt A Killer: Nancy Drew - Mystery at Magnolia Gardens
Solve an entire investigation in one sitting. This is perfect for family gatherings, to play on the go, or if you want to see what it's like to apprentice with Nancy Drew.
60-90 minute playing time.
For 1+ players.
Ages 14+
Buy Now
We earn a commission if you make a purchase, at no additional cost to you.
11/27/2022 06:22 pm GMT
Hunt A Killer: Death at The Dive Bar Mystery Box
An employee of a roadside tavern suspects foul play when her boss and tavern owner falls to his death. You are asked to help solve the case. Hunt the killer from the dive bar with this mystery box full of intriguing clues, character sheets, and evidence! Just to give you an idea of how good these kits are here is one sample of evidence files you'll need to use to crack the case.
Hunt A Killer: The Melancholy Killer – Serial Killer Game
Having done several Hunt A Killer games now this is my favorite. The story and puzzles are interesting and the payoff when you figure everything out is rewarding.
However, if you're only familiar with the more recent Hunt A Killer mysteries such as Class of '98 or Curtain Call, take note: this one is a bit different.
It's more similar to the older Hunt A Killer mysteries such as Initiation or Vindication in that it's open-ended and you aren't given a clear objective or goal. It's also one of the harder Hunt A Killer mysteries. Not impossible by any means, but tricky. If you're new to Hunt A Killer and not sure if you will enjoy it, I recommend starting with one of the smaller mysteries such as Death at the Dive Bar.
The Moon Summit Mystery Box
Find out who killed a graduate student in Alaska with the 6-pack of murder mystery boxes that will leave you breathless.
This is the first "big box" we did. The box says to expect 10-15 hours, my wife, kids, and I worked through the objectives in the first 5 boxes in about 4 hours. We are now on the 6th box. Boxes one and two are different objectives. Boxes three, four, and five are all eliminated suspect boxes. A little disappointing as those objectives are fairly easy. The last box is to weed out between two suspects to determine who and why.
If you signed up for a subscription and got one box a month of eliminating a suspect for 3 months you might be disappointed. I would be disappointed. But, since I was able to get this box all at once, no big deal.
For my final conclusions:
It's great quality time with your other half and kids. You will enjoy it. It creates a space where you work together for a common goal.
Our Pick
Unsolved Case Files
Another company that makes murder mystery boxes is Unsolved Case Files.
Unsolved Case Files: Who Murdered Harmony Ashcroft?
This murder mystery box will transform you into a detective trying to solve a cold case from 1998. With over 50 evidence files, you will need to find 3 clues and solve 3 mysteries, to finally find who was the murderer.
Budget Pick
Unsolved Case Files: Gardner, Avery Case
We had a blast playing this one together. This case is different but in many ways, more fun! The crime is happening in real-time and you follow along with the detective as it unfolds – and that part was really cool and different! The story is great – had everyone engaged! The entire case took about three hours with no hints. It might be a bit harder to play with a larger group than other cases because a lot of the information is in the detective's notebook, but it worked well for the two of us. Hope they do more of this style!
Lock Paper Scissors
Lock Paper Scissors offer a variety of escape room style games you can download and print. They have only one murder mystery though, but it's a good one. Great in fact. It's a 1920's Gatsby-style murder mystery game of debaucherous luxury and deadly feuds. Get ready for a night of velvet gloves and blood-stained carpets. Seriously, you can download, then print the game and be ready in 20 minutes. Good for groups of any size. They even include some material to promote your party on Facebook.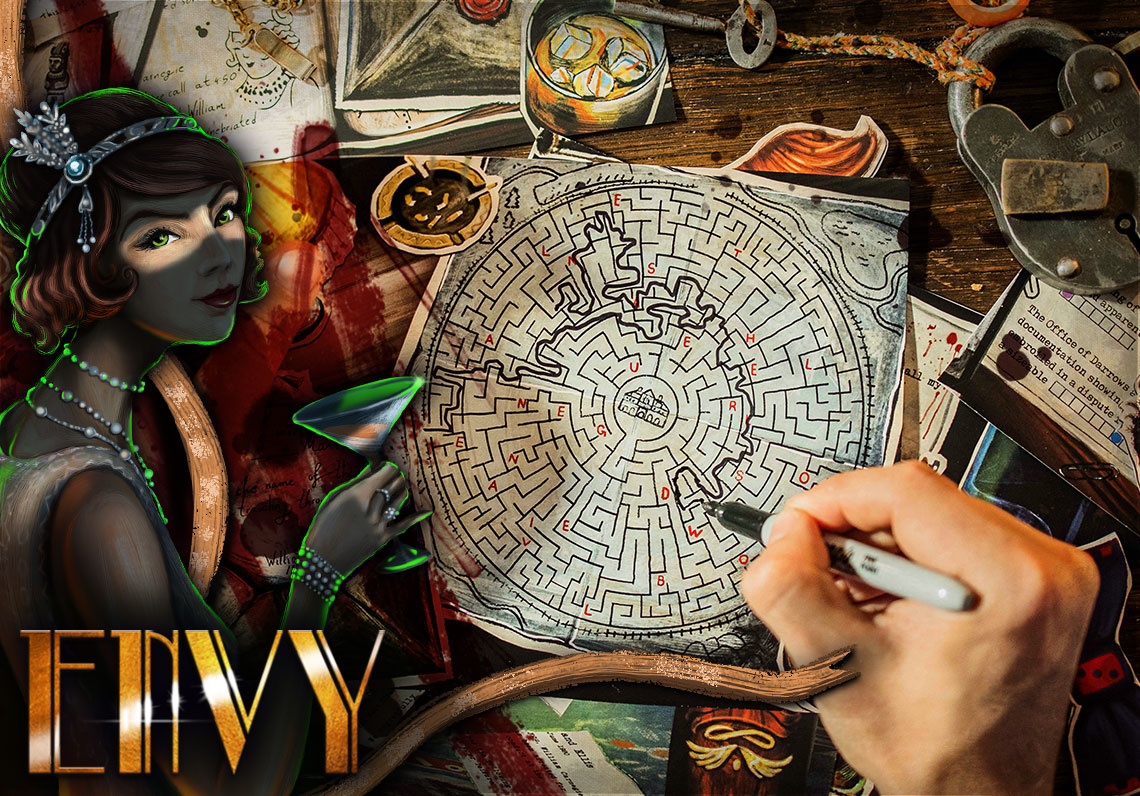 Murder Mystery Box
Another website with a great choice of murder mystery boxes is https://www.murdermysterybox.com/, so make sure to check it out the next time you want to play this fun game!
Murder Mystery Dinner Parties
Murder mystery dinner parties are another extremely popular way to play murder mystery games. They are usually played by 7-20 guests, and they take between 2-3 hours. Everyone participates equally, and the players play the game by asking questions, performing actions, and interrogating other players.Murder mystery event dinner parties can be scripted or interactive, and their goal is often not only to find a killer but also to reveal some interesting subplots. There are many great murder mystery game kits out there that will make your murder mystery game nights unforgettable, some of them including:
If you are a fan of vintage detective stories, Agatha Cristie and Hercule Poirot, you will love this Orient Express-themed murder mystery kit!
This game is suitable for 8 adult players. You will need to find who strangled Pierre DuPre with an unusual murder weapon – Mardi Gras beads before they strike again.
Go back to the 1070s with this disco-themed murder mystery party kit. There is a dead body at Boogieland 77, the fanciest nightclub in New York, and your job is to find a culprit.
If you don't want to bother with organizing a murder mystery dinner party, you can always visit https://www.thedinnerdetective.com/ and buy tickets for you and your friends. With these tickets, you will be able to attend entertaining and highly addictive murder mystery shows.
Murder Mystery Video Interactive Games
With murder mystery video interactive games, you don't have to leave your home or be surrounded by plenty of people to play with. Games like these will keep you glued to your screen for hours. These interactive murder mystery games became so popular, that the app stores are full of them. Some of the most popular online murder mystery games are:
This downloadable game revolves around a murder in a Malibu mansion. During one cold summer evening, in the mansion of a jazz-loving tech mogul Clement Maven, a person is shot dead. You are sent to investigate…
Students from Montgomery High School are eager to have fun at their prom party, but what they don't know is that they will soon become easy prey to a cold-blooded killer… Check out this downloadable murder mystery and save the students!
If you love noir detective movies and murder mysteries, look no further than this game! Solve the gangster murders and enjoy the spirit of old New York!
When you are looking for a murder mystery game that will have a horror element to it, this popular murder mystery game will be perfect for you!
The catchphrase on this website says "there is something fishy going on", and your assignment is to find out what. Play various murder mystery games and have the time of your life1
Zoom Murder Mystery Party
Since the Covid-19 outbreak in early 2020, Zoom became an inseparable part of our everyday communication, especially for business and educational purposes. However, Zoom can also be fun, and one of its fun appliances is playing murder mystery games.
That's right, you've read it well. You can use Zoom to organize virtual murder mystery games, even when your friends are hundreds of miles away. As this website explains, there are several rules for Zoom murder mystery parties:
Never mute the participants that are playing their characters.
Keep all of the playing characters on the screen, unless their characters are dead.
If you have participants that are just observing and not actively playing, you might mute them and limit if they can be seen, to avoid non-player characters confusing the active players.
Keep the participants informed about your actions and decisions so that they can act accordingly.
Team building events
Not many people actually enjoy team buildings, but it doesn't have to be that way! With murder mystery games and events, your coworkers will be able to forget the daily dreads of their jobs and instead focus on gruesome murders.
This website specialized in organizing corporate murder mystery parties, and you and your coworkers will be able to choose from a wide array of games, character backgrounds, character descriptions, murder scenes, and murder mystery party themes. It doesn't matter whether you like Wild West, train murder stories, horror stories, etc.
From the moment you and your colleagues enter the building, you will forget about how much you annoy each other, and instead, you will be immersed in juicy murder stories!
Conclusion
Murder mystery games are popular for more than 2 centuries, and their popularity only seems to grow! Have fun with your friends, test your detective skills and your communication skills, use physical clues to find the murderer, and become a champion of the next murder mystery night!