Most serial killers have a psychological urge to murder people. It's really difficult to understand what actually goes into the mind of a human being to be involved in serial killings. Some serial killers see the very act of murdering people as an art and they seldom have a motive behind it.
Almost all the corners of the world have serial killers and today we are going to discuss some of the most notorious Indian serial killers.
1. KD Kempamma – Cyanide Mallika
We're starting our list with a female serial killer who killed six young women, KD Kempamma. She targeted the lower middle class of the society to evade the law. She is also known as Cyanide Mallika of Karnataka because she killed all of her victims by poisoning them with lethal potassium cyanide.
First used to go to temples to find her targets and then start chatting with them. Later on, she went to their homes to help them with their domestic problems and then poison them to plunder their valuable belongings. She was finally arrested for her crimes in 2007 and confessed that she killed 7 people.
She's known to be the very first convicted female serial killer in India. She was sentenced to death and then commuted and sentenced to life imprisonment for killing six women.
2. Amardeep Sada – Youngest Serial Killer
Amardeep Sada is known as the youngest serial killer not only in India but in the entire world. He was just eight years old when he had killed three infants, including a cousin, a neighbor, and his own sister.
In order to avoid infamy, his family members had hidden the death of his cousin and his sister. However, when the young Amardeep Sada killed his neighbor with a stone, the whole village stood against the kid.
They called the police and the young boy confessed in front of everyone that he took three infants out to a deserted field and killed them using a brick. He also told the police that he used a pile of leaves and dried grass to hide their dead bodies.
The most disturbing thing about this case is that the kid didn't show any signs of guilt or remorse. He was sent to an unknown place and no one knows what happened to him after that.
3. M. Jaishankar – Psycho Shankar
Jaishankar, also known as

Psycho Shankar

, was an Indian criminal who killed 15 and raped 30 young women. He also committed many robberies across three different states including Karnataka, Andhra Pradesh, and Tamil Nadu.
He was working as a truck driver when he targeted all those women and he used a machete to kill his victims. The police launched a manhunt for this monster and he was finally arrested in 2009. He even tried to escape the prison.
The authorities had to hold him in solitary confinement but he tried to escape again multiple times. However, none of his tries were successful, so he then committed suicide.
4. Charles Sobhraj – Bikini Killer
Charles Sobhraj, also known as "Bikini Killer" has Indian and Vietnamese origin. He's an infamous serial killer and fraudster who killed 12 to 24 innocent people from 1975 to 1976. He used to target western tourists throughout the southeast Asian "Hippie Trail".
He was also known as "the Serpent" and "the Splitting Killer". In order to fund his lavish and luxurious lifestyle, Charles Sobhraj used to kill people and then rob them. His plan of action to choose his targets was also unique.
First, he would help people to gain their trust by rescuing them from a problem (that he created himself). Then he would kill them and take their money. He was finally captured in India and was sentenced to life imprisonment. He is currently in a prison in Nepal and serving his life sentence.
5. Gowri Shankar – Auto Shanker
Gowri Shankar, also known as Auto Shanker, is yet another infamous serial killer who used to murder school-going girls. He was also involved in human trafficking and smuggling of arrack. He was known as a notorious gangster back in the day.
However, there was no proof of his crimes until 1987 when the dead body of one of his victims was found. The police started searching for this guy and then a schoolgirl reported that an auto-rickshaw driver tried to kidnap her near a popular local wine shop.
After that, the police went undercover and started working with the owner of the wine shop and found out that Gowri Shankar (Auto Shanker) was behind that event. He was then apprehended and found guilty of killing six girls.
Reports suggest that Auto Shankar actually killed nine teenage girls in 1988 during a six-month period.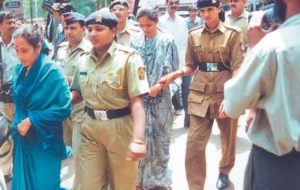 Renuka Shinde and Seema Gavit were half-sisters and they are also known as the killer sister. They killed more than six toddlers and their heinous nature was the result of the training by their own mother.
She used to train them to become petty thieves but the killer sisters didn't stop there. They started kidnapping kids after realizing that using kids as a defense to deal with accusations is easy. Then they also started killing all those young children who created problems for them.
Both the sisters were finally caught and they were charged with nine murders and 13 kidnappings by the Indian Sessions Court. They will become the very first women to be executed in the entire country as they are currently on death row for all the heinous crimes they have committed.
7. Darbara Singh – The Baby Killer
From April 2004 to September 2004, a person named Darbara Singh was charged with murdering two boys and 15 girls. All of his targets were kids and that's why he is also known as the Baby Killer. He used to slit the throats of his victims to kill them.
On the basis of his crimes, he was given the death penalty. However, due to lack of enough evidence, the High Court acquitted him. He was serving his life sentence and died in 2018 and at that time there were still many cases pending trial against him.
8. Raman Raghav – The Psycho Raman
Raman Raghav, also known as "the Psycho Raman" was a schizophrenic serial killer from Mumbai who killed home people. He used to target people while they were sleeping. He killed 23 people and terrorized the slum dwellers of Mumbai back in the 1960s.
Raman Raghav used to kill his victims with a baton. He confessed that he had killed 23 people after getting apprehended. He was also diagnosed with schizophrenia and that's why many people questioned his confession. In 1995, Raman Raghav died from kidney failure.
9. Devendra Sharma – The Doctor Who Became a Serial Killer
Devendra Sharma was an ayurvedic doctor who used to kill taxi drivers and steal their cars. He did all of that just to make some money and he was convicted of killing 30 to 40 people.
From 2002 to 2004, Devendra Sharma wreaked havoc across multiple areas including Rajasthan, Gurgaon, and UP. He admitted that he had killed around 40 taxi drivers when he was apprehended. In 2008, he was sentenced to death for his crimes.
10. Moninder Singh Pandher and Surinder Koli – The Nithari Killers
Moninder Singh Pandher is a necrophile, rapist, kidnapper, and serial killer who was also involved in cannibalism. He was a rich businessman from Noida, India and in 2006 he, along with his domestic help, was arrested.
Both Moninder Singh Pandher and his domestic help, Surinder Koli were caught because they were linked to 16 human skulls that the police found. They told the police that Surinder Koli used to manipulate young girls from the "Nithari" village and bring them to Moninder Singh Pandher's house where they used to kill them.
They were accused of murder, organ trafficking, rape, cannibalism, sexual harassment, and pedophilia. Both of them were found guilty of raping at least four children and five murders but people say that the actual number is higher than that. Finally, in 2007, the "Nithari Killers" were sentenced to death.
11. Motta Navas – Pavement Dwellers Killer
Motta Navas killed pavement dwellers during the nighttime while they were sleeping. He killed at least 7 homeless people in a three-month period in Kollam in 2012. Motta Navas killed homeless people using blunt and hard objects like stones and bricks. According to the latest news, he's currently in police custody and waiting for trial.
12. Thug Behram – The Thuggee Cult Leader
Thug Behram is probably the most prolific serial killer in Indian history. He was the leader of "the Thuggee Cult" and allegedly killed more than 930 people. All the members of the cult used to travel across the country in groups and kill innocent people by suffocating them using handkerchiefs.
After killing innocent people, they used to rob them of their belongings. Behram was apprehended and was convicted of 125 murders. In 1840, Thug Behram was hanged for the horrific crimes he committed.
13. Mohan Kumar – Cyanide Mohan
Mohan Kumar who is also known as the "Cyanide Mohan" was the reason why the entire Indian nation lost its trust in birth control or contraceptive pills. He forced numerous women to have sex with him, of course, non-consensual. After that, he used to give them contraceptive pills. However, those were actually cyanide pills, and that is why he is also known as "Cyanide Mohan".
Mohan Kumar was a physical education teacher and used to teach at a local primary school before becoming a monstrous serial killer. He killed more than 20 women during his 4 years of killing spree. Finally, in 2013, he was apprehended and given a death sentence..
14. Bharat Kalicharan – Akku Yadav
Akku Yadav Wasn't actually a serial killer but he did kill people and that's why we have mentioned him in this list. He was a killer as well as a rapist who raped more than 40 women and killed at least 3 in the Nagpur areas. he used to dump the bodies of his victims on the railroad tracks.
He was lynched by a mob of about 200 to 400 women and one of the women cut off his male appendage. Police did try to stop the mob but people said that they are ready to be arrested but will not leave the rapist and killer alone.
15. Ravinder Kumar – Pedophile Ravinder Kumar
Ravinder Kumar, better known as "Pedophile Ravinder Kumar" was no less than a monster in human form. He used rape and kill kids. He was arrested in 2015 when he was just 24 years old and at that time, he had sexually assaulted at least 15 children.
After his arrest, he also told authorities that he committed his first crime when he was just 19 years old. He was also addicted to drugs and alcohol.
The main targets of Ravinder Kumar were homeless children sleeping on pavements and streets. He used to carry them silently and take them to deserted fields to rape and kill them.
16. Unknown – Bear Man
No one knows who Bear Man actually was. However, what we know is that he was a haunting serial killer who operated in India for about 4 months (from October 2006 to January 2007). This mysterious serial killer got this name because he left beer bottles next to the bodies of his victims.
He killed six people in that duration and the police couldn't find any evidence. In early 2008, a man named Ravindra Kantrole was apprehended and accused of the seventh murder that took place in the same fashion.
However, Ravindra Kantrole was acquitted because his forensic tests were deemed inadmissible. The case of the Bear Man is still unsolved and it remains a mystery.
Indian serial killers

There are many factors that lead to the development of a serial killer and it can happen in any corner of the world. As you can see, India has had its own fair share of some of the most prolific serial killers.
If you're a true crime fan, you can watch Netflix movies made on some of the serial killers mentioned above including Raman Raghav, and Psycho Shankra.